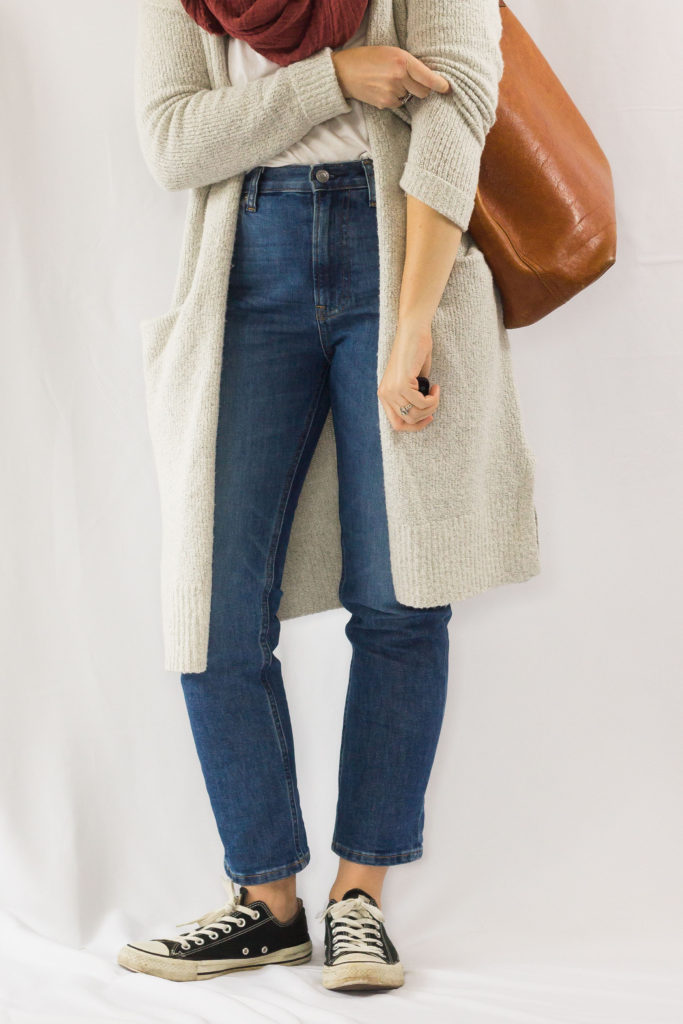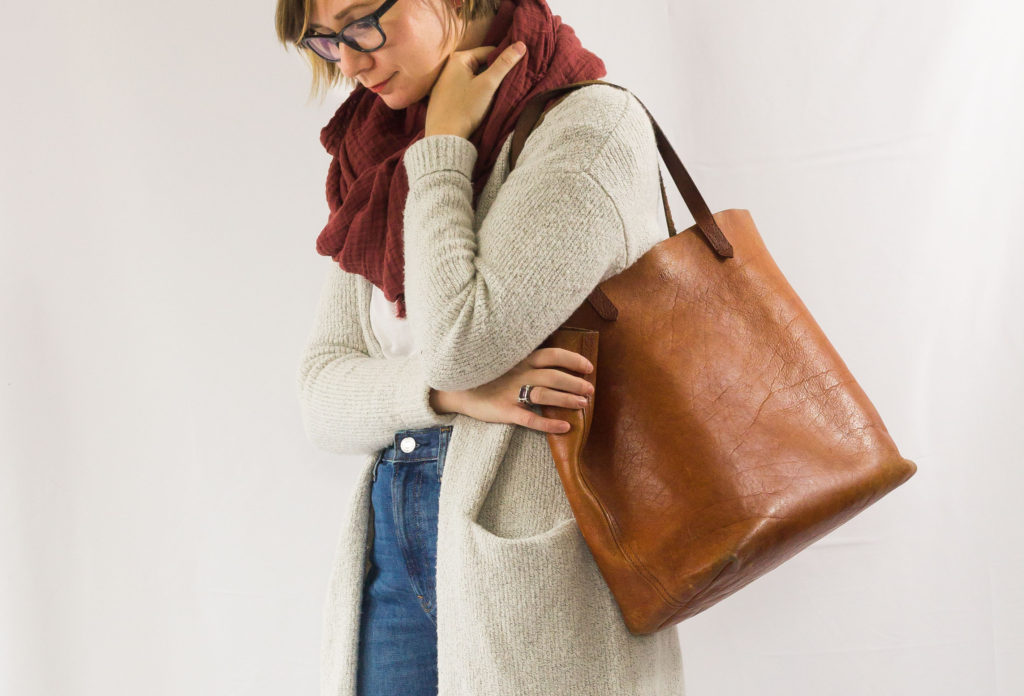 And here we go with my winter 10×10 outfit number two!
I wore this on Saturday for a day of mostly being at home with a few errands in the afternoon and then a visit to our favorite pizza place in the evening… which, side note, actually went okay. It's getting so much easier to take all three girls out to eat, especially now that the twins can sit at the table and eat pizza with the rest of us… although it is a bit hard to find a table that fits two high chairs (i.e. one of the many challenges with twins you don't think about until they're happening ha!).
As I said in my post about what I chose for this challenge, I chose these Everlane jeans because I've been struggling with them lately… which is a bit odd because they were one of my favorite pairs of jeans to wear this fall.
But looking at these photos, I think I've figured out what my issue is with them: the length.
I really love them with low cut shoes like these converse, but I don't love the length with my higher shoes like my boots and high top sneakers. I'm planning on playing around with cuffing them to see if that helps so I will keep you posted! But I'm actually kind of thinking of selling them and getting the lighter pair instead in a size down. I've realized that these do stretch quite a bit and I think I could go with a smaller pair.
Again, this look is fairly monochrome, but the bag and scarf help keep it interesting and I love the contrast of the high waist and long cardigan. It's all about balance right?
I'm really having fun with this challenge so far! After three years of doing capsule wardrobes, I think I'm finally, truly, getting to a point where I love my wardrobe and the challenge this time around is really confirming that for me.
How are you guys doing so far? What day are you on?
Oh and side note: totally didn't potty train Kit this weekend. My formal excuse is that the weather was too nice to be indoors all weekend, but my informal excuse is that I'm chicken.
---
Outfit Details:
Cozy Cardigan: Old Navy | Ethical Option | Wear for a long time option
Neutral Sneakers: Converse | Ethical Option
See all of my picks for the challenge.
Want to join in? See the challenge details here.
---
Until next time,