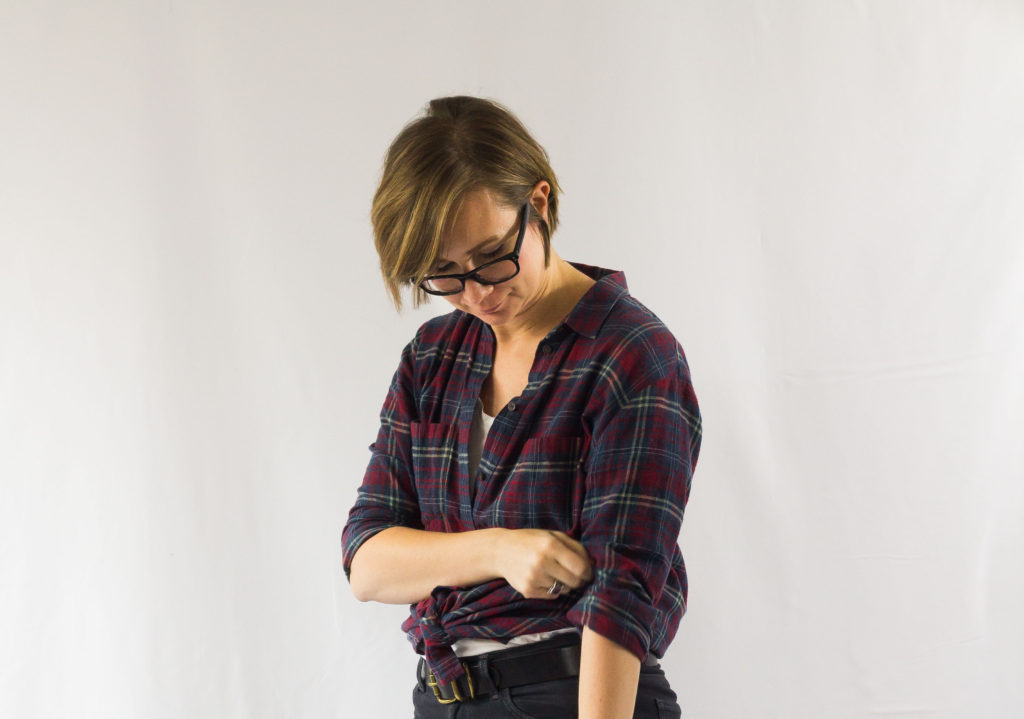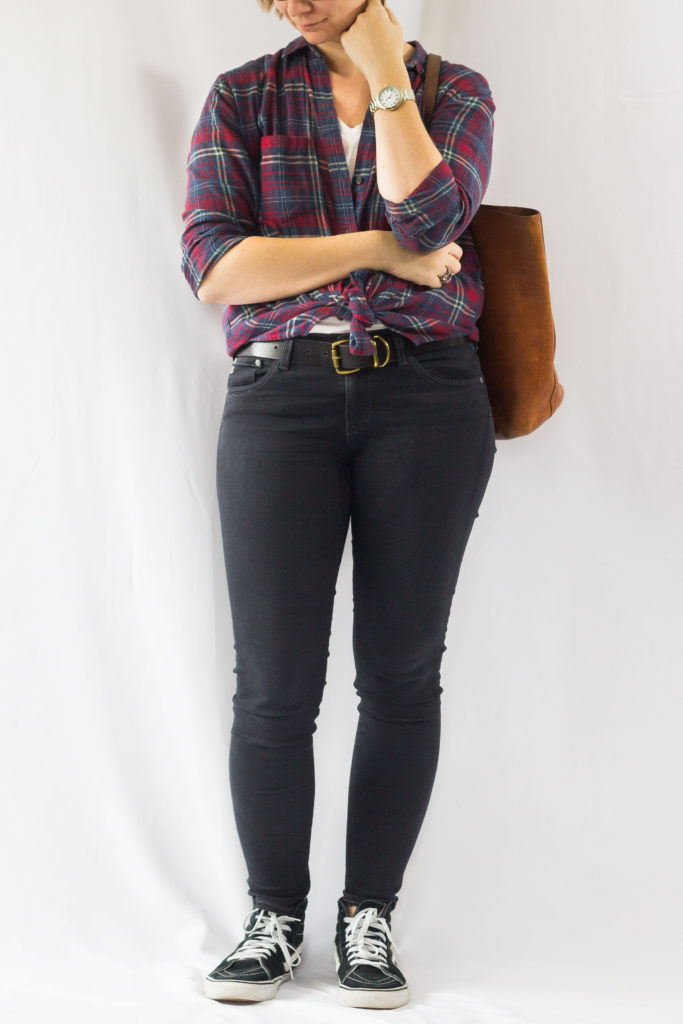 Welcome to my winter 10×10 day three outfit!
Confession time: I really don't like how this outfit turned out.
I had an idea for this in my head and when I executed it? Bleh.
Here's why:
The t-shirt underneath the flannel throws the proportions off and the peek of white right above the belt draws your attention like a beacon, which is not where I want attention to be drawn.
Also, the mid rise on these jeans paired with the tie waist just make my waistline appear really boxy… i.e. it's not the most flattering shape on me.
Lesson learned! I love the tie waist styling trick, but I think it works best with a higher waist and a pant cut that has more room in the leg (like a straight leg or wide leg style).
But that's why this challenge is so good! It helps you figure out what does and does not work when it comes to styling your clothing. So in a way, this unsuccessful styling attempt was actually a win! Niiiiiice.
Speaking of unsuccessful, we're attempting to wean our girls off of the bottle and it is not going well. Kit was so easy! We literally one day took away her bottles and she had zero issues with it. Rosie and Ella on the other hand… Ella acts as if the sippy cup is made of hot metal and Rosie swats the bottle out of my hands so hard that it often flies three feet away from us. Sigh. It's true when they say that every child is different!
Any tips for a successful transition? Or if you're not into sippy cup tip sharing, tell me how you would have styled this outfit… maybe I can learn from you!
---
Outfit Details:
Flannel: Old Madewell | Same in different colors | Organic Cotton option (20% off!) | Affordable Option
Gray Denim: AG | Affordable Option
Casual Sneaker: Vans | Ethical Option
Belt: Old Gap | Similar
See all of my picks for the challenge.
Want to join in? See the challenge details here.
---
Until next time,