Happy Friday friends! The weather today has been absolutely glorious. We spent the day outside in our little pool, eating popsicles, and soaking up the sun and it is the best thing ever. Bonus: the girls always fall asleep right away when they've played outside all day. 🙂
Even though the title of this post is "what I wore last week" it's really more of a little outfit roundup from the last few weeks. I had a few migraine days the last few weeks, and there were some days I was in my swimsuit almost all day so… this is basically what I wore when I did get dressed. #pregnancylife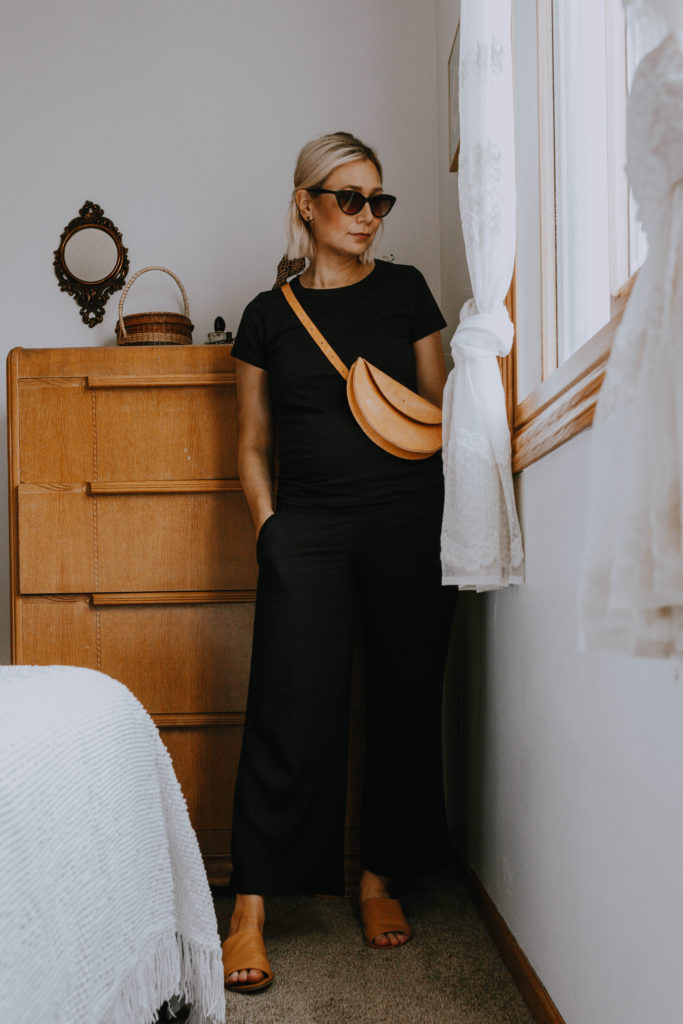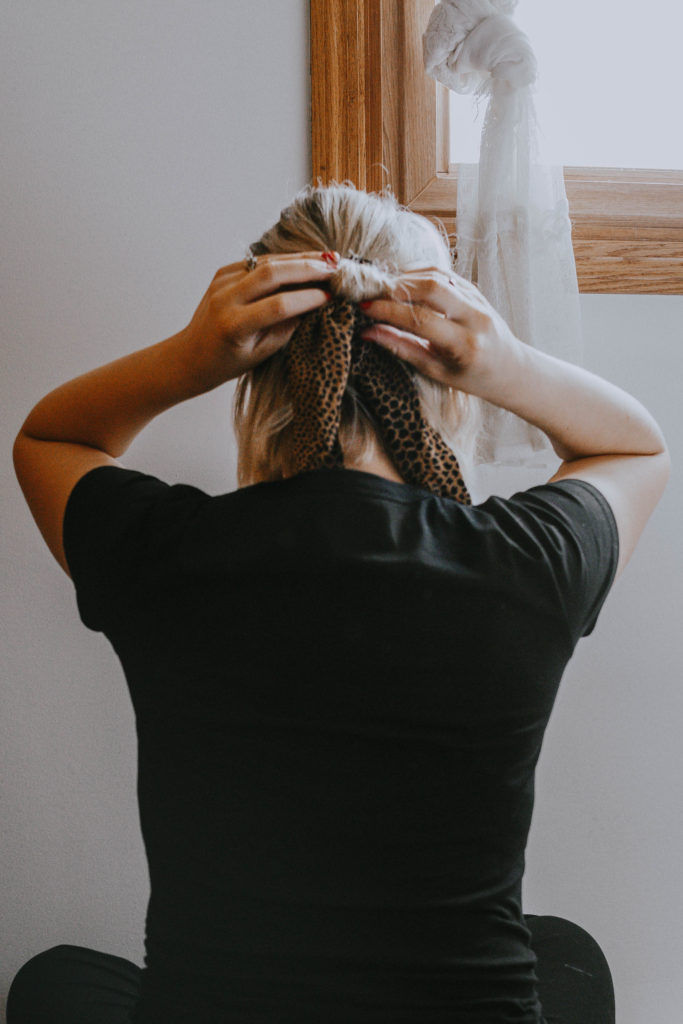 I finally broke down and bought a few maternity pieces, and I'm really happy I did because they have brought a lot of "me" back into my outfits. It's funny how a simple silhouette can make such a huge difference, and for me that silhouette is a wide leg pant. It just feels so much more "me", and I'm happy to have found a pair of maternity pants in this silhouette. And I feel really at home in a color palette of black and warm brown.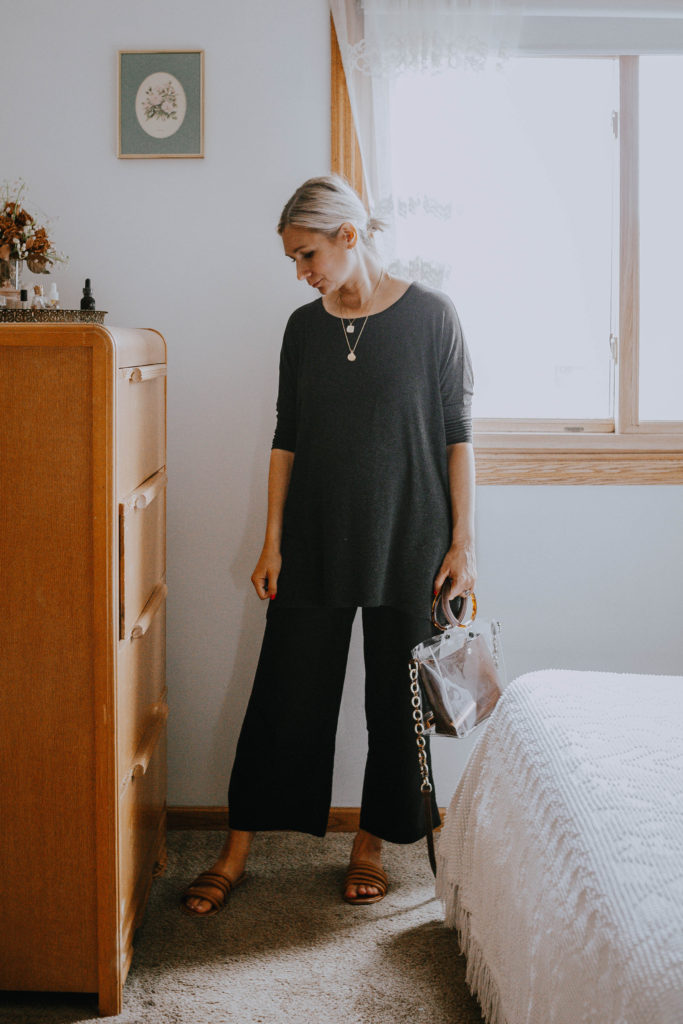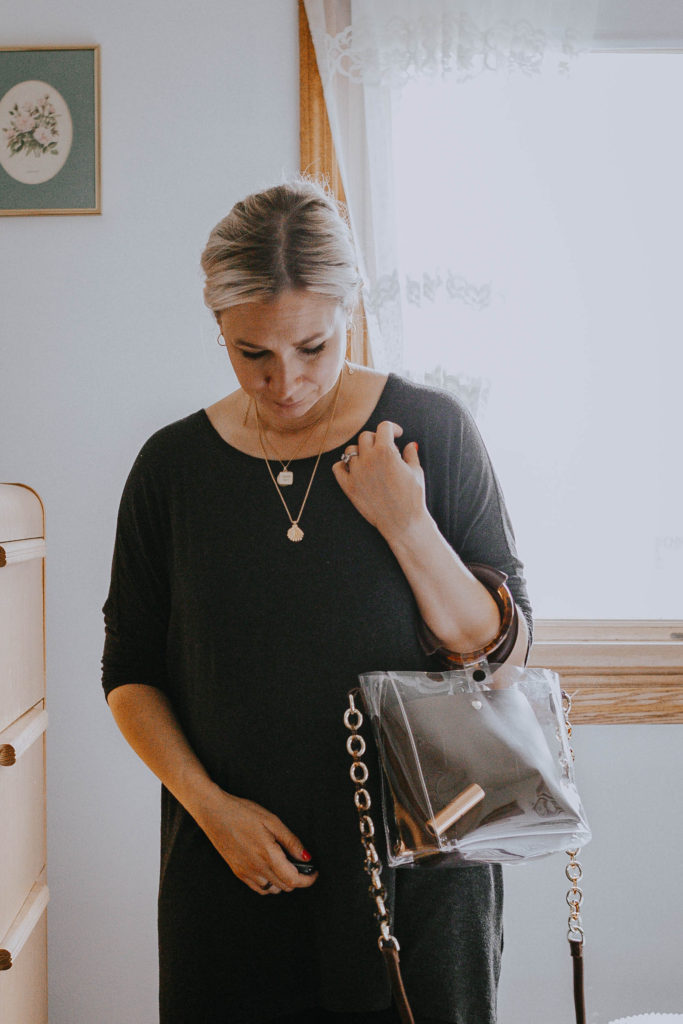 I absolutely love this look. We had a bit of a cooler day and I pulled out this old Eileen Fisher tunic that I haven't worn in a really long time. It's not a maternity top, but the length makes it work really well. This is pretty much the same outfit as the one above it, but the looser silhouette on top makes it look a lot different… a prime example of how an outfit formula really can work so well in real life. I love pairing simple gold accessories with outfits like this because it allows the shape of the individual clothing pieces to shine. When you play with shape in your actual clothing, "statement" jewelry can compete a little too much.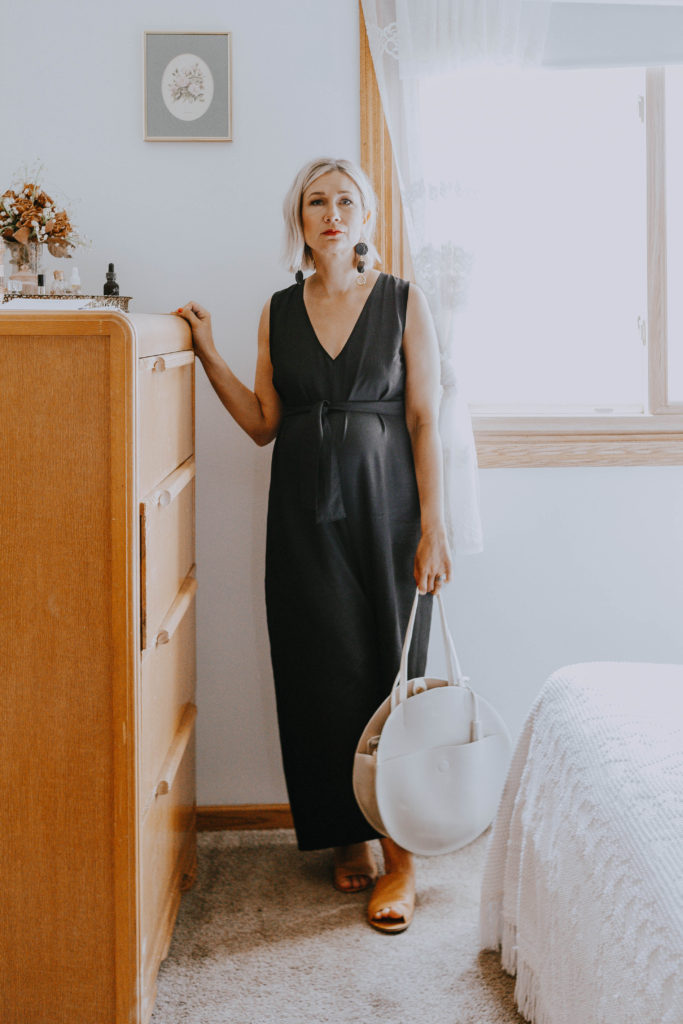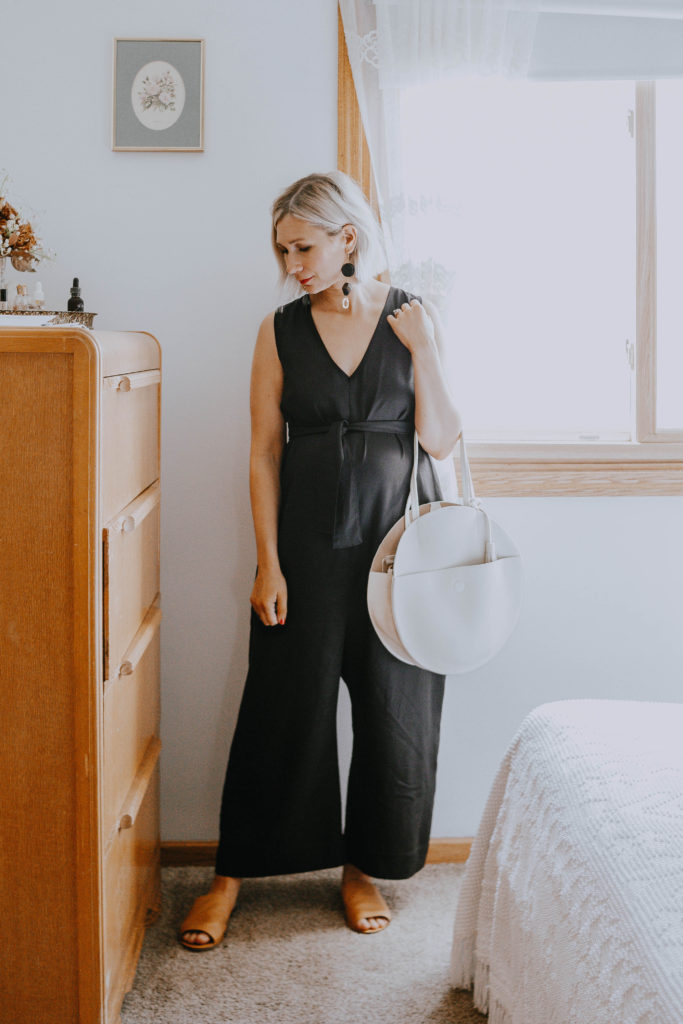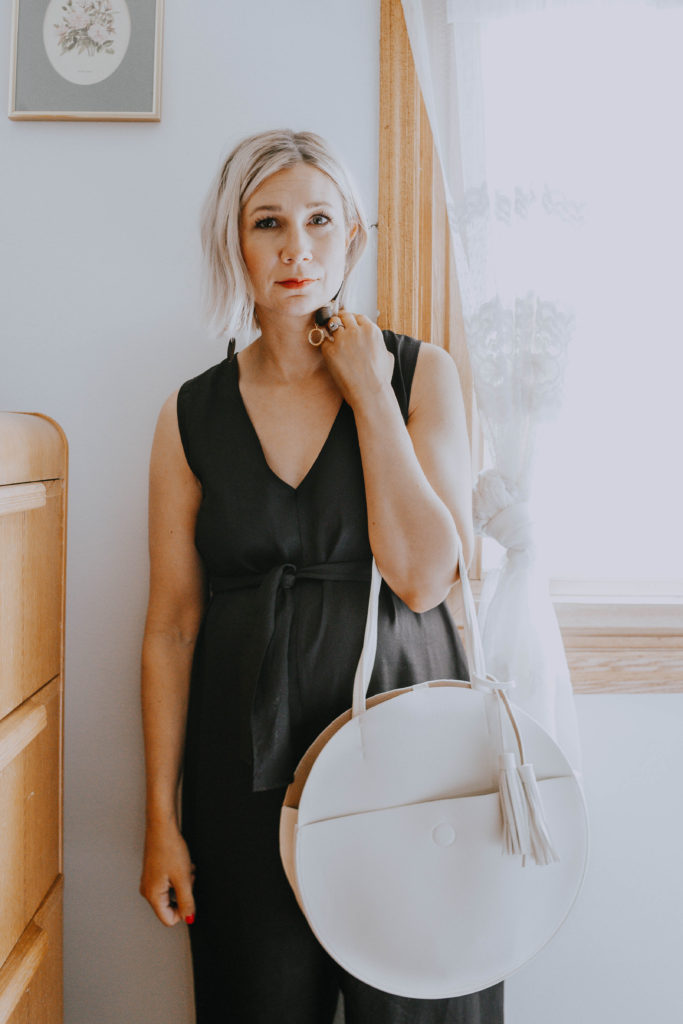 So I looked at these photos and I thought to myself "this would be really cute for a date night", but… I wore it to library story time ha! Honestly, I felt so crappy my first trimester, that now I just want to be fancy all of the time. 🙂 But honestly, while the earrings and the bag make this look a bit more fancy, the base of this outfit is pretty casual. This jumpsuit is SO comfy and lightweight, and the slide sandals are so easy to wear that it's a super simple outfit to put on and be comfortable in. I would also really love it with a simple basket bag and gold jewelry.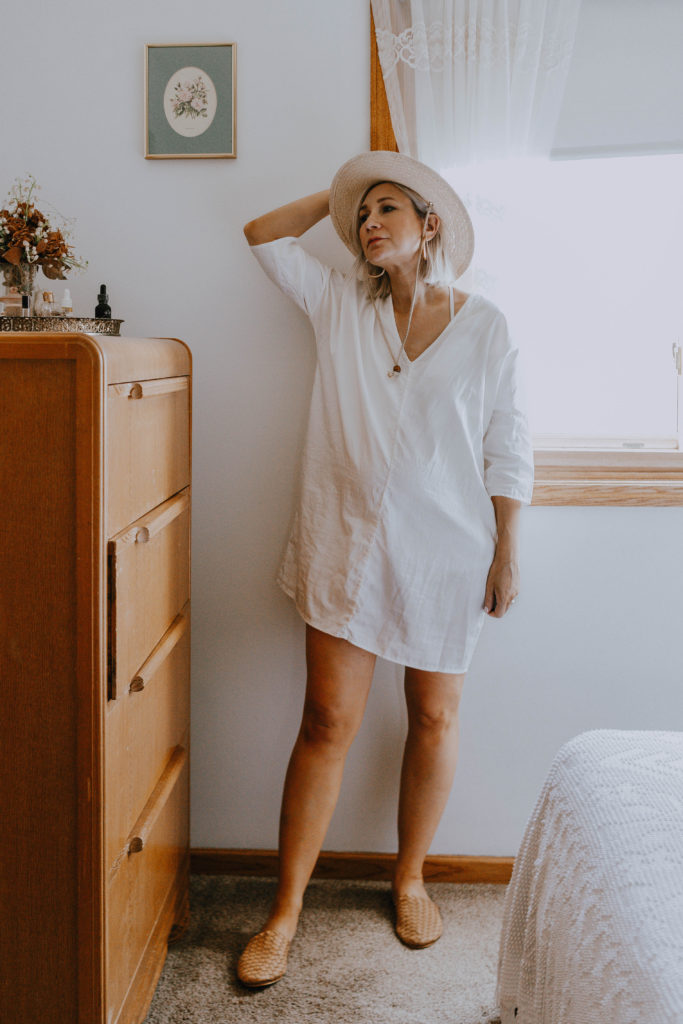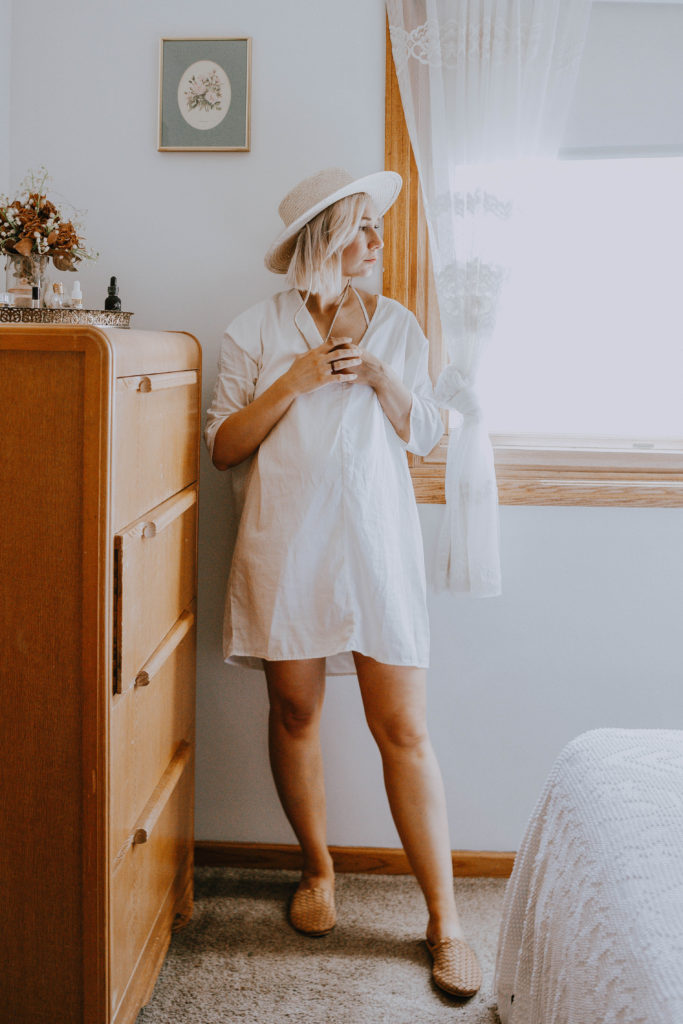 So this was actually a pool day, but I thought I would share it with you because I ended up running to the store and turning my swimsuit into an outfit, which is actually a pretty normal thing for me when the weather gets warmer. This tunic is a super old tunic from Ali Golden, and it unfortunately got some yellow stains on it that I can't seem to fully get out. I was going to cut it up and use the good fabric for other projects, but then I realized that I actually really love it as a swimsuit coverup! It's perfect for when we're going from the beach to eating out or errands. I love it with this hat as well. I did finally splurge on a straw hat because I wore my thrifted version SO much last summer. Unfortunately I wore it so much that the straw started shredding in several areas (an unfortunate side effect of it being vintage) so now it's being used as a decoration. I found this Lack of Color hat, which is a super similar silhouette. I realized that in order for straw hats to be a practical option for me when I'm hanging out with my girls, they need to have a chin strap. Maybe a little nerdy, but worth it. 😉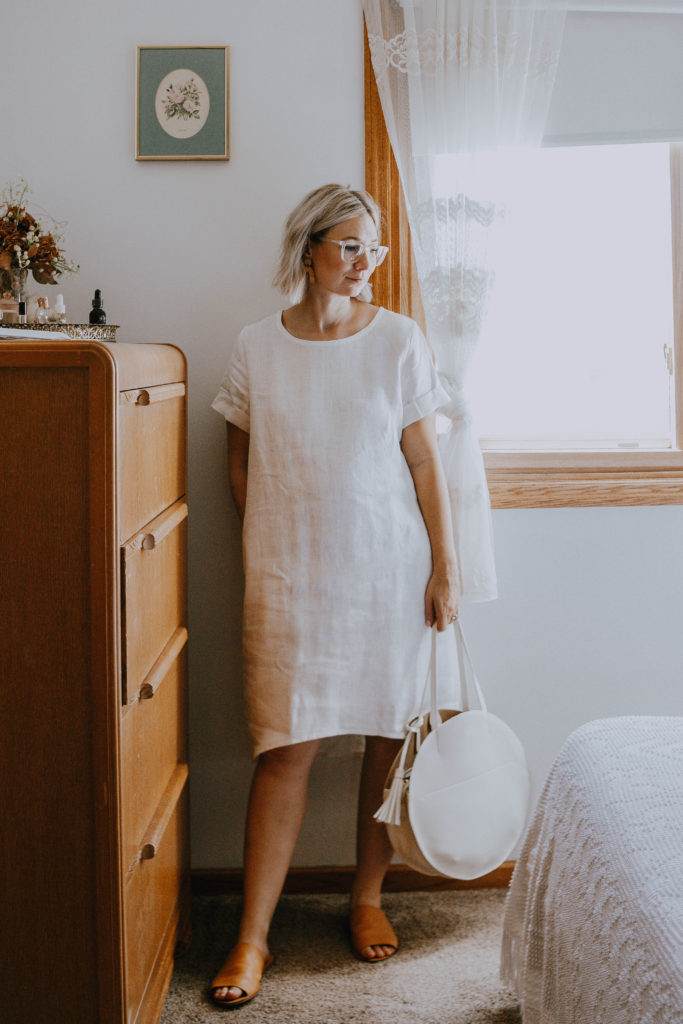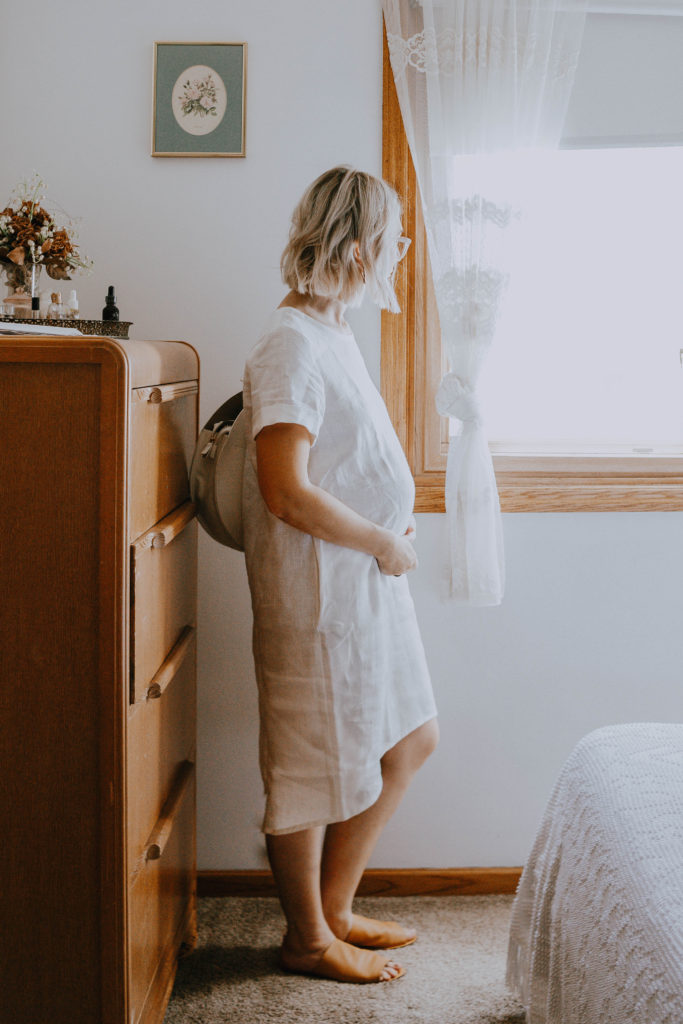 I just ordered this dress from Only Child, and it is so, so stunning! It's exactly what I've been looking for and it is roomy enough that I should be able to wear it throughout this pregnancy. I have had a few questions on Instagram about sizing and I got a size small. I thought about sizing up to accomodate my belly, but then I decided I'd rather have the right size long term and not wear it for the last month or so if it comes to that, but honestly I think I'll be okay because it really is quite roomy. I love it paired with simple accessories because the dress really is a stand alone piece.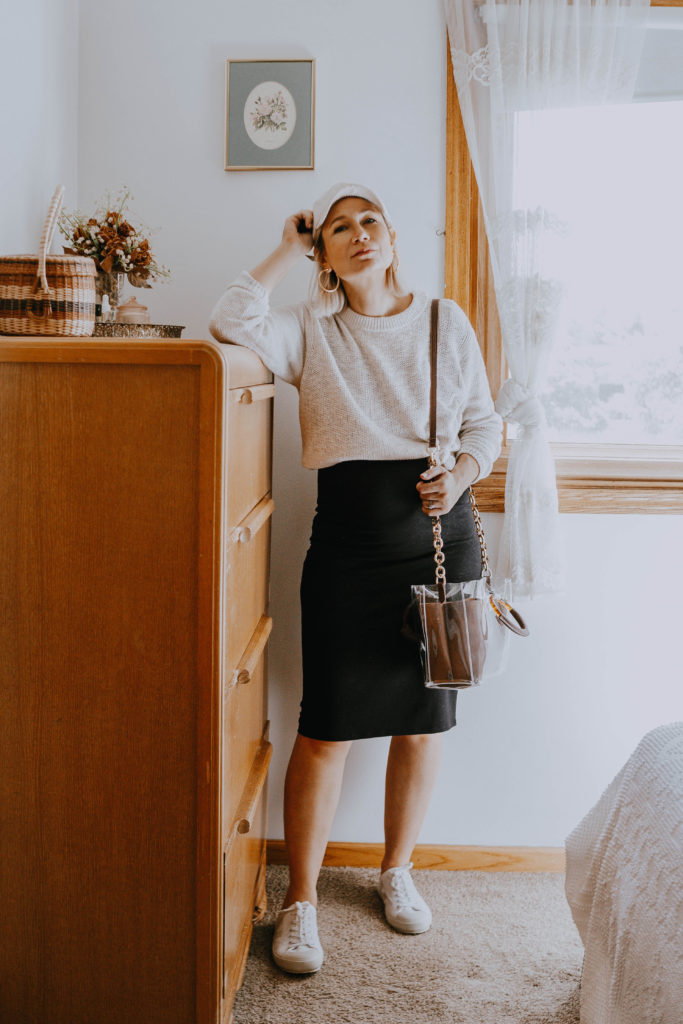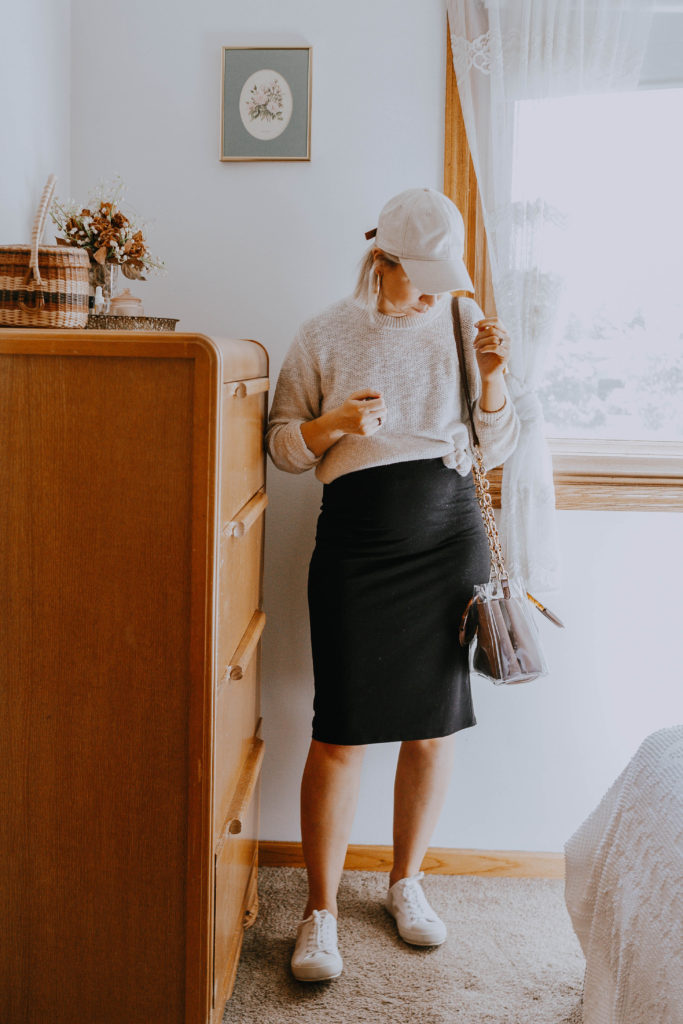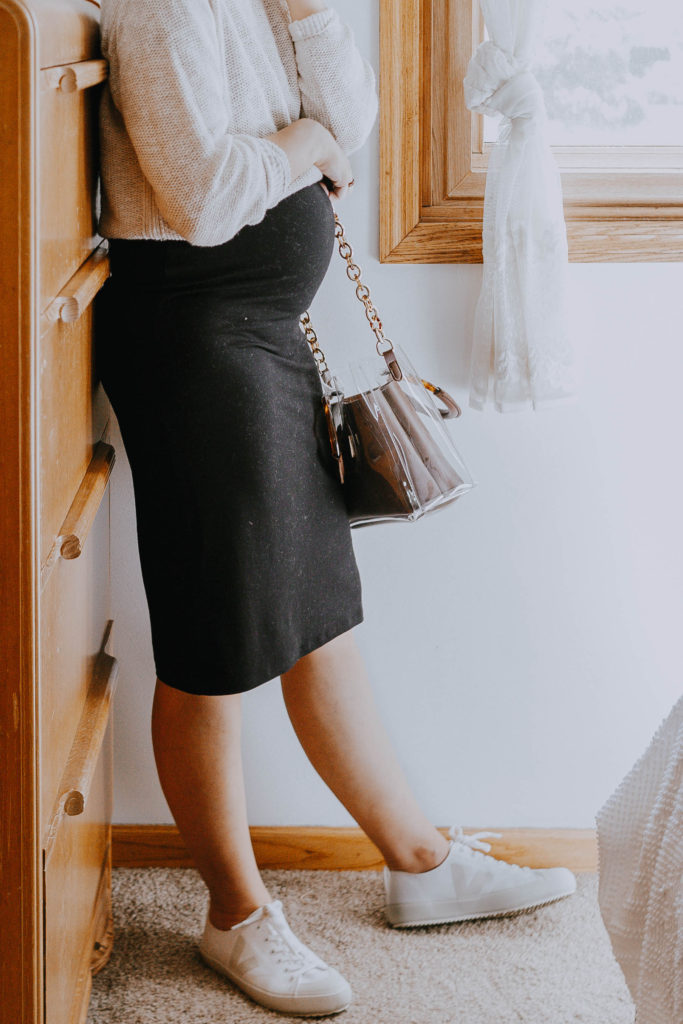 This was a slightly cooler day so I went for a dress with a sweater over top. I love this dress (did you see my Storq haul?) because it's SO versatile and its super comfy. I love that I can throw a sweater over it and it still looks really put together because of the slim fit of the dress. I paired it with my new Veja sneakers. I ended up selling my old pair because after trying for months, I just couldn't get them to break in and they stayed super stiff. This style is a completely different story. There was zero break in time, and they are SO comfortable. They give the look of a converse type canvas shoe, but I really love the thick cream band at the bottom. I'm a fan.
Those are all of my thoughts! I'm finding maternity dressing a lot easier this time around. With Kit, I was still working so I had to figure out pregnancy business casual and with the twins it was difficult because NOTHING fit. This time around I can keep things pretty casual which makes it just a lot more simple.
Next week I'll be sharing my summer capsule with you guys. I'm not sure which day it'll be up yet just because the intro posts to my capsules take quite a lot of time, and the four year old isn't napping anymore so I can only squeeze in bits of work at a time. If we're lucky it'll be up on Monday. 🙂
I also have a fun little announcement to make next week so stay tuned for that.
I hope you all have a great weekend!