It's literally chaos all of the time!
Hey friends!
I mentioned earlier this week, that I was going to introduce something a bit different on Fridays…
I'm going to start doing outfit roundups of what I actually wore throughout the week!
And if I've snapped any photos of the girls throughout the week I'll share those as well (which should satisfy my mom and mother in law).
I'm excited to share something a bit more casual with you, and also give you insight into how I'm actually using my capsule.
It also gives me motivation to actually get dressed every day (well… sort of).
So let's get started yeah?
P.S. Sorry about the poor quality of these photos… it was super dark this past week and my mirror needed a good cleaning, but I was out of cleaning supplies. Whoops!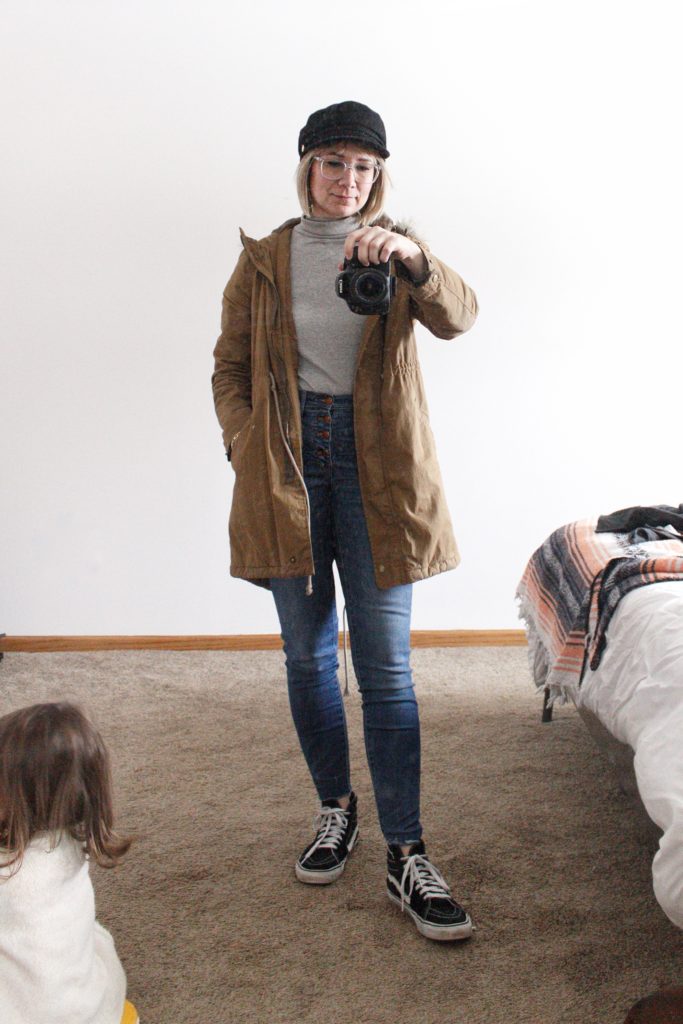 Turtleneck c/o. Affordable Ethical Option | Denim. Ethical Option | 
Sneakers. Ethical Option | Ethical Option | jacket, super old. ethical option | hat
Monday:
We had a massive ice/snow storm on Monday, but we were desperately in need of groceries. Thankfully David was working from home so while Ella and Rosie napped Kit and I ran to the grocery store. I ended up changing out of this coat and putting on my warmer puffer coat! And I had to reach into my winter capsule for this turtleneck for the extra warmth. I've decided to transition slowly out of my winter capsule depending on what the weather does. No rush right?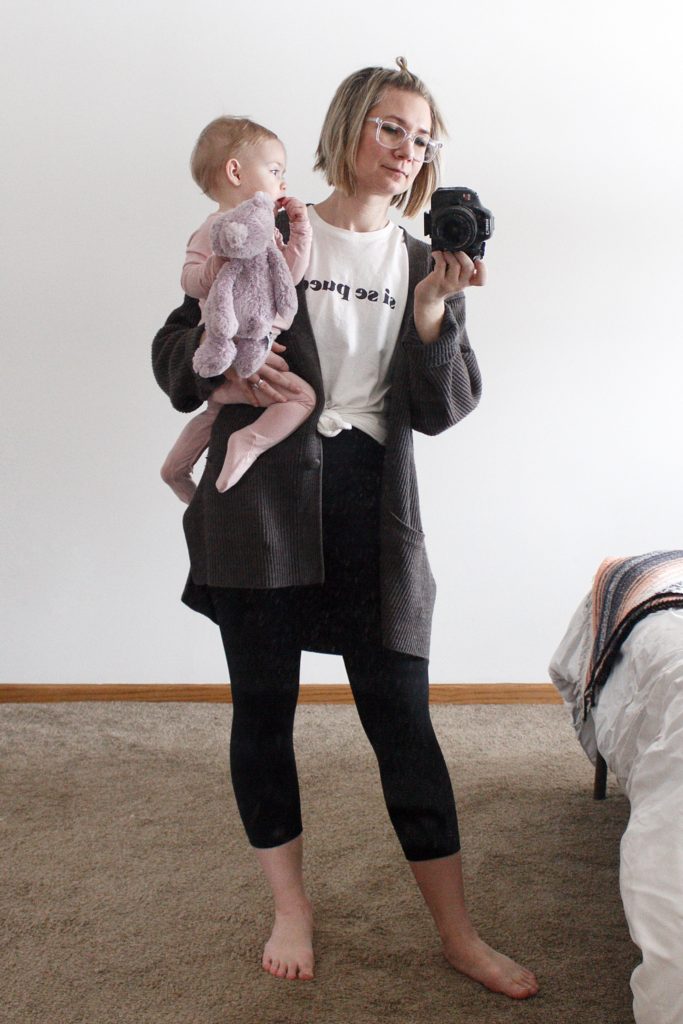 Si Se Puede Tee, c/o. Affordable Option | Leggings, c/o | Sweater: Thrifted. Similar
As the roads were still pretty bad on Tuesday, we ended up just staying in all day. I do try to leave the house at least once every day, even if that means I just run an errand or go to the gym after the girls go to bed. It makes me feel so much more like a real person, and it's nice to chat with people who are outside of my immediate circle. But seeing as I wasn't going anywhere I allowed myself a yoga pants day. 🙂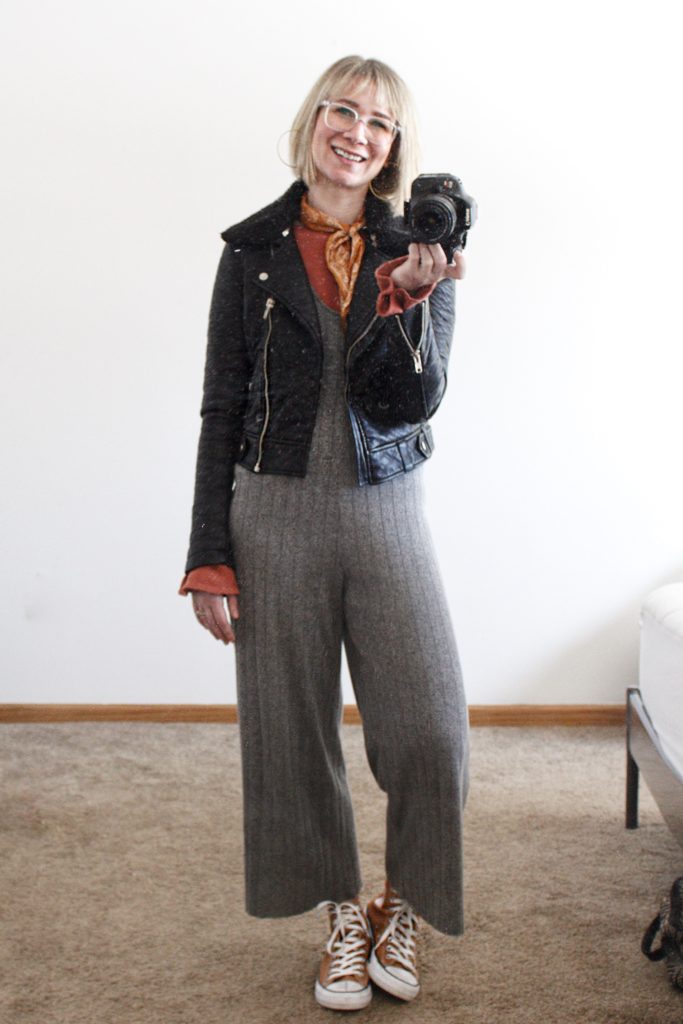 Tee. Ethical Option | Jumpsuit: Thrifted. Ethical Option. Linen Option. Affordable Option |
High Top Sneaker: Converse. Ethical Option | Scarf | Earrings | Jacket: Old. Similar
We had lunch and went to the mall play place on Wednesday with my sister and nieces. I was feeling slightly sassy so I went for my jumpsuit. A few of you have commented that my style has evolved quite a bit really quickly, and the truth is I'm just caring less what other people think! I love styling outfits with a bit of sass, but I've been feeling less than brave for the last couple of years. Part of my growing process this past year has been to embrace who I truly am and part of that is "going for it" in the style department.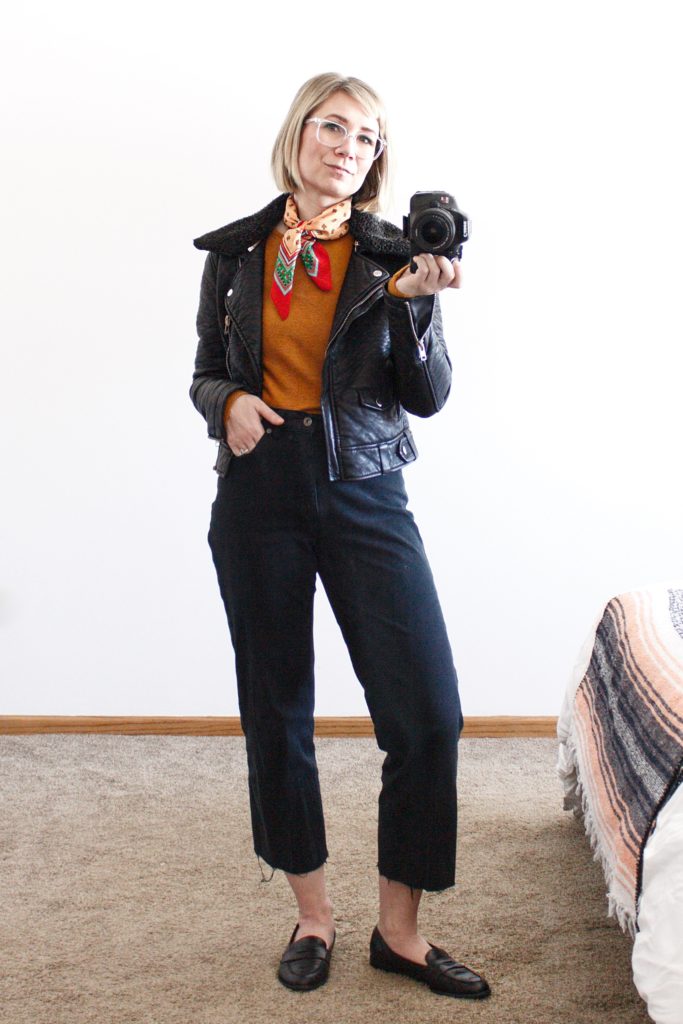 Colorful Tee. Affordable option | Black Jeans: Vintage. Ethical Option | Loafers: Thrifted. Ethical Option | Scarf: Vintage. Similar Handmade | Jacket: Old. Similar
We didn't do much today, but I'll be heading out tonight to continue my search for the girls' spring wardrobes. I'm trying to thrift as much of it as possible, but that means a little more legwork is needed. I secretly don't mind though because it's alone time and I enjoy thrifting.
Now! On to some pictures from this week. I try to take my nice camera out and snap photos of the girls as often as possible, but lately I've fallen out of the habit. I'm hoping this will give me the kick in the rear that I need to keep doing it… we'll see!