Welcome back (finally!) to another round of weekly outfits.
I haven't done a good job of being consistent with these daily outfit posts, but, well… such is life.
My priority is my actual life, and my actual life has been a bit full lately.
Things are finally settling down, and we're all starting to feel better again (knock on wood!) so I feel like I can breathe again.
But to be honest with you guys, I've been spending more of my time sewing.
While blogging is still a huge priority for me, because I love it, I've also been spending less time with it. I've also been less active on Instagram, and it's actually been super refreshing.
It's easy to get sucked into the idea that success = amount of followers.
But lately I've just felt content with the quality of (you!) my followers instead of the amount of them (because there is always going to be someone who has more followers than you).
I've just been so blessed by you guys. Every comment, every interaction, every bit of support has been so felt and so appreciated. And you guys are all so intentional, and kind, and intelligent, and really just lovely people.
I couldn't ask for a better community.
So now that we have that bit of sappiness out of the way, let's get into this week's outfits: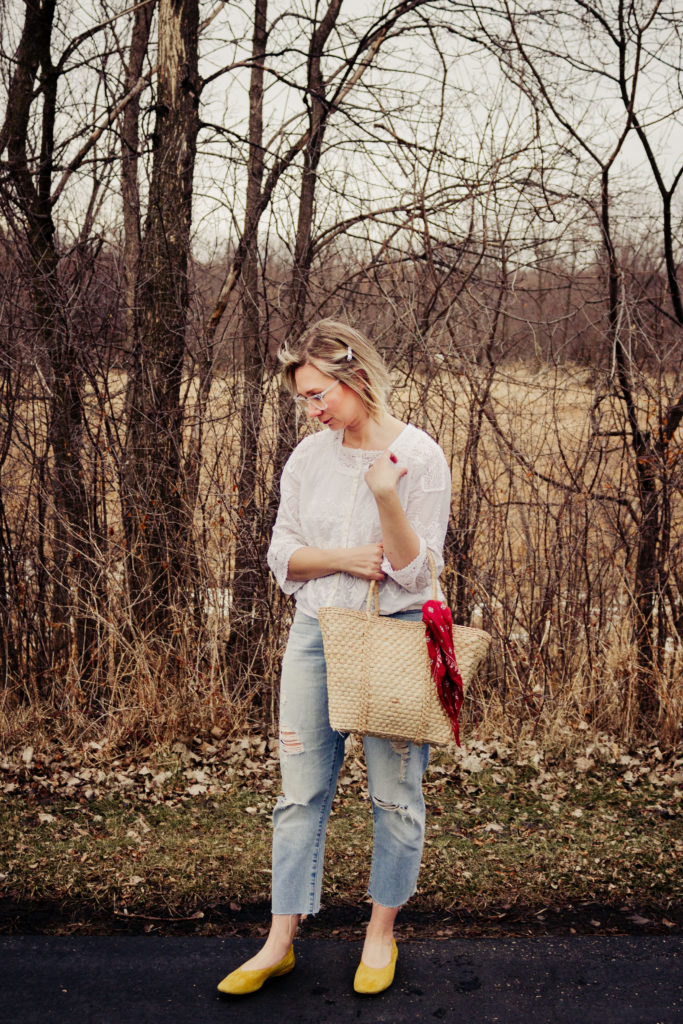 Blouse: Old Doen. Similar from Doen. Super Similar Option | Jeans: Old. Similar .  Affordable Option | flat: Old. Different Color. Similar. Affordable Option | Straw bag: Vintage via the Oak Closet, c/o | Scarf
Friday, 4/6:
Full disclosure: This is not what I actually wore on Friday. On Friday I was in bed all day with the flu. So rather than showing you a shot of that mess, I thought I would share an Instagram look that never made it's way into a blog post. This basket bag is from a new favorite vintage shop that I found. She has some really good pieces, so if you're into vintage definitely check it out!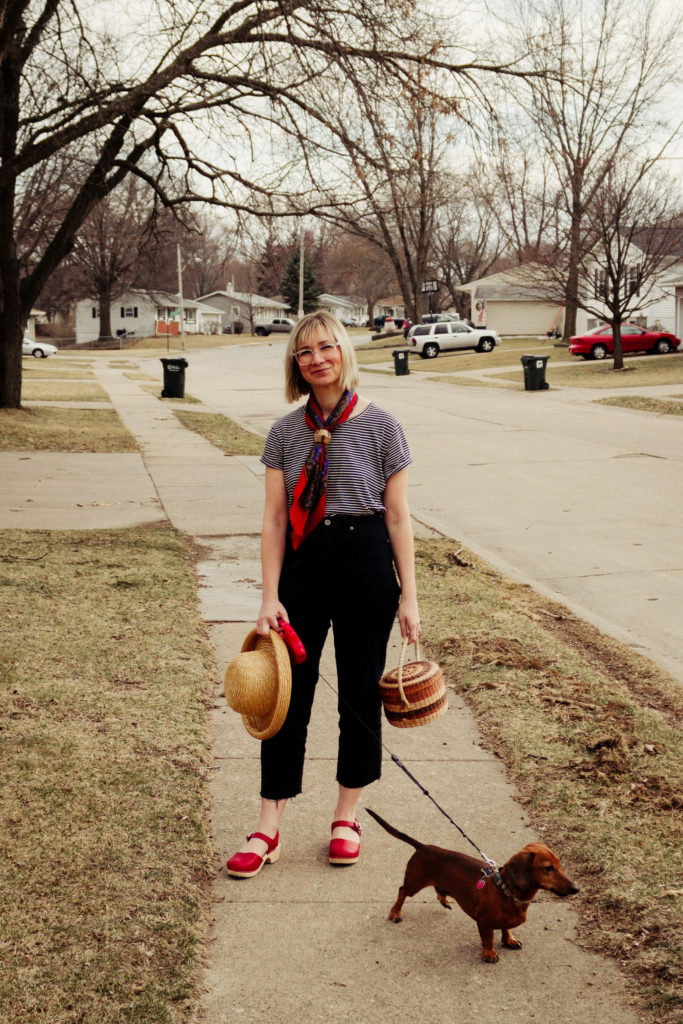 Jeans: Vintage! Similar | Tee | Clogs | Hat: Thrifted. Almost Exact | Bag: Thrifted. Similar | Scarf: Vintage. Similar | Scarf Holder: Sold Out. Similar
Monday, 4/9:
Yup. Same with Monday's look. Still sick… still wearing pajamas and not showered. This outfit I wore when I visited my parents and it was a lot warmer. I saw a meme on Facebook that said "so, are we not doing spring then?" And I laughed and cried when I saw it.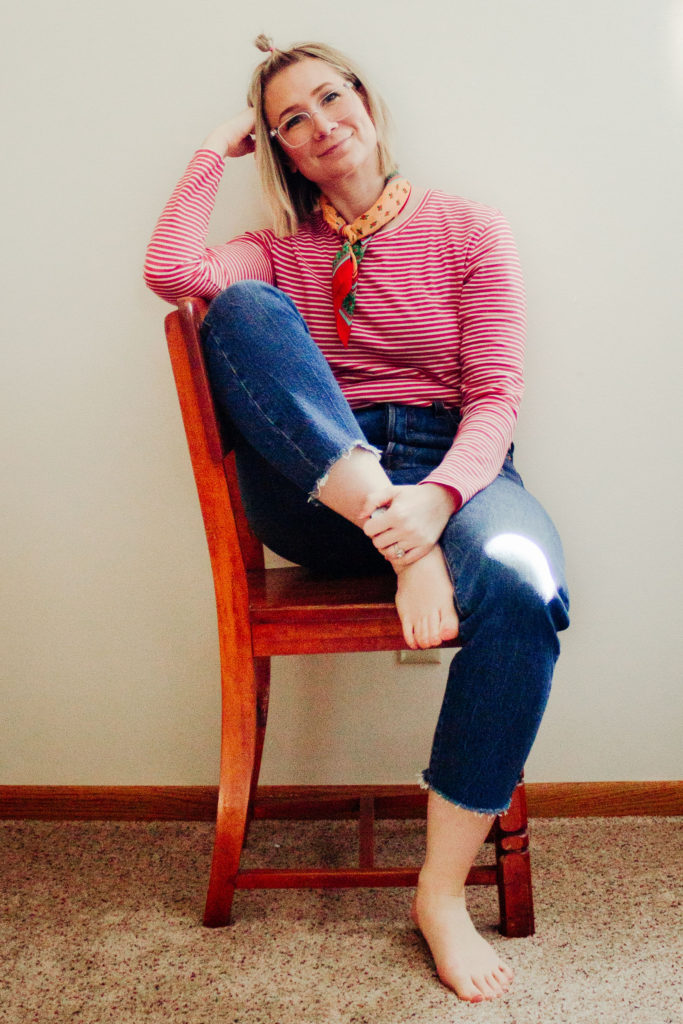 Tuesday, 4/10:
I tried to squeeze in one last spring 10×10 outfit before I finally just gave up entirely. This was my least successful challenge, but between the weather and sickness it just didn't happen. As you'll see in the below outfits, once I started putting on actual clothes I just wanted to be warm and cozy this week. I wrote about both of these pieces in yesterday's post so I won't get into the details about this look.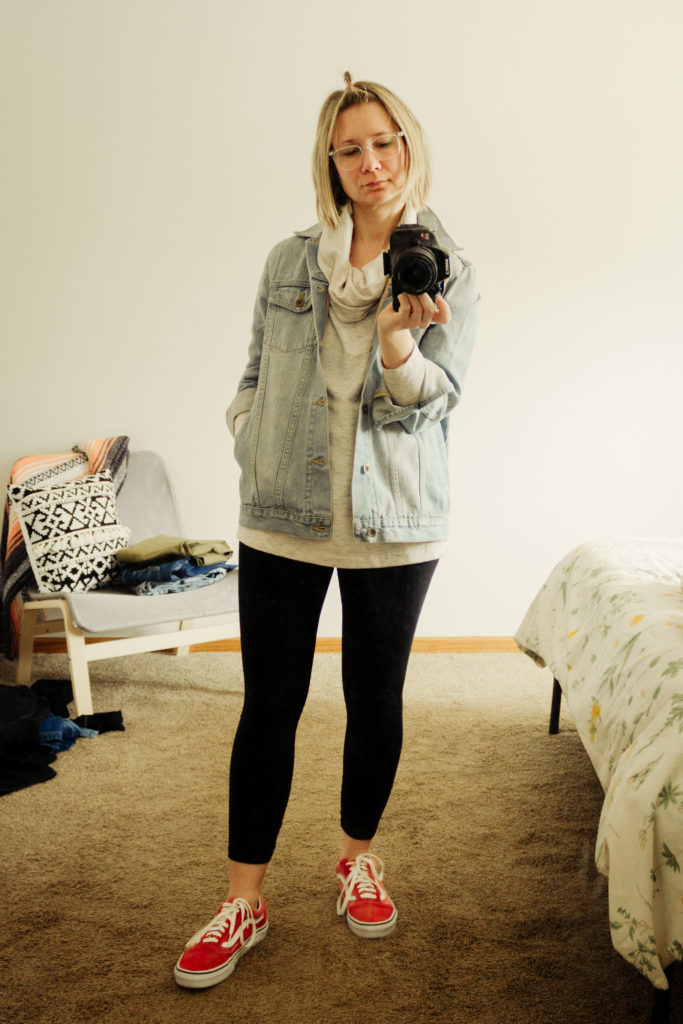 Leggings: Lularoe | Colorful Sneakers: Vans | Top: Old Lou & Grey. Similar | Jacket: Tradlands c/o (15% off with code truncationxtdl through 4/20)
Wednesday, 4/11:
As you can see… I got dress, but barely ha! To be really real with you guys, I wasn't sure how much actual wear I would get out of this jacket when Trandlands originally sent it to me (see my review and discount code here), but I wore it at least three times this week already. I really, really like it. I just love the vibe it gives, and the oversized fit makes it so easy to throw on over anything.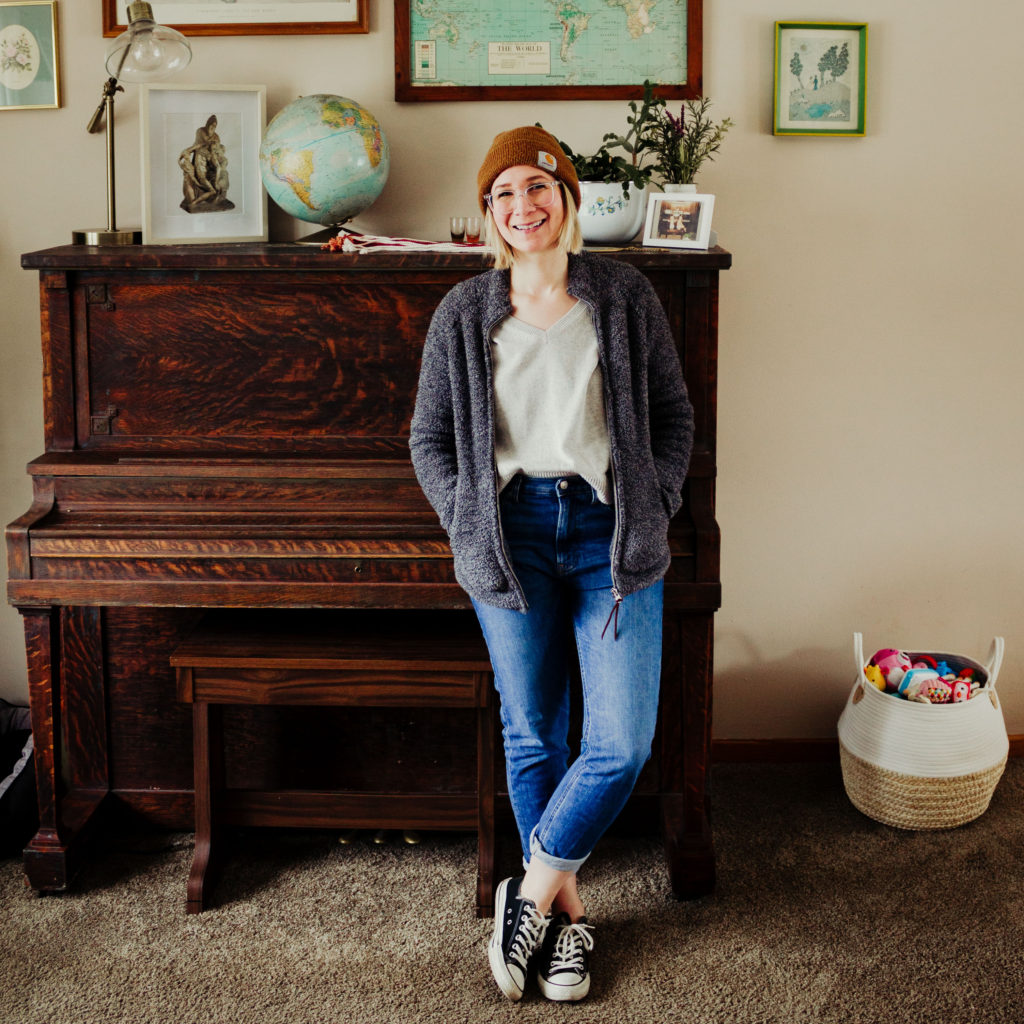 Thursday, 4/12:
And finally! Another cozy, non spring look for you! It's a good thing I shot all of my photos beforehand because I would have had zero spring looks to show you. I was able to include some of my spring capsule in this outfit though so I am utlizing it even if it doesn't look like it. I was thankful for this extra fleece layer however. I love this Everlane sweater for that reason: it's so easy to layer over.
Well that's it folks! I'm actually going out, like for real, tonight! It's my best friend's birthday and we're going to a super trendy dinner place (I think I sound old even saying that). Here's the fun part: I don't really own any warm tops that I can dress up for a night on the town, so I picked out a nice, thick fabric from my thrift store stock and made myself a smock. It turned out so well! I'll share a photo in next week's roundup. So fun being able to make myself a top when I'm lacking!
I hope you guys had a great week, and that your weekends are restful!
Until next time,