Happy Monday friends!
I'm so excited to share today's post with you because we're going to be chatting about one of my favorite things… thrifting!
Many of you may not know this about me, but I have been a hard core thrifter since college.
I, and a group of friends, would spend our weekends perusing the local thrift stores and then stopping in somewhere for tea/coffee or good conversational food.
We were total hipsters.
But this was kind of before hipsters became so mainstream so we were, like, REAL hipsters…
#saideveryhipsterknowntomankind
I used to pull together the weirdest outfits ever, but I had the confidence of youth so no one questioned me (at least out loud). If you remember me from those days, and you read my blog you need to let me know if I dressed as well as I thought I did ha!
Anywho… I loved thrifting then and I love it now.
Last week I took the girls to a nearby thrift store, and we picked up a few things. As I was unpacking the bag back at our house I decided to snap a few pictures of what we got, and share them with you!
I know a lot of you have wanted to hear more about thrifting topics, and what better way for me to share on the topic than to "bring you along" with me.
P.S. I'll link to similar pieces from Etsy… first come first serve!
So here's the roundup: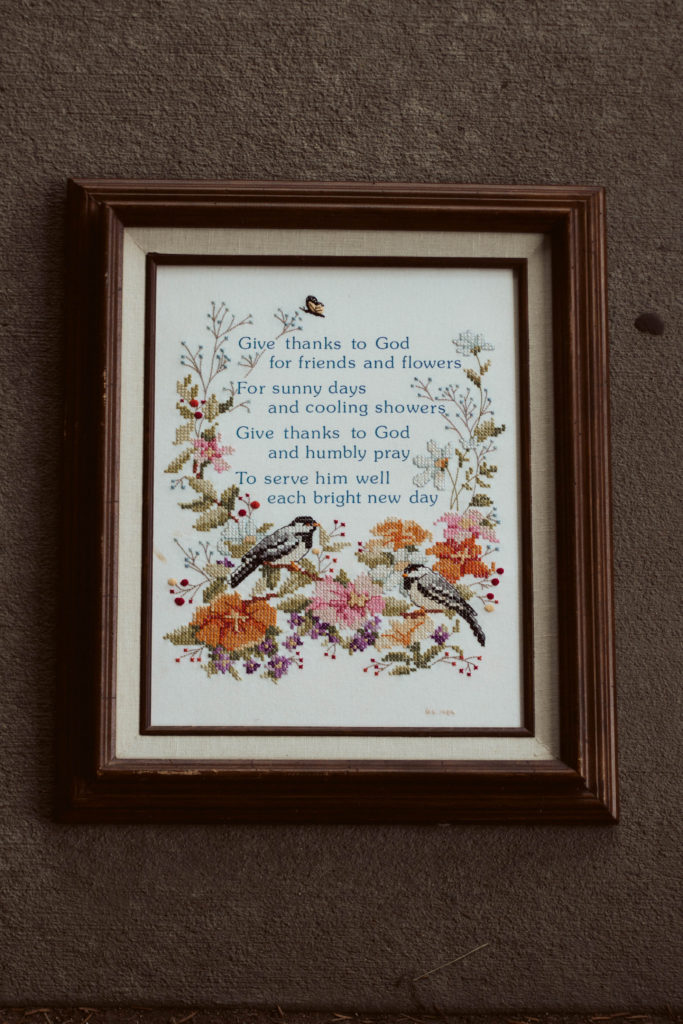 We've been doing a lot of moving around redecorating in our house the last couple of months. It all started because we were blessed with a bedroom set for Kit that used to be in my grandparents' house. Before she got that furniture set she had a dresser in her room that was part of a set with a gorgeous mid century round vanity that used to be in our room at our old house. When we moved in here, we totally got sucked into that whole "I need all new things because we have a new house" so we got an Ikea dresser for our room… a decision that I started to regret as time went one. So when we no longer needed that dresser in Kit's room, I decided to move the antique dresser and vanity back into our room. Okay, I know that was a bit long winded… but there's a point I promise! The Ikea dresser was short and long, but the vanity and dresser are both tall, which means that a lot of the wall hangings I had above the Ikea dresser don't work anymore. So I've been poking around at thrift stores to find new wall decorations that work better with the new space. I love this one! I'm such a sucker for vintage wall hangings… I honestly don't know why you would ever buy one from a place where you know everyone else will have the same piece. Maybe that's snobby of me, but I really just love the uniqueness of thrift store decorations. This one is embroidered, and the frame is distressed just enough. I'll try to share photos once we get that space all settled.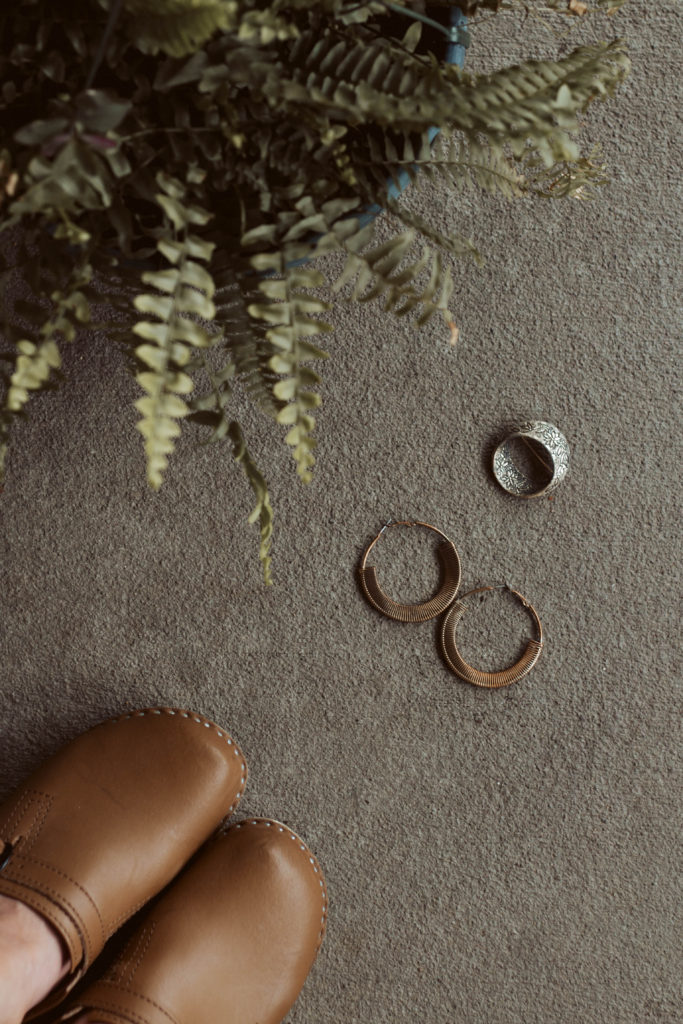 Similar Hoops | Similar Pin here, here, and here | Same Clogs in Black, similar in same color
I'm always on the lookout for jewelry at thrift stores. I've had a pretty dry spell this past year of finding anything good, but I was so excited to find these two pieces! I've been wanting some more chunky hoops, and check! The perfect pair. This pin wasn't something I was looking for, but I fell in love the moment I saw it. I plan to wear it at the knot of my scarves when the weather gets a pit chillier (not for awhile yet fingers crossed!)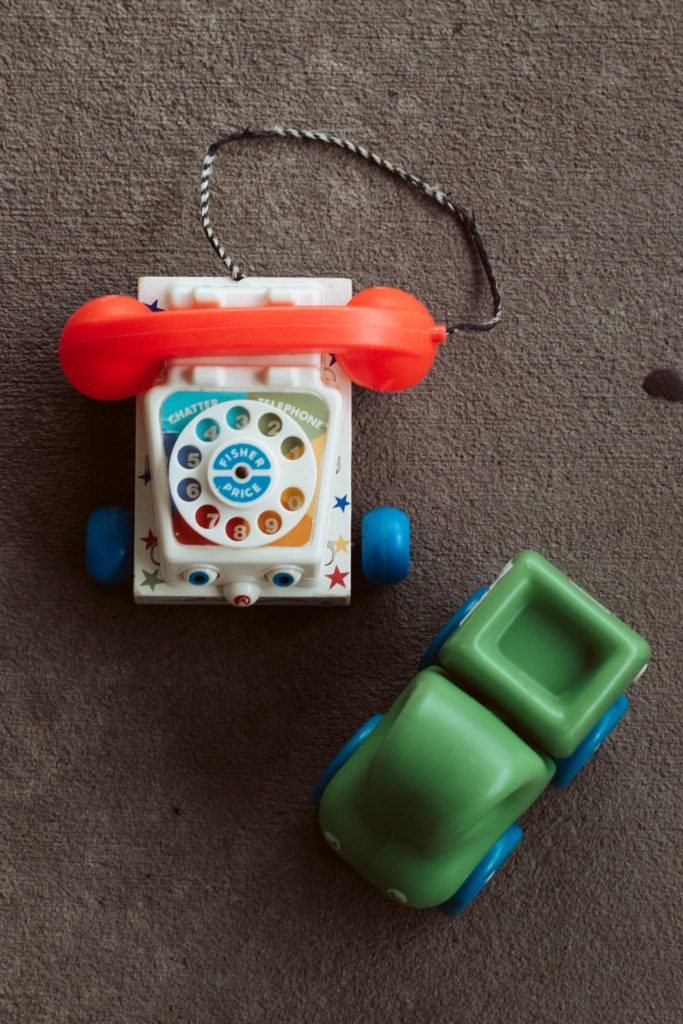 We pretty much don't ever buy toys for our girls (although we do buy them bigger things like tricycles, etc.). They get SO much on birthdays and at Christmas that we've never really needed to. Although, I admit that I do take the minimalist approach to toys. We do bin swapping with the girls toys, i.e. we keep a certain amount of toys visible to the girls and then the rest stay in storage. When I sense the girls are getting bored of their current stash, I swap it out for a new bin, and so on and so forth. But, when I take the girls thrifting I will usually pick up a toy or two for them as long as they're high enough quality that they won't break in two days. I tend to gravitate more towards vintage toys because the quality is so much better. It was fun to see both Rosie and Ella figuring out how to "call" daddy on the phone.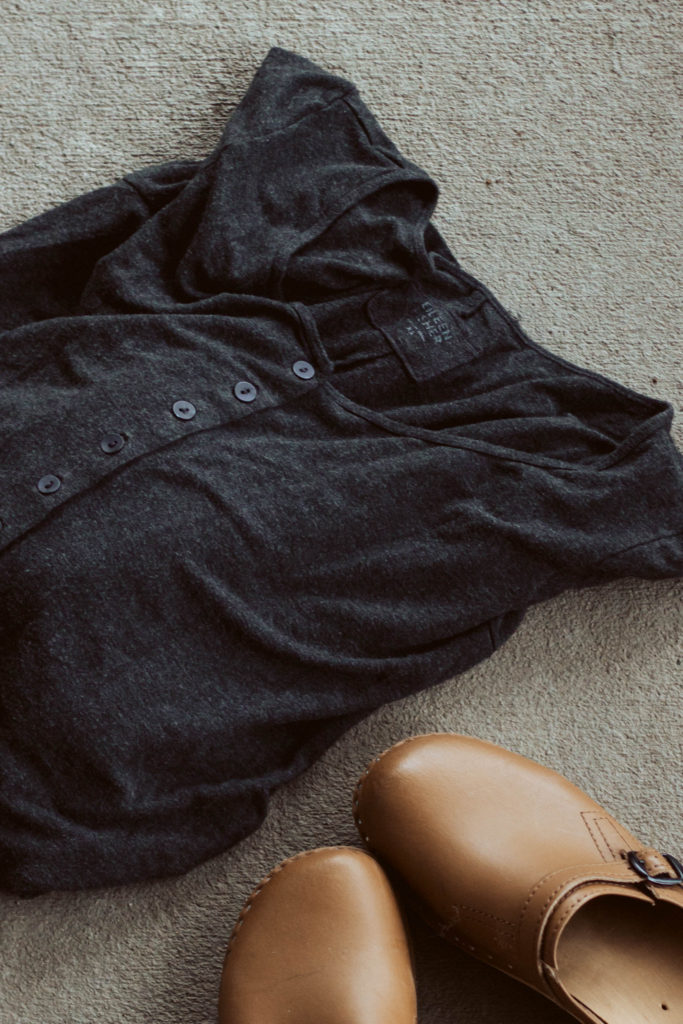 As similar as I could find | Similar Style, but Shorter
You guys, I have had the BEST luck with Eileen Fisher lately! I found a pair of brand new silk, wide leg black pants a month ago for $10, and on this trip I found this gorgeous gray midi dress for $7!! It's beautiful. If you follow me on order now Instagram, I'll share a story of what the dress looks like on later today. It's definitely more of a fall dress, but I couldn't pass it up!
So there you have it, a few odds and ends for all areas of the house. So now you tell me… are you a big thrifter? What's your best thrift store find ever? I think mine may have to be a vintage Chanel purse that I got in a thrift store outlet about eight years ago for… wait for it…
$15!!
You heard me right. Find of the century.
Until next time,
Karin