Finally the fun part!  My summer 2015 capsule wardrobe took about a month of serious whittling until I came up with the 40 items pictured below.  I did not mean to end up with a round number, but I think it's a great place to start. One thing to mention is that some of the images below are representations of clothing items that I own. A lot of the clothes are older, but I wanted to give you options just in case you wanted to add some of these items to your very own capsule. I feel like I should apologize for the lack of color, but I can't.  Ask anyone that knows me and they will tell you that monochromatic is my jam. Although I'm pretty proud of the green wedges I included.  We'll see how many wears I get out of them. On that note… without further ado: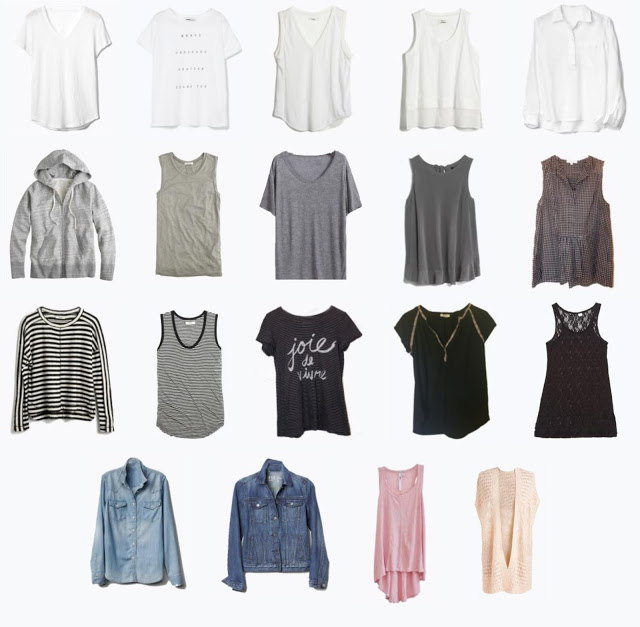 White T-Shirt | White Graphic: Similar | White Tank: Similar | White Blouse: Similar |
White Button Up Blouse | Hoodie: Similar | Gray Tank | Gray T-Shirt |
Silk Tank | Gingham Tank: Similar | Striped Sweatshirt: Similar | Striped Tank: Similar |
Graphic Tee: Similar | Black Pheasant Blouse: Similar | Lace Blouse: Similar | Chambray |
Denim Jacket | Blush Tank Top | Short Sleeve Cardigan: Similar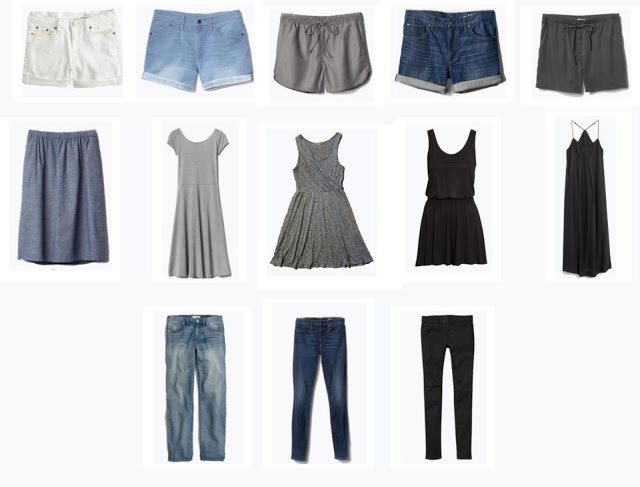 As I mentioned above, most of these clothes where items I already owned.  The biggest thing for me to purchase this time around was shorts.  Last summer I was pregnant and I definitely don't fit into the shorts from the summer before that (were my hips really that size before getting pregnant??).  However… confession time: the light wash jeans in my capsule are totally pregnancy shorts.  Mama's got to do what Mama's got to do.  Also, I may have made a mistake in adding the white shorts. Time will tell… I have already spilled chili on them, sat on chocolate, and most recently my six month old pooped on them.
The area I struggled the most in whittling was in the shoe department.  Surprisingly, I have a lot of emotional connections to some of my sandals.  I've had several pairs for over ten years and I honestly do still love them.  However, I didn't feel like they were a necessary part of my wardrobe so they were truncated.  The exception is my beloved pair of Chacos.  I bought them my junior year of college right before I traipsed around South America for three and a half months and they have been faithful companions ever since.I didn't have a set budget this go around.  I'm still working out exactly what I want that to look like for future capsules.
The only things that I felt were missing from my capsule once it started to come together were the striped sweatshirt, white button down, and cream cardigan.  Everything else I already owned.This is an outrageously long post so we will leave it there for now before your scrolling finger gets a cramp.  Starting next week I will be showing you different ways of styling all of these pieces.  I should definitely put out a disclaimer that I am NOT a stylist… for real. I have major limitations in that area.  If you're looking for something a bit more professional, check out my sister's blog.  She's all kinds of professional.
Until next time,