I had so much fun styling Pinterest outfits for you last time, that I think I'm going to make this an ongoing series.
There's just nothing quite like Pinterest to pull you out of a styling rut, and I have gone back to it over and over for inspiration…
Mostly I'm just happy to not have to cut pictures out of magazines and organize them into my style binders anymore.
Can you tell I'm in the right business? Ha!
This time I'm only going to do two outfits for you, but they are both brilliant outfits because they are as simple as you can get, but they are polished as heck…
and that is exactly how I like to dress. Or at least that's when I feel most like myself.
So let's get to styling Pinterest outfits:
Outfit One:
The first image that caught my eye is from one of my favorite style icons: Brittany Bathgate. She has a really cool minimal, scandinavian vibe that I really love. This outfit really caught my eye because it's super basic, but yet the structure of each piece makes for a stunning outfit.
Plus, this is the kind of outfit almost anyone can put together. Black sweater, black boots, black coat with jeans. A no brainer right? And if you don't have black pieces in your wardrobe you could do this with all white, all neutrals, all colors, etc. The key to pulling off this vibe is to stick with one color, and then pair it with denim.
I didn't have exact dupes for everything she's wearing, but this is what I came up with: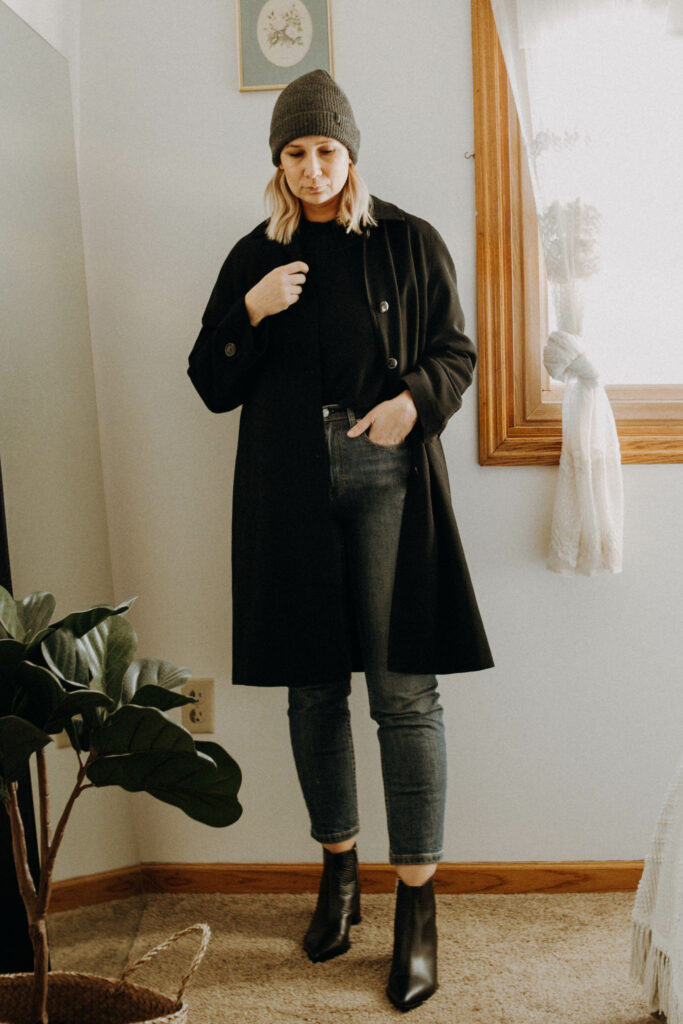 It looks like she's wearing the Everlane Boss Boot, which I do own so I started there. She has a dark wash denim so I pulled out my cheeky jeans from Everlane… they're still a bit tight on me (I'm almost 3 months postpartum), but I can make them work since they are so stretchy.
In the photo it looks like she has a slimmer sweater on… probably a cashmere or merino layer, but I don't own anything like that so I just pulled out my cable knit sweater from Everlane. It gives a super similar vibe to what she's wearing. And for outerwear? I grabbed this thrifted trench coat because it has a similar drape to what she's wearing. Her's is wool, but I thought the a line shape was really nice over the slim denim so I wanted to stick with the shape over the material.
I finished it up with the only winter hat I own, which just so happens to be the same color. Nice!
Overall, I really love how this look came together, and I'll definitely be wearing it again.
The Details:
Sweater | Denim (gifted. see review here) | Boots (gifted. see review here) | Thrifted Coat (similar here) | Hat
Outfit Two:
As soon as I saw this pin I knew I had hit outfit magic. It's just so clean, minimal, and elegant. And while subtle, it's styled really, really well. The half tuck, the sleeves rolled up, the cardigan worn as a stand alone top… so good. This outfit is also a great example of bookending your outfit. The white on top and on bottom and the black on top with the black on bottom make for a very visually pleasing affect. The best part? I have that same sweater (I actually found this outfit searching for "Everlane cropped cardigan" on Pinterest… I was in a bit of a styling rut with this cardigan), and pieces that are similar to the rest of the outfit.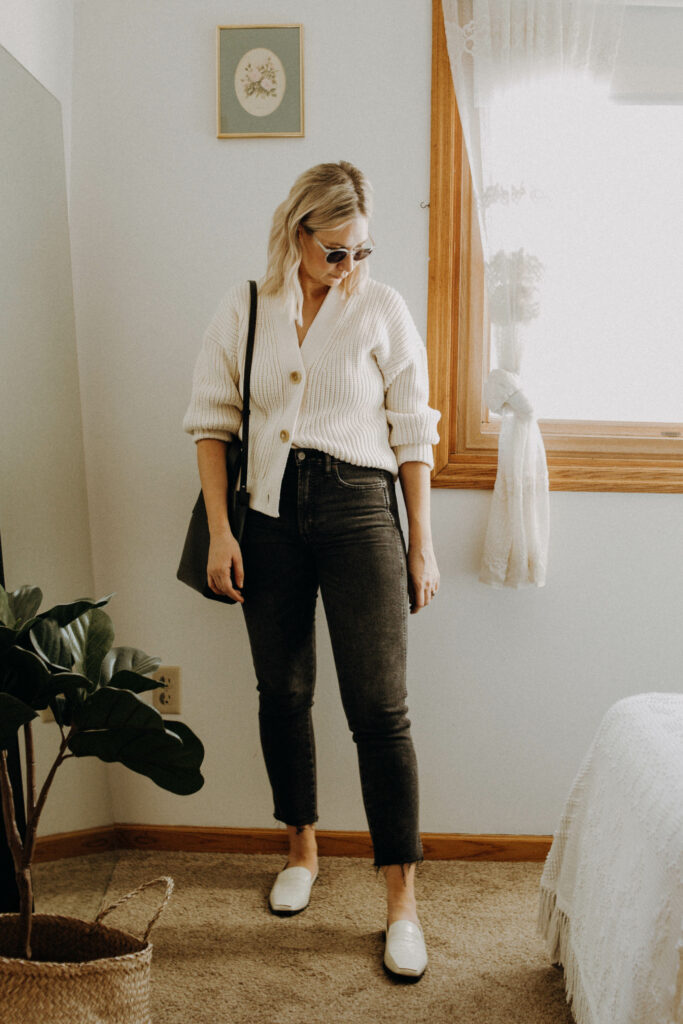 As you can see, I was able to do a really close copy of the pinned photo. My denim has a raw hem, and my bag doesn't have the pop of lining color that hers does, but everything else is pretty spot on.
I used my white loafers from Everlane. Both the sweater and the loafers have been two items I've struggled to style so it was great to utilize them both in one outfit. I really love how they look paired together.
I also wouldn't normally have worn the sweater this way, but after styling it I've decided I prefer it this way as opposed to wearing it like a traditional cardigan. Plus, the half tuck eliminates the bulk I was experiencing trying to tuck it into my jeans.
Overall this look is 100% something I will wear again. I can't wait to style other variations of this look as well.
The Details:
Cardigan (gifted) | Denim (true to size) | Loafers (gifted. see review here) | Bag (gifted. see review here) | Sunglasses
So there you have it! Hopefully you were inspired to style your own pieces using Pinterest. What kind of looks have you been pinning lately?
And if you'd like to see what else I'm pinning, you can find me here.
Until next time,
Karin