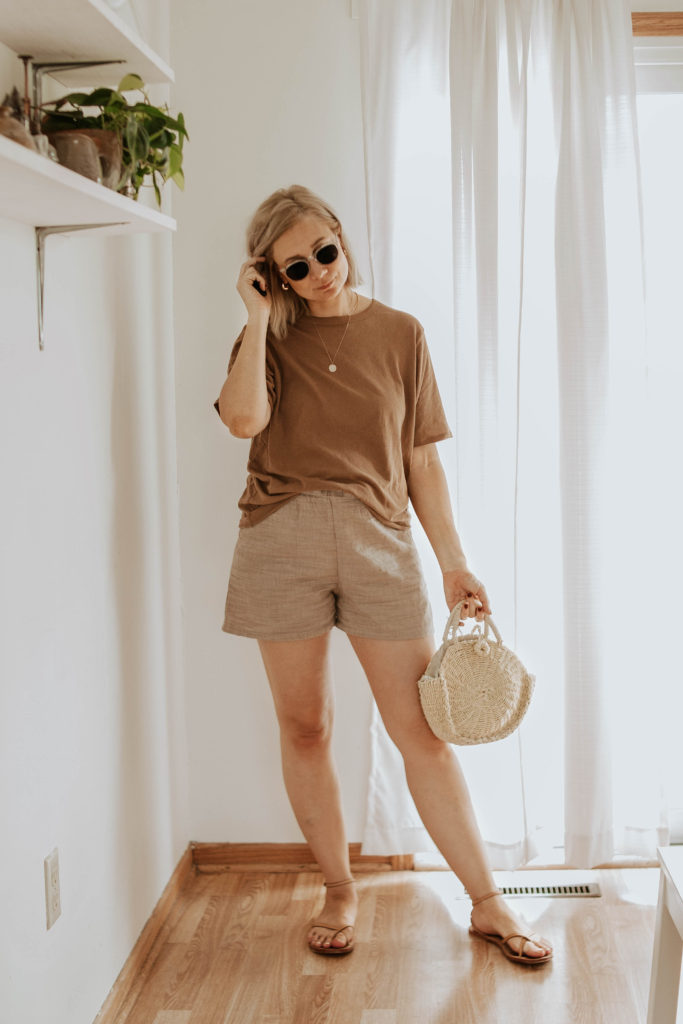 I'm currently writing this while I wait for my one hour glucose test to process… I'm so nervous! I have yet to pass one of these one hour tests, and I had gestational diabetes with the twins. Part of me really dreads the idea of having to poke myself and give myself shots again… but the other part of me knows I can do it, and I was able to get through it once before. But overall, I would really like to not have it. I'll keep you updated once I find out if I passed the test!
Update: I passed! Woohoo! I was convinced I was going to have GD, but I was well within the normal range. My iron levels checked out as well so I'm pretty happy!
Today was the first day this entire pregnancy that I felt a bit insecure when I was getting dressed. Although I'm not sure if insecure is the right word for it… more comparison envy maybe?
I've been seeing so many great outfits on Instagram/other blogs lately and when I was getting dressed this morning, I felt frustrated over my bump. I wished that when I put on an outfit, it didn't fall so hard into the pregnancy dressing category.
I mean, I know these feelings are so not important in the grand scheme of things. I'm blessed with a fourth baby… with a fourth pregnancy… but sometimes insecurities creep up on me and slap me in the face before I even have a chance to notice they are there.
I'd like to sit here and tell you that I pulled my sh*t together and left the house feeling 35, pregnant, and fabulous… but the truth is that now I'm sitting in the Dr. office still feeling insecure (and also a little nauseous thanks to that sugary drink they give you).
I go through phases in my life where I feel really good, where I don't deal with insecurity or compare myself to how someone else looks, but then I get pulled down again… and it always seems caused by the littlest thing.
But I'm getting to a point where I've realized that these things are, by nature, cyclical. I would imagine that the older I get the less the bad cycles will crop up. I mean, 35 year old Karin is so much more comfortable in my skin than Karin at any other stage.
I have cellulite and veins now that 21 year old Karin would have cried over. 35 year old Karin doesn't care too much about them (stop talking in third person Karin!).
But maybe that's why insecurities creep up so much on me now… I'm not as used to them. When I was younger, I lived in a more constant state of feeling that way so it was just… how I always felt.
Now, they take me by surprise. But at the same time they feel like a toxic, familiar friend who's dropping in for a visit.
I guess my point is (although I don't really know what my point is) that it's okay to not have any of this figured out. It's okay to not be 100% confident all of the time. It's okay to be in process, and to have good and bad days. You can still be a bad ass woman and have bad days over your hips. I'm thankful that age has brought me more good days than in the past, and I'm hopeful that the older I get bad days will become more and more distant.
But I hope we can all get to a point where we can admit that this is a process. I've been noticing more and more conversation around it on social media and I'm thankful for that. I love following body confident women on Instagram (I just discovered @thebirdspapaya and oh.em.gee inspired), but sometimes I also like to follow people that admit "I'm not always body confident".
Ha! I'm chuckling to myself right now that this started out as a glucose test update and turned into a body confidence pep talk. I surprise myself sometimes (with my genius… j/k).
Two people who have been talking about this lately that have inspired me are Paige from Style this Life and Jaana from This Mom's Gonna Snap who incidentally just started their own summer style series called "99 Days of Summer Style" (they're doing it with my other blogger pal Andrea from Seasons and Salt).
If you're looking for some weekend reading, make sure to head over to their style series intros. I think it's refreshing to see bloggers showing more "real life" style.
Thanks as always for making it through my rambly thoughts. If you struggle with these things as well… you are not alone!
This is where I'd normally say "have a good weekend!", but… I'll see you tomorrow!
Outfit Details:
Tee, Everlane (Sustainable)
Shorts, Pink Blush Maternity (sold out) | Similar Here | Sustainable Option Here (a new release from Everlane that I LOVE)
Sandals, Old Nisolo Style | Their Most Similar Current Style Here | Similar Suede Style Here | Similar in Cognac Here
Necklace, GLDN (sustainable)
Purse, Old | As Similar as I Could Find Here | More Affordable Here
Some of the links in this post are affiliate links. If you choose to shop through them I will make a small commission. Thank you for supporting Truncation!
To see the other posts in my "30 Days of Summer Style" series go here.