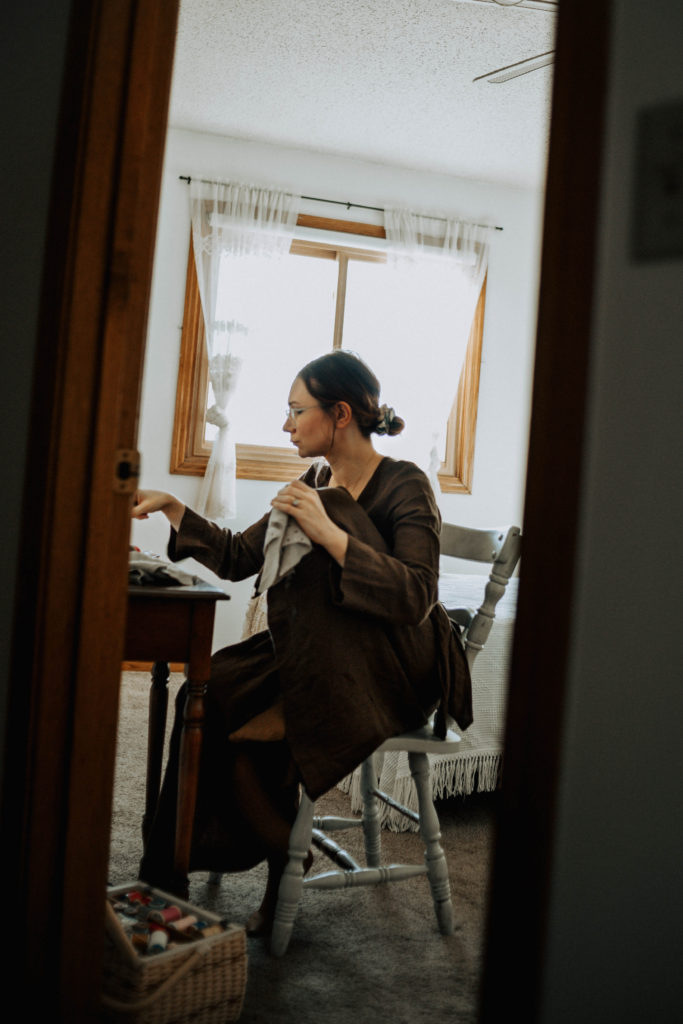 visit website It's official! I love sewing.
I had a goal last year of just learning how to sew. And I'm happy to say that I accomplished that goal!
Now, to be fair, I had a basic understanding of sewing thanks to my mom. So I wasn't starting from zero. But it had been a long time since I had sat down to a sewing machine so it was a bit intimidating.
Still, I had these dreams of making handmade clothes for myself and the girls, and I knew the only thing stopping me from accomplishing that dream was poor time management and a will to start.
So I sorted both of those things. Priorities where rearranged, a sewing machine was bought, and I went for it.
And in the process I fell in love with sewing.
I'm excited for my 2019 projects because while I learned how to sew in 2018, I didn't actually really accomplish very much other than a few dresses for the girls.
Material isn't super cheap, and rather than wasting money on a ruined project I spent the year learning different patterns with thrift store fabric. I found a few good lengths here and there, but it was mostly… not very nice. Still, I was able to garner confidence at a low cost to our family finances (if you're nervous about learning to sew for the same reason, I definitely recommend you do the same).
But now that I feel confident with a few patterns, I'm ready to purchase nice fabric and actually make clothes we can wear.
I'll talk more in a later post about my plans for the girls' warmer weather wardrobes, but I wanted to focus in on the patterns I want to dive into for myself.
The make nine challenge was started by Rochelle of Lucky Lucille, and I think it is such a great idea! It's so easy to get overwhelmed by the sheer volume of patterns that exist, and my overdrive goes quickly into gear wanting to make all of the things with all of the fabric… the possibilities are endless right?! No, no they are not. Time? Money? They are not endless my friends, so a chance to reign it in is super helpful.
I chose the below nine patterns based on how much I think I will actually wear them, and based on whether or not there was a use for them in my closet. Plus, they all look fairly doable.
My 2019 Make Nine Picks:
Top Row: Sew Liberated Hinterland Dress – in a gorgeous linen for summer | In the Folds Jumpsuit for Peppermint Magazine – modified without the belt | Marilla Walker Isca Shirtdress (photo via Addicted to Sewing)
Second Row: Named Clothing Ninni Culottes | Merchant and Mills the Ottoline Jacket – I'm thinking in a gorgeous charcoal wool | Anna Allen Persephone Pants – just like the infamous kamm pants, but a lot more accessible (in price and size range). Not sure what color yet, but I'd love to make these in denim eventually.
Third Row: Friday Pattern Co Vernazza Two Piece – I already bought a gorgeous taupy material for this | Wiksten Haori – this will be my third haori, but I plan to make this one with a natural linen. All of the other ones I made were on practice fabric | Wiksten Tova Top – I plan to modify this into a dress, and make it without the pleating and seam at the bust.
I mean, I'll admit I'm intimidated by the Vernazza Two Piece and the Persephone pants, but I'm feeling up for the challenge.
I know a lot of you have asked for tips on getting started with sewing, and while it seems overwhelming, the best advice I can give you is to just do it!
Buy a basic sewing machine (I bought this one for less than $100), and watch a bunch of youtube videos.
If you're worried about cost like I was, find some cheap fabric at your local thrift store (or even just a thrifted dress you can cut up), and find tutorials on youtube for making basic tank tops or circle skirts (Made Everyday has some GREAT tutorials). They're so easy to make, but they give you good practice for later sewing projects.
After you feel comfortable making a few simple tank tops and skirts, you can look into purchasing a few patterns. The Wiksten patterns I listed above are pretty basic and good intro patterns if you want a little direction.
And of course, if you have the means and time, perhaps consider taking a sewing class. JoAnn fabrics offers them as do many other local sewing shops.
My point? Don't feel like you have to have it figured out right away. Take your time with the process knowing that you're learning a life long skill that will benefit you for many years to come (it took me a year to feel comfortable buying nice fabric!).
Happy sewing friends! Anyone made resolutions to learn to sew? Anyone who already sews create a make nine list?
Until next time,
Karin