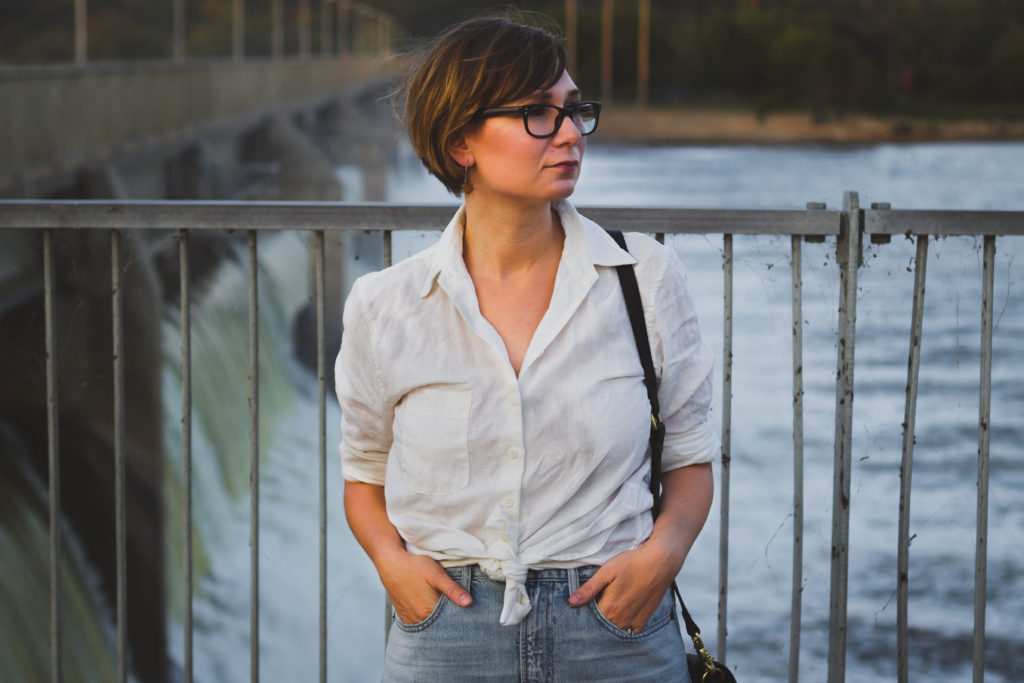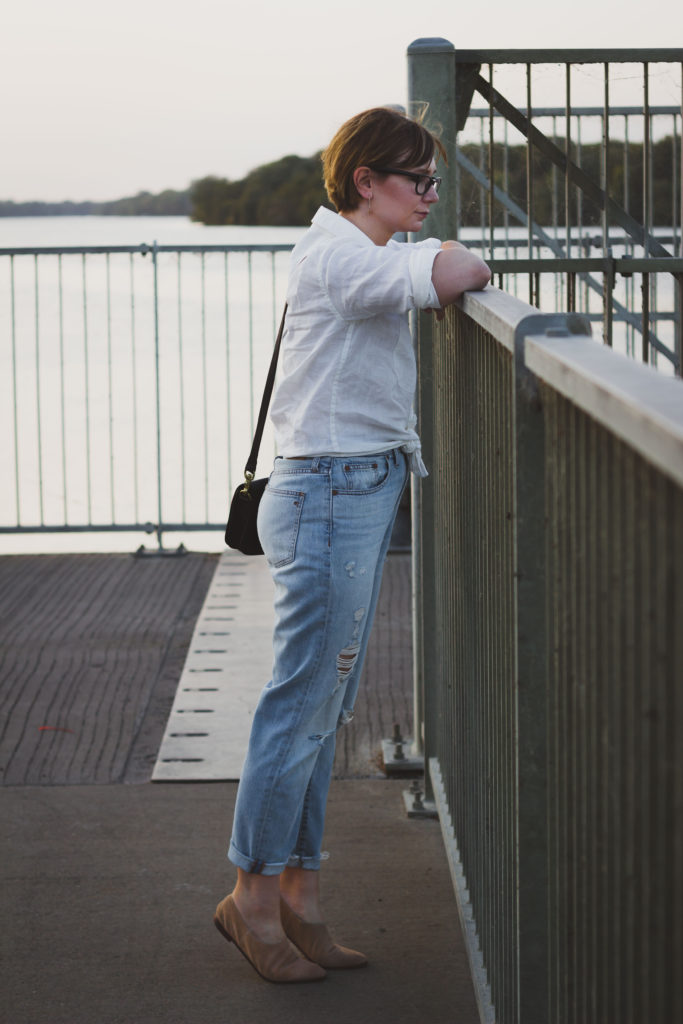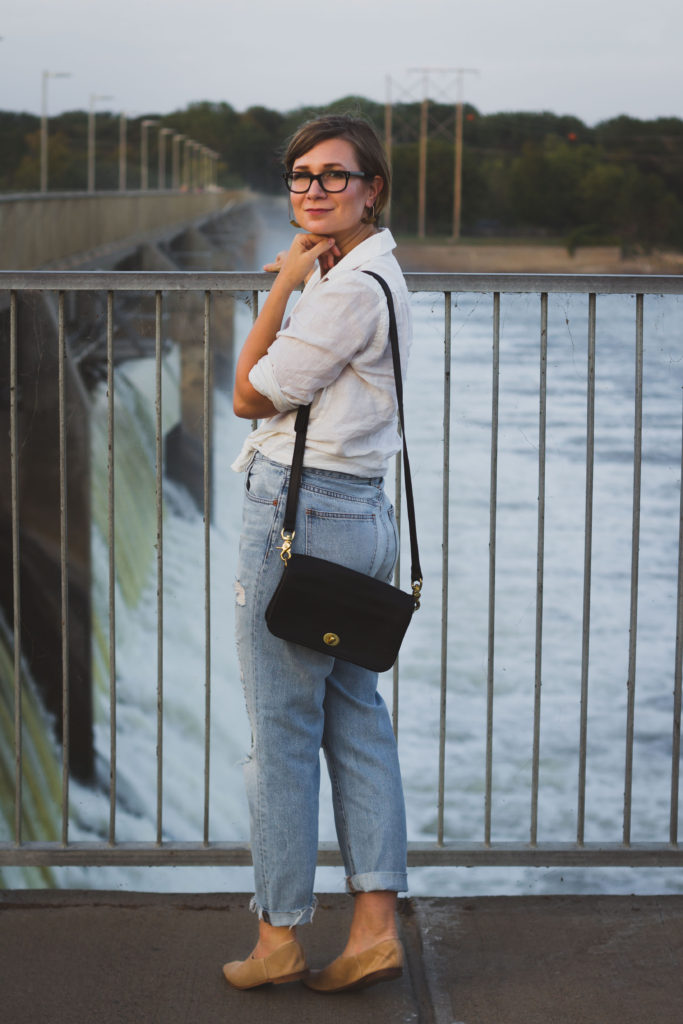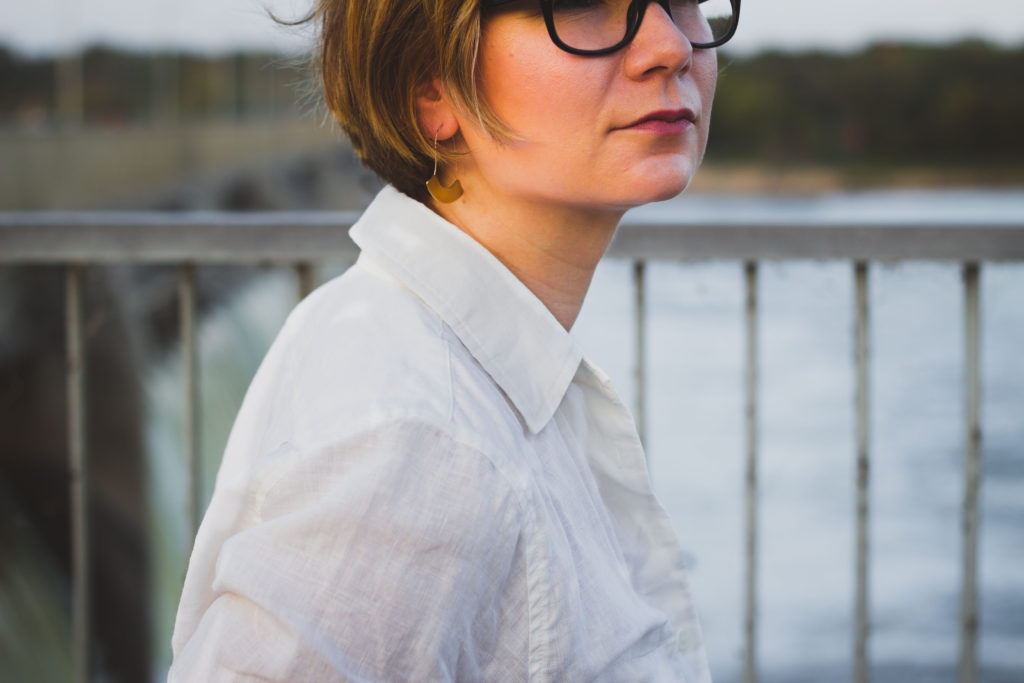 White Shirt c/o (20% off: TRUNCATION) | Jeans (similar) | Shoes (Similar) | Purse (Similar) | Earrings
Fun (sort of) fact: I am wildly afraid of spiders. Like, can't function if I see a spider the size of a pin drop, scared of them.
Why am I telling you this?
Because these photos look all tranquil and stuff, but about five seconds after that first picture was taken, I realized that I was leaning against a fence that was literally infested with spiders the size of my head.
Okay that might be an overstatement, but it really was covered in spiders and they were about the size of a quarter.
So consider me horrified.
Anyway…
I want to talk about this shirt, because while it may seem like a simple white shirt, it has actually taught me a few things about life.
If you've been following along since the beginning, then you'll probably know that I've had some form of a white shirt in pretty much all of my capsules.
But they've all somehow ended up making their way to eBay land for a variety of reasons, but mostly because they all had one thing in common: they weren't perfect.
Here's the thing: I knew I should wait to add a piece to my capsule until it was a perfect fit, but I let my desire to have a white shirt now take over what I knew to be true.
But then this white shirt found me (via the kind people at Power of my People), and I realized that I could have saved myself a lot of trouble if I had just waited.
And that's where this shirt has me thinking about life. How many times do I do that? Fill my life with "good enough" because I'm not patient enough to wait for/pursue perfect.
Ikea furniture instead of a unique, story filled piece of antique furniture that took much longer to acquire.
Distracted time (thanks to my iPhone) with my girls, instead of intentional (but harder) and focused time with them.
Brain draining time with Netflix instead of time spent with a really good book.
A junk filled treat from the grocery store instead of waiting until I can make something homemade.
It's crazy how something as simple as a white shirt can make me realize how much I've been settling in my life.
Sometimes life makes me feel so weary, and in that space I make half decisions that don't actually do anything to improve the quality of my life.
And I get that sometimes there are seasons where it's necessary to live in that space, but I also think if I was more intentional in my waiting I would benefit much more in the long run.
So thank you white shirt. Thank you for your serious life lessons.
And here is why this shirt was worth the wait:
It's an extremely high quality linen that drapes perfectly (perfectly). The color is a perfect creamy white and… wait for it… it has a pocket at the bottom where you can slip your cell phone or some cash. It falls right at my hips, but is long enough to knot at the front. It washes well (I've washed it twice) and doesn't stain super easily (which is necessary for my lifestyle). Plus it's soft and really comfortable to wear.
Basically? It checks off every item on my list of what I'm looking for in a white shirt. And now that I've experienced it, I know why the other shirts never quite made it.
I do have a discount code for you guys if you're in a place where adding something to your wardrobe makes sense. Power of my People just launched their fall/winter line and they've added some really great styles to their line up!
Use code: TRUNCATION to get 20% off. The code will run for 30 days so if you're interested, don't wait too long.
And in the interest of transparency: yes this shirt was sent to me and yes I will make a commission from you using that code.
But here's some transparency on the flip side: I was already planning on purchasing a shirt from their line for my fall capsule before they reached out to me (because of Lee Vosburgh's inclusion of this shirt in her spring 10×10). So I was pretty happy to be able to get a discount code for you guys for a shirt I was already going to include. Win win right?
But bringing it all back, I find it funny that sometimes the smallest things can carry the greatest lessons with them. Have you ever noticed that? Do you find yourselves settling for things when you know that if you waited you could find something better? I think that's just a tendency of being human, but it's something I want to be more aware of and work on.
I hope you guys had a great weekend!
Until next time,
* Thanks to Power of my People for sponsoring this post!