Before I get started I just want to say a quick thank you for your feedback on my Everlane Denim Guide… I really appreciate your support!
A lot of time and effort went into that post, and it makes me so happy to know that you find it useful.
So yes. THANK YOU.
The week that I wore these outfits was a CRAZY week. My sister had her baby (my new nephew, Remington… such a cutie!) so my family was in town and then we left at the end of the week to celebrate Thanksgiving with David's side of the family. All amazing things, but just a LOT of amazing things.
Plus the weather turned pretty frigid this week, which means winter is soon upon us. Once the weather turns cold in Minnesota there's usually no looking back (save for maybe a few warm days here and there).
This weather definitely has me contemplating decorating for Christmas a bit early this year. I've never decorated before Thanksgiving, but now that the girls are old enough to be excited about the Holidays, I'm okay with starting a bit early.
In fact, I may have David pull everything out tonight! I'm a bit giddy. 🙂
We also went fabric shopping today for the girls' Christmas dresses. I'm going to use the Wiksten smock dress pattern and I can't wait to see how they turn out.
We're definitely getting in the Holiday spirit over here!
But let's keep going otherwise I'll talk your ear off… I'm known to do that from time to time. 😉
Here's what I wore: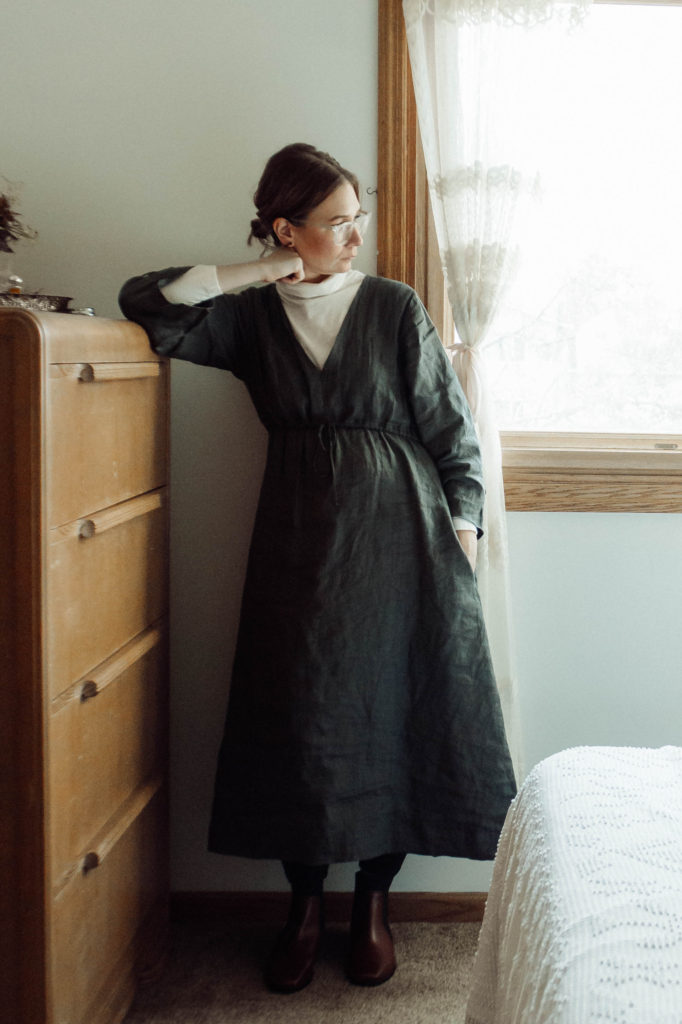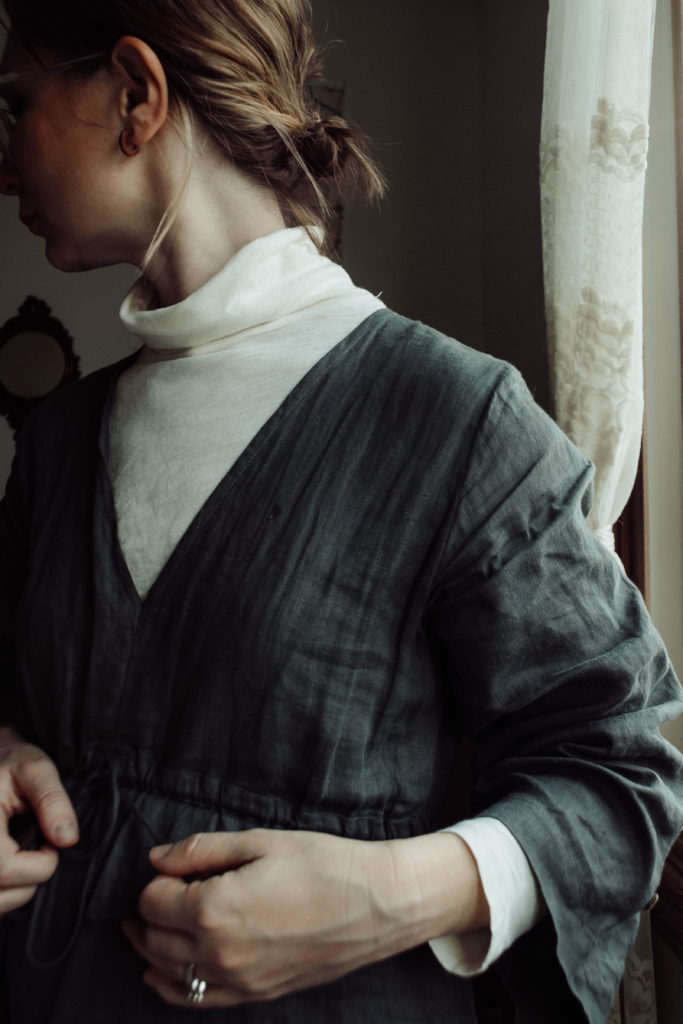 :: Outfit formula: lots of layers
:: Outfit thoughts: I hadn't worn this dress in awhile, and I was in the mood to pull it out, but it was necessary to wear it with layers. It's gotten really cold here! I just love this dress. It makes me feel oh so feminine, pretty, and elegant. Sugar Candy Mountain really just makes the dreamiest pieces. But because it feels so feminine when I wear it, I like to edge it up a bit with less feminine accessories like the turtleneck and these square toe booties… I love the contrast it provides. I'll probably be doing variations of this outfit all winter.
:: To recreate this look:
dress is sold out, but THIS ONE is super similar :: boots c/o :: turtleneck: thrifted. similar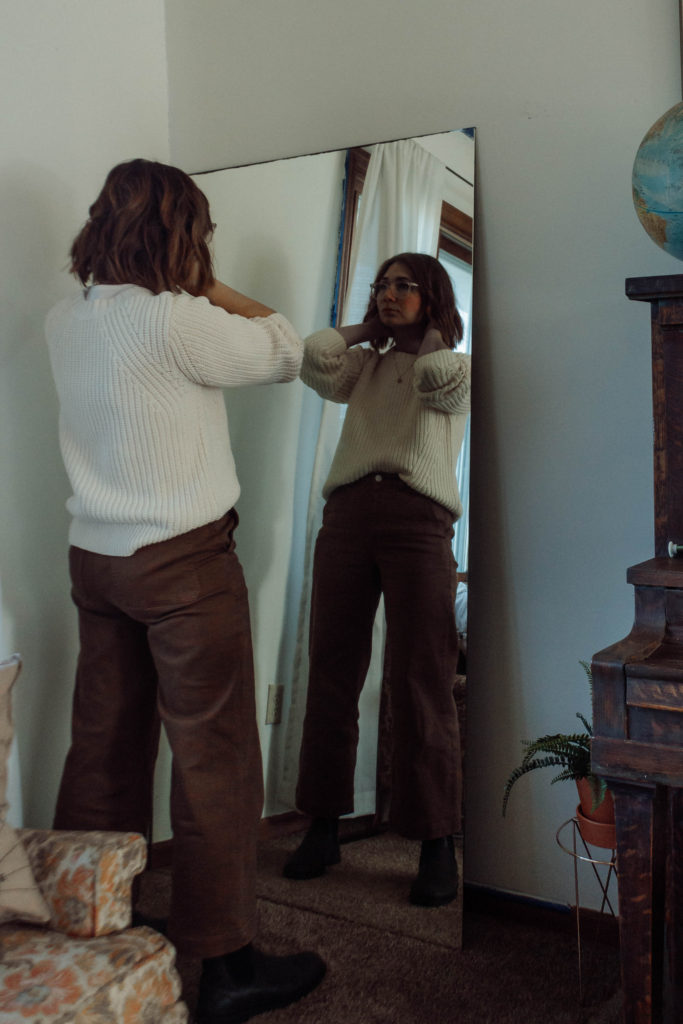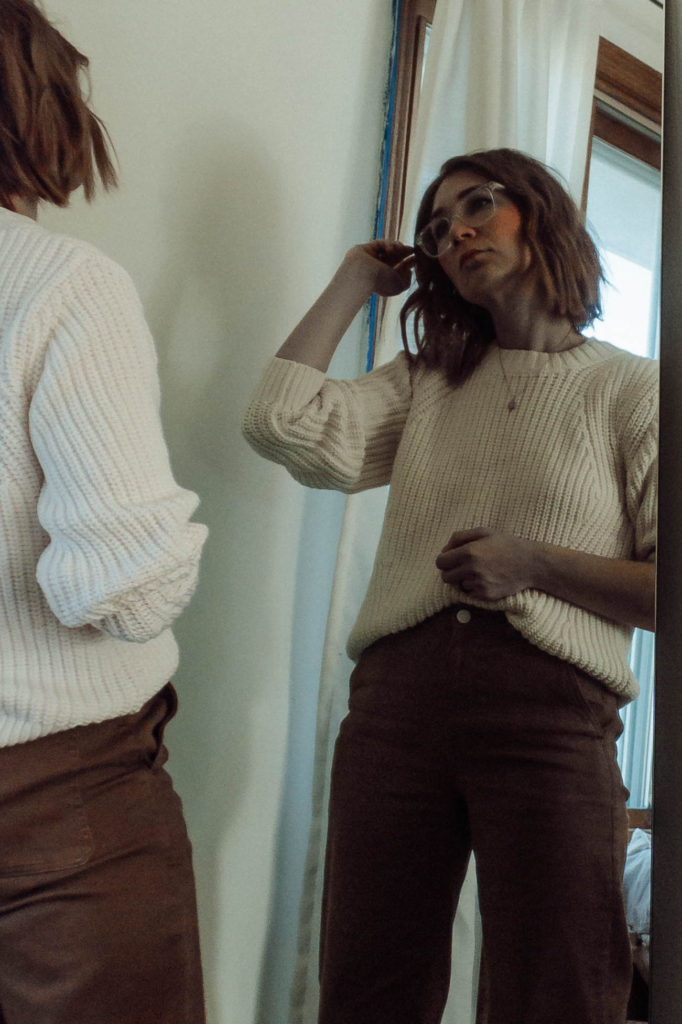 :: Outfit formula: heavy weight layers from top to bottom
:: Outfit thoughts: You can tell by how dark these photos are that we've had some dark, dreary days lately… I love it! Ha! I get so introspective when the weather is like this and it refreshes me more than anything else. Everything just seems to slow down and I crave cozy layers like these. I ended up picking up a cream version of this sweater because I loved my olive one so much. This kind of chunky knit is hard to find in cotton, so I'm glad Everlane included cotton sweaters in their line up. I've wanted to pair these wide leg pants with my Blundstones, but was a bit nervous because it's a silhouette I'm not used to… but I ended up really liking it! And the boots definitely made these pants a lot warmer!
:: To recreate this look: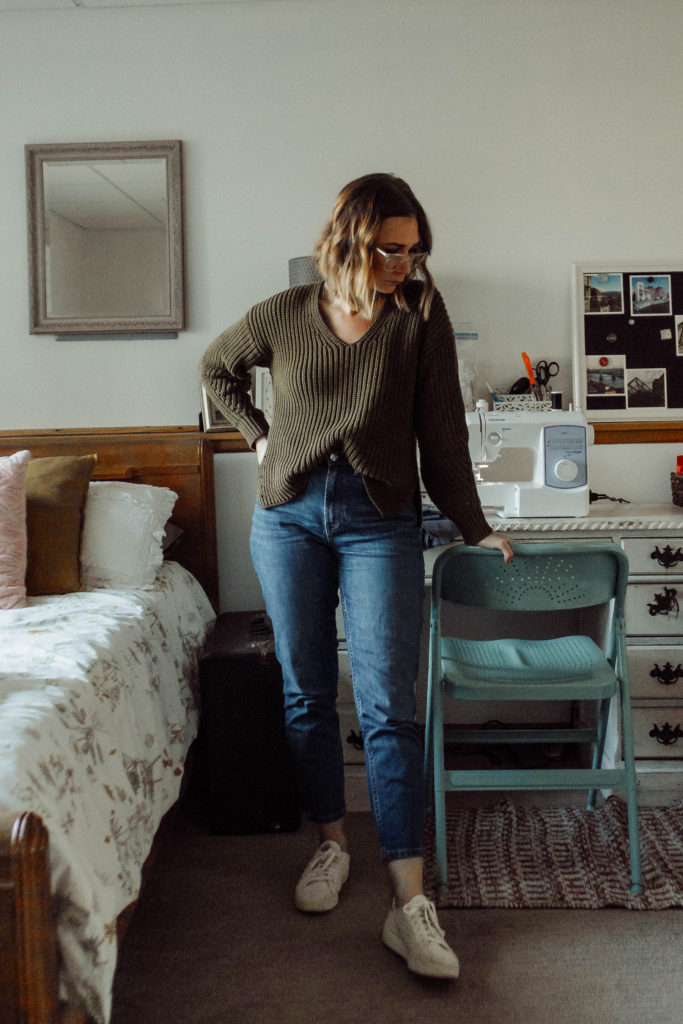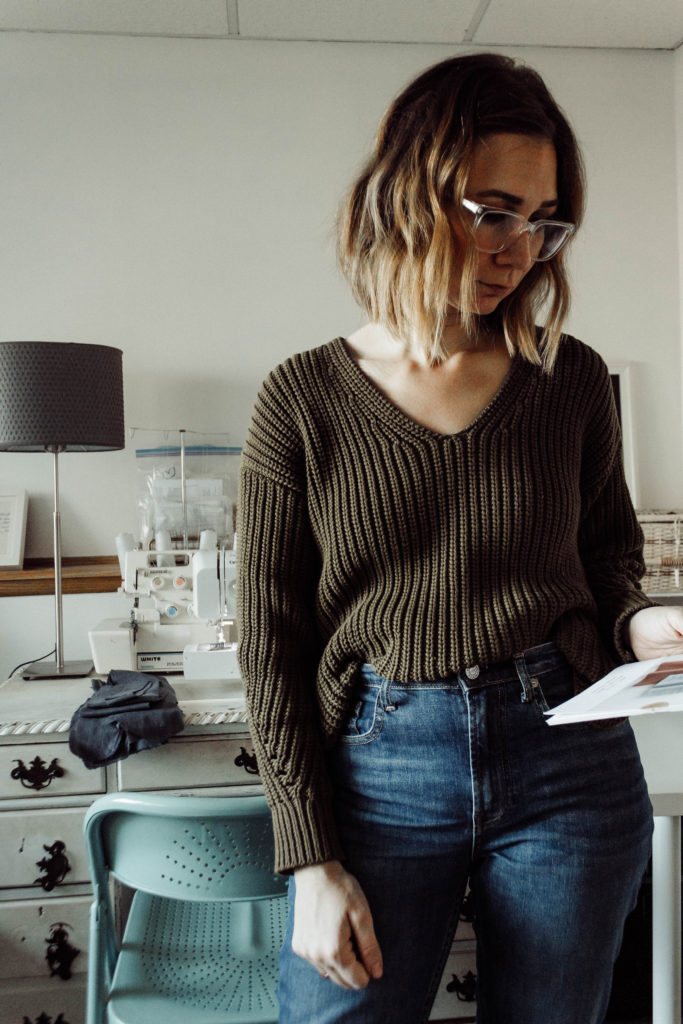 :: Outfit formula: easy. sweater, jeans, and sneakers
:: Outfit thoughts: More coziness! It's funny because for the first year with Ella and Rosie we very rarely left the house… for obvious reasons, but I wanted to be really intentional about keeping things slow during an overwhelming time in our life. Now that the girls are older, we get out a lot more. But I was noticing that we were getting busier and busier. So now I'm trying to find a happy medium… which for us looks like one or two days at home. We have no choice but to be out a few times a week now with therapy and preschool, and I like to get the girls to a play place (or a park in warmer weather) and the library a couple of times a week, but on the off days I've been making an effort to stay at home all day. The girls can play, I can clean or sew and it just makes our week a lot more relaxing. So with that said, there is nothing that stands out about this outfit, but I still prefer it to wearing leggings and a sweatshirt. Personally, I just feel more ready to take on my day (no matter what's on the agenda) when I have more than comfort wear on. So a sweater/sweatshirt and jeans are perfect for days like this, and I can throw on the tennis shoes when I check the mail or take Oscar out (he has to be on a leash because he's not to be trusted ha!)
:: To recreate this look:
sweater :: jeans :: sneakers c/o. sold out. similar pair here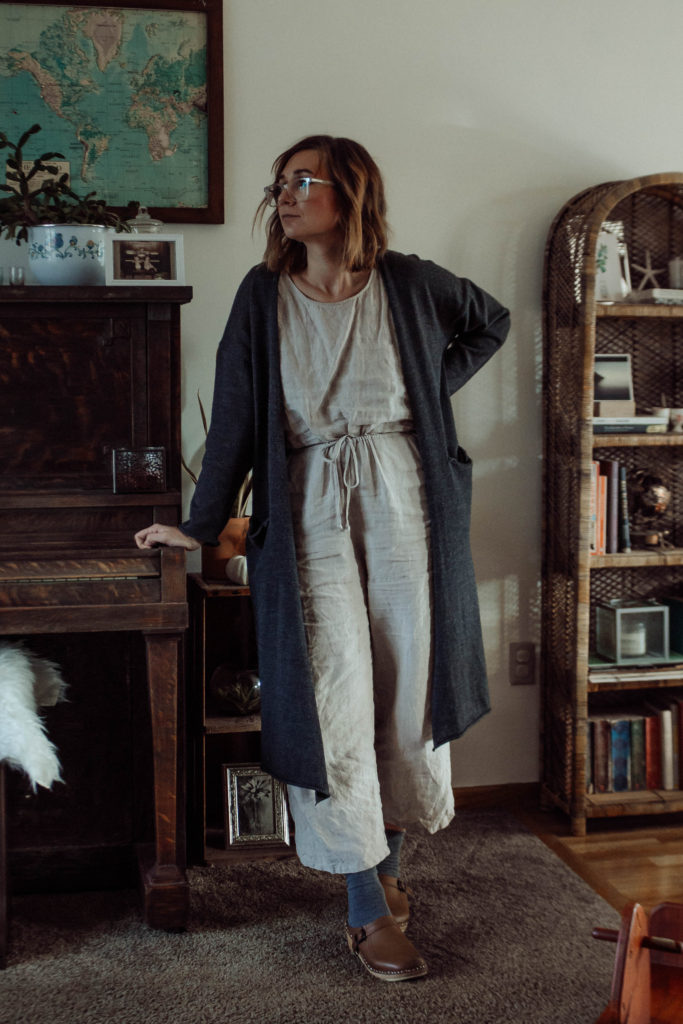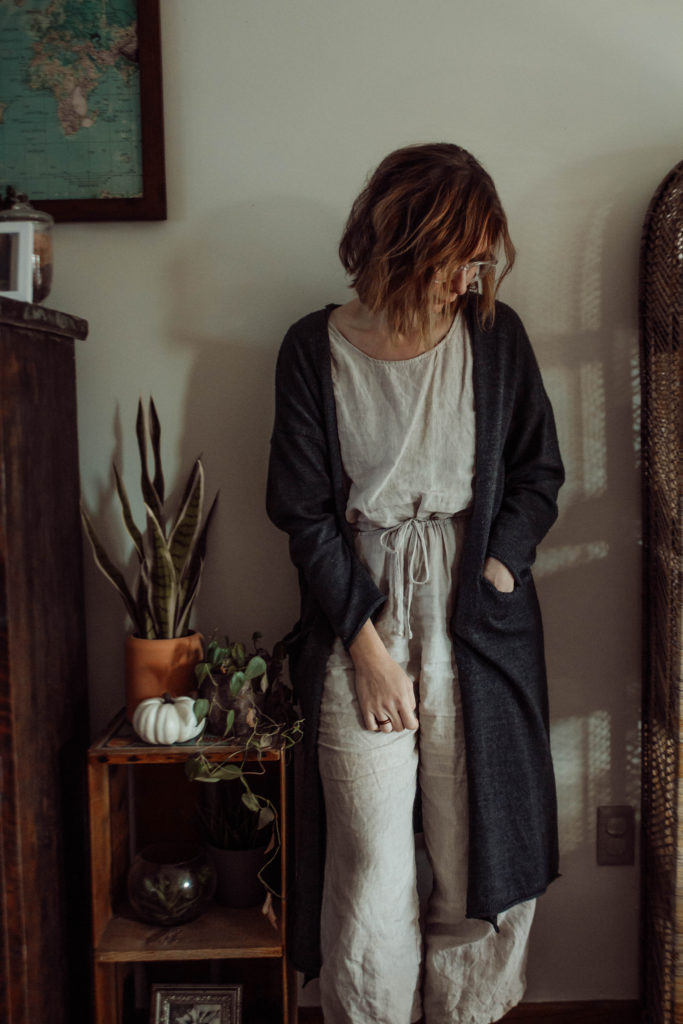 :: Outfit formula: long layers with some height on bottom
:: Outfit thoughts: So this was a layering mistake ha! It was WAY too cold for the amount of layers I put on and I froze! Lesson learned. When wearing sleeveless dresses/jumpsuits during cold weather always put a turtleneck or long sleeve shirt and some leggings on underneath. If I would have done that, this would have been perfect. As it was, I was SO cold by the time I got home that I changed into a sweatshirt and sweatpants as quickly as possible But aside from the layering mistakes I really love the look of this cardigan over this jumpsuit. It makes me feel like I'm about to make some homemade bread or something. 🙂 And honestly? That's goals for me. ha!
:: To recreate this look:
:: cardigan c/o. no longer available in this color, but available in black or cream :: jumpsuit c/o :: clogs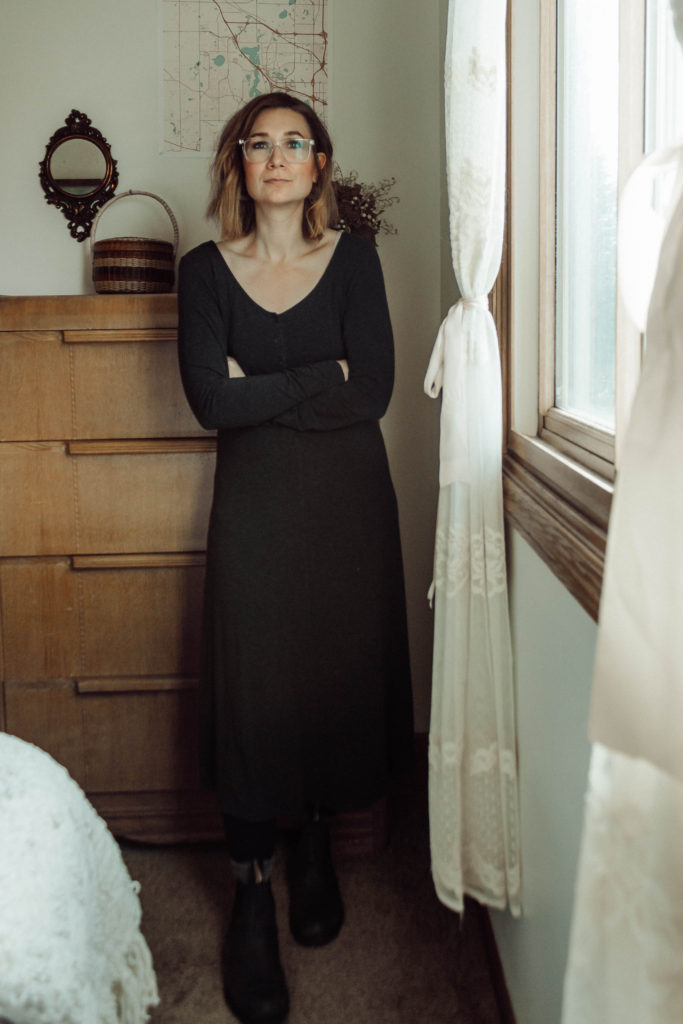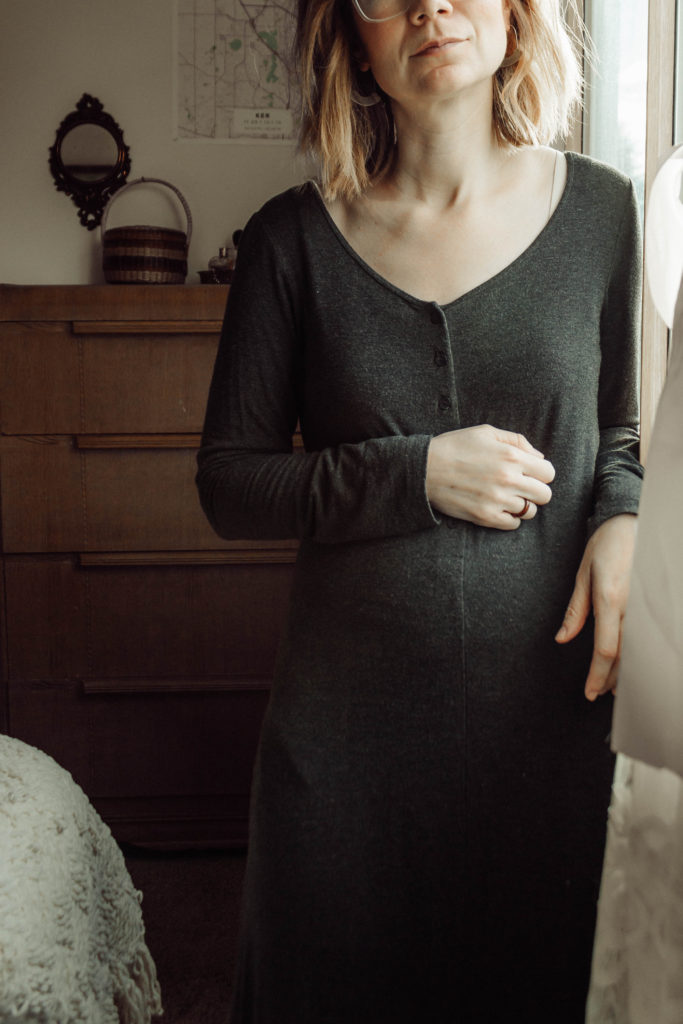 :: Outfit formula: easy dress with edgy boots
:: Outfit thoughts: I've clearly been on a dress kick lately! What I mentioned before about this weather making me introspective, it also makes me crave comfortable clothing, and sometimes jeans just don't do the trick for me. I actually love longer dresses as a mom because I can move really easily in them, but the length allows me to easily be on the floor with the girls. I was going for 100% pure cozy comfort with this outfit. This dress is thrifted Eileen Fisher, and I have to say that my experience with Eileen Fisher is that they have some of the softest fabrics on the planet, and this dress is no exception. It literally feels like pajamas. And paired with some fleece lined leggings and the most comfortable boots I own translates to one happy Karin. High five!
:: To recreate this look:
:: dress: thrifted. as close as I could find here :: boots :: leggings are lularoe
Well there you have it! Another week of outfits in the books.
I hope you all have a wonderful week, and that you can find your own cozy, comfy moments throughout the week. What are your go to cozy pieces when the weather gets cooler?
Until next time,
Karin