read more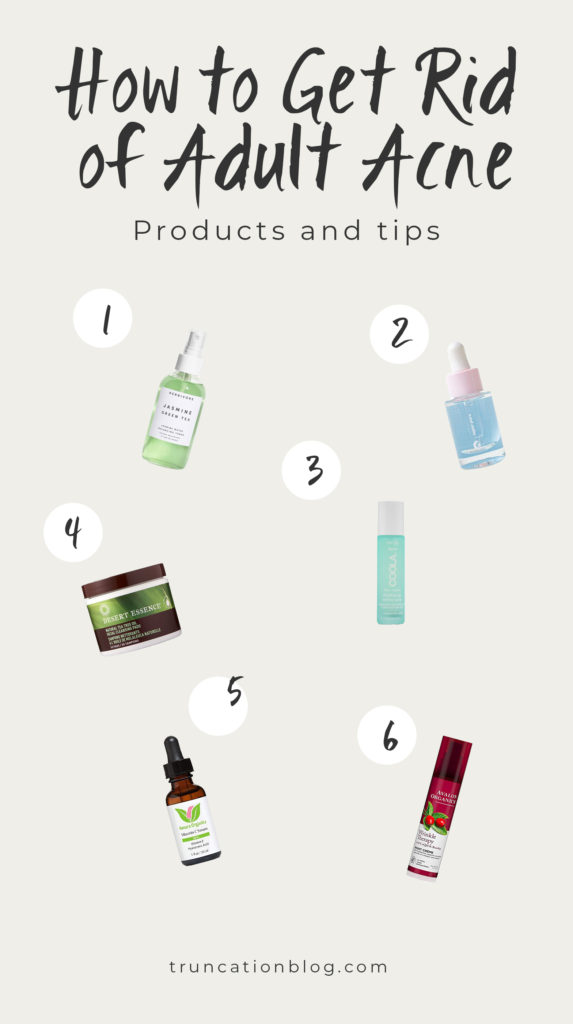 Today's topic is one I get asked about a lot.
Probably because when I do stories on Instagram, I'm mostly fresh faced ha! #notimeformakeup
I actually really hate the way foundation feels on my skin so I don't often wear it.
That never used to be my experience. I used to wear foundation out of necessity, and I hated it.
BUT then when I was pregnant with Kit I was lucky enough to have my skin clear up so much that my skin was literally glowing (before you hate me too much, that was NOT my experience with the twins ha!).
But it gave me a taste of what it was like to not have to cover anything.
I made it my mission to figure out.
I'm happy to say I've found a ton of success! My skin is now at a point where I only break out maybe once every three or four months (and it quickly fades). I'm still working on addressing some redness around my nose, but for the most part my skin is really clear.
So I thought I would share what I learned with you guys… though I do have to say that a lot of it has been trial and error and so will probably be the same for you.
My skin tape is combination with dry patches on my nose and around my lips. When I was getting acne it was mostly on my chin and cheeks.
I don't really have dark circles, and other than a few fine lines under my eyes I haven't really started seeing wrinkles yet (I'm 34).
And before I share anything, here's a photo of me completely fresh faced and unedited: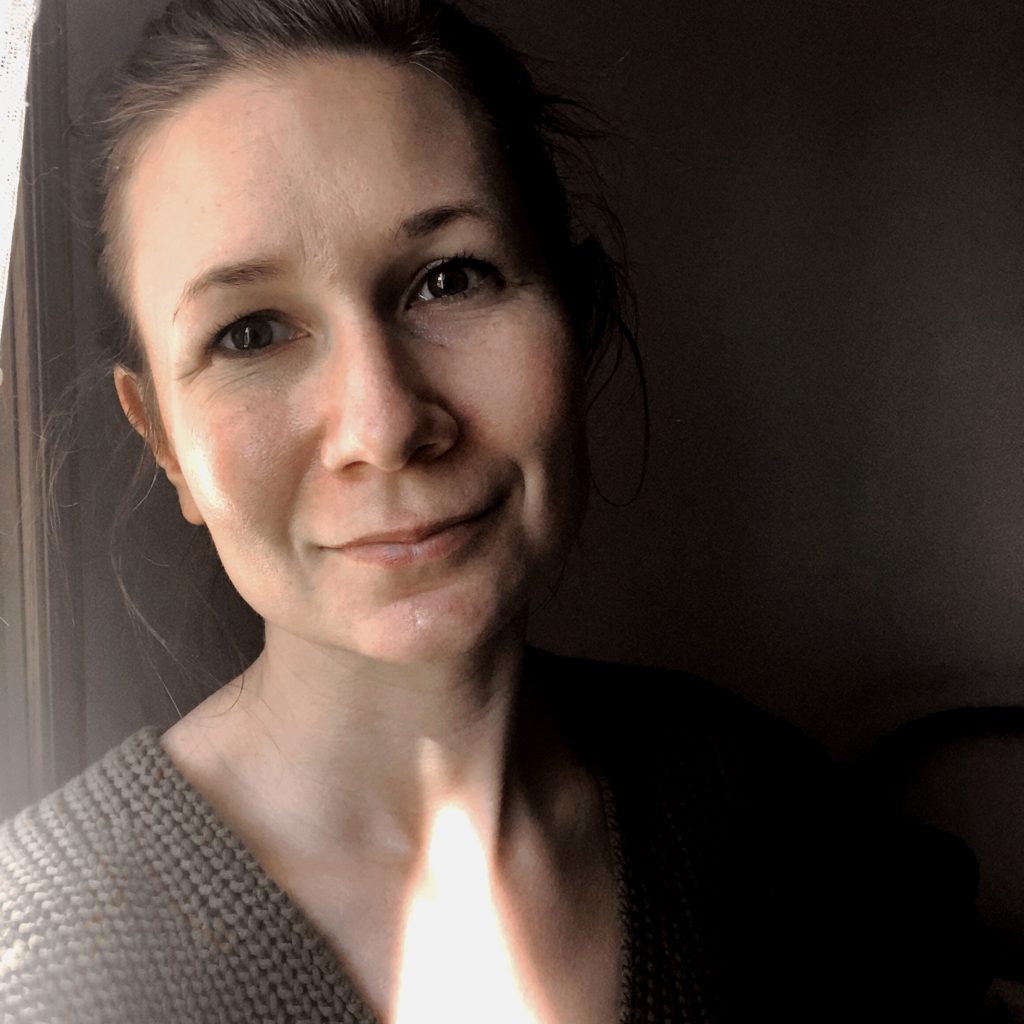 K. Let's get into my tips:
//start with the inside//
I know they say that what you eat doesn't affect your skin, but anecdotally that has not been my experience. One of the biggest things that has cleared up my skin is my diet. I cut out dairy and have majorly upped my water intake.
I cut out dairy because my Rosie was dairy intolerant when she was breastfeeding so it was 100% out of necessity. I had long suspected that I was sensitive to it, but I never cut it out because I just didn't think I could.
But when I had to I realized just how significantly better I felt when I wasn't consuming dairy. I used to get a headache every day. EVERY day you guys! I had horrible sinus congestion and would get sinus infections about 5 times a year. I also would often feel queasy after meals with lots of dairy, and would get really bad heartburn. And the acne was so bad! I would get those large, painful cysts all over my chin.
That all changed drastically after cutting dairy out. The headaches immediately went away. Now I get one or two headaches a month and they're all hormonal. So did the nausea… and within 30 days the acne was almost completely gone. It was magic!
I also made a huge effort to drink more water. I now have a goal of drinking around 70-80 ounces a day… this is still a struggle for me, but I've noticed the luminosity and texture of my skin has really improved since doing this.
So experiment with your diet. Maybe it's not dairy, but maybe it's something else you're sensitive to. You could always try an elimination diet and see what you end up with.
//give your products a chance to work//
I used to have a habit of rejecting a product if it didn't work right away. And I also wanted it to work without any consistency on my part. One of the things I revamped first that made a big difference was to commit to a group of products and a disciplined routine.
I know this kind of goes against the whole minimalist lifestyle, but good skin takes time and effort! I've found that inexpensive skincare can actually do a great job, but you have to use it consistently and give it time to make a difference. In my experience products seem to take at least three months (with you using it the recommended amount) to work. If it hasn't done anything for you after that time, try something else. Remember you're in this for the long haul!
I'll share my specific products in a bit, but in general this is the routine that I've found to work best:
AM:
cleanse, toner, serum, eye cream, lightweight moisturizer, spf
PM:
makeup removal/cleanse, toner, serum, eye cream, thick moisturizer, masks 1-2 times a week, exfoliating acids 1 time a week
Sounds like a lot, but it has made a huge difference for me!
//and finally: treat your skin with respect and care//
Don't sleep with your makeup on… ever. For real. This is a big no no!
Don't pick at your face, don't rest your face in your hands a lot, and don't rub at your face.
Use makeup and skincare that has good, clean ingredients in it. Nothing harsh!
When you remove makeup don't scrub it off with a lot of pulling… but make sure you get it all off.
Like I said above, it seems like a lot of work, but it really is worth it! Feeling confident in your own skin is so important.
So now on to the products that I've been using for a long time, and have had a lot of success with:
AM:
Tea Tree Oil pads (organic and cruelty free) for cleansing. These are so nice! I feel like they keep my skin clear, but they're super easy to use in the morning.
Balancing toner (organic and cruelty free). so refreshing! It keeps my skin hydrated, but it doesn't clog my pores.
Skin clearing serum (cruelty free). this has made a huge difference in clearing up the clarity of my skin! I just think it keeps everything smooth and clear.
Oil Free Lotion (organic and cruelty free). Love this lotion! I don't need a ton of hydration in the morning, and this one gives me just enough. The oil free formula keeps my pores clear.
Sunscreen (organic and cruelty free). I love this because most traditional face sunscreens break me out. This is just a lightweight mist and so it doesn't settle into my pores.
Eye oil (organic and cruelty free). My under eyes are actually really dry so I love this oil for keeping everything refreshed and glowing. Just make sure to really pat the oil in before applying concealer or else the concealer won't stay in place.
PM:
remove makeup with an oil and a makeup eraser cloth. I prefer coconut oil because it doesn't break me out, but you could use jojoba, almond, olive… anything you like really.
glycolic toner (cruelty free). This does a great job of tightening my pores, and just making everything look really clear and even. Eco tip: pour your toners into a spray bottle so you don't have to use cotton to apply them.
vitamin c serum (organic and cruelty free). Vitamin C is really good for making your skin glow, and also getting rid of discoloration and uneven texture. But you need to use it at night! I've used this particular brand for awhile now and it's done such a great job… and it's so affordable! It has hyaluronic acid as well so it's really hydrating.
anti aging night cream (0rganic and cruelty free). I really love this night cream for a variety of reasons, but mainly? It doesn't break me out. I have a hard time finding anti aging products that don't break me out, and this is one of the first I've ever found that keeps my skin clear. I believe it's because it's an oil free moisturizer, and a lot of anti aging products are not. Definitely give this one a try if you have the same problem!
moisturizing eye cream (organic and cruelty free). I have pretty oily skin overall, but my under eye area actually gets pretty dry so I need something with a lot of moisturizing properties. But I only use this at night because if I use it during the day, the cream tends to migrate down and make my cheeks a bit greasy. This particular formula is really nice because it does a good job of moisturizing, but it doesn't give me those little white bumps that some eye creams can give.
A few extras:
I use an exfoliating acid twice a week to really unclog everything. This one is SO nice, and has completely reversed any melasma from when I was pregnant. I can't recommend it enough!
I use this mask a few times a month. I should probably use it more, but oh well! Masks are harder for me to squeeze in because they take more time. I do really like this one though and see improvement when I use it.
To shop these products either click on the links or on an image below:
And that's it! I know this is a lot of information, but getting rid of my acne was not an easy job so I wanted to be as real with you as possible. I think the biggest thing for me was my diet, and just being consistent with good, oil free and healthy products.
Do you guys struggle with acne? What tips do you guys have?
Until next time,
Karin