Don't let her expression fool you, she loves her Grandma! It was just before nap time. 🙂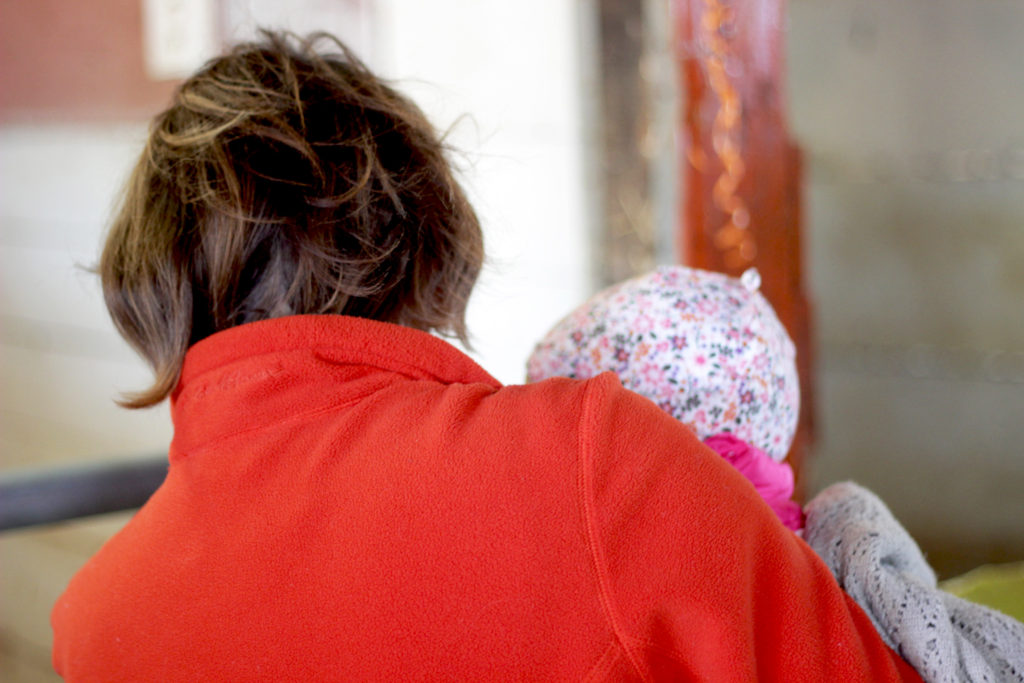 We went and visited my family this last week and we had such a nice visit! Kit loves her grandparents and her aunts/cousins and it was so nice to spend time with family.
I have had this blazer for quite a while and it is, hands down, one of my favorite pieces ever. Unfortunately, it is starting to pill and so I am on the hunt for a replacement. What makes it so great is that it is a stretchy jersey fabric so it is just as comfortable as wearing a hoodie. I mean. How great is that?! Does anyone know of a great, stretchy black blazer that won't break the bank?? Help a girl out and let me know in the comments below!
I wanted to talk to you about why you should decorate your closet when doing a capsule wardrobe.
I don't mean chandeliers and built in stereo systems (although if you that's your thing then awesome! Can I come nap in your closet?). What I do mean is making the space where you hang your clothing aesthetically pleasing.
Why is that important? Because most of us start our day in front of our closet.
Right?
Would you rather start your day staring at a cluttered mess or would you rather start your day selecting a cherished item from a closet that is neat and pretty to look at?
And, yes, that is a rhetorical question because I don't know very many people that would opt for the first option (again, if that's your thing then awesome! I just won't be asking to take a nap in your closet any time soon).
I haven't always subscribed to the "pretty" closet idea, but now that I have beautified my space I find getting dressed in the mornings so much more relaxing.
I like to utilize matching hangers, pretty storage containers and hooks to hang things on, framed pictures, and scented air fresheners. All of these things make me feel excited and relaxed every time I open my closet.
I know it seems like such a small step, but when you have a neat, orderly, and pretty closet your mindset towards your closet will change.
You'll find that your focus shifts from what's NOT in your closet to what IS in your closet and that will naturally create so much more contentment with what you already own.
I have some of my favorite items for decorating my closet listed in my post on How to Build a Capsule Wardrobe. What about you? Do you have any favorite ways of making your closet more "approachable?" Let me know in the comments below!
Until next time,

Shop this post:
Diaper bag can be found here.
Disclaimer: Most of my clothing is thrifted/consigned. When I show you one of these thrifted pieces, I try to find items that are as similar as possible in a variety of price ranges.
Also, Truncation contains affiliate links, which means that if you click on a link or purchase an item from a link, I may make a commission. Thank you for supporting Truncation!