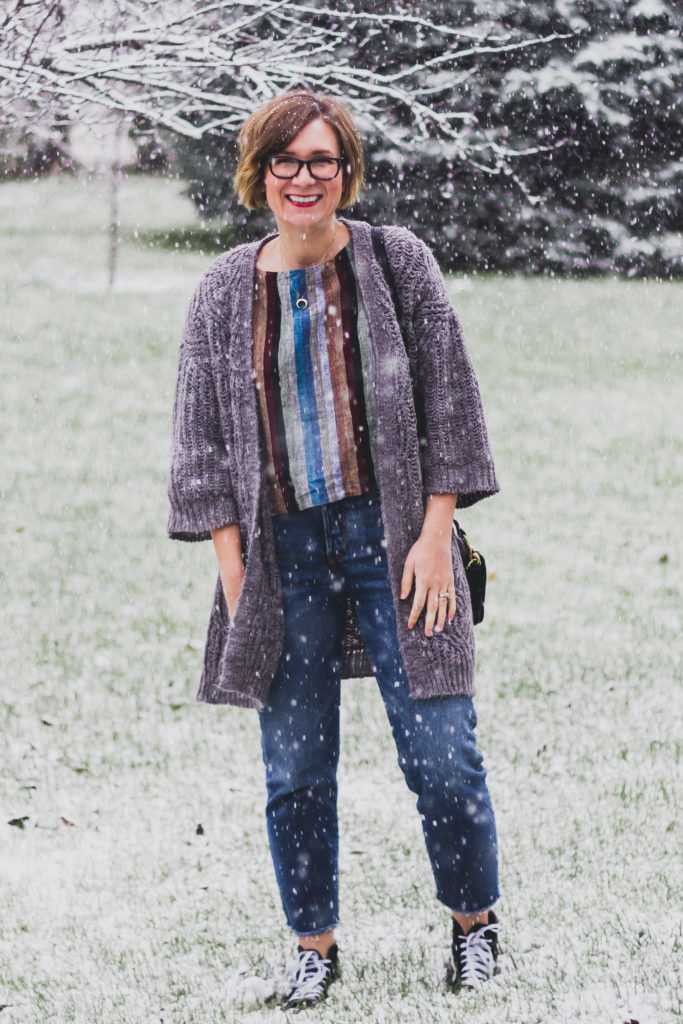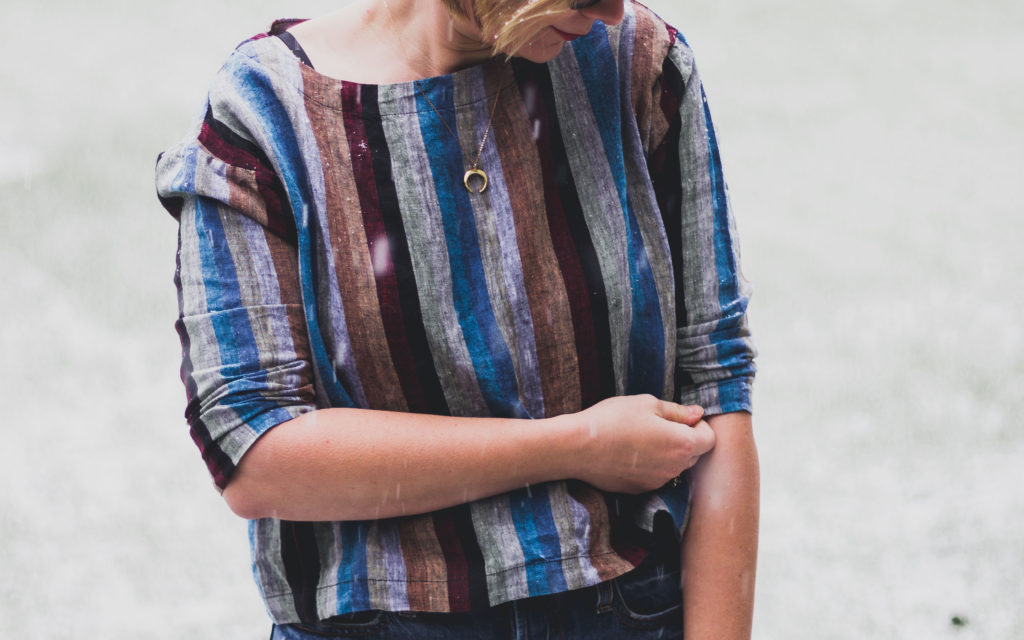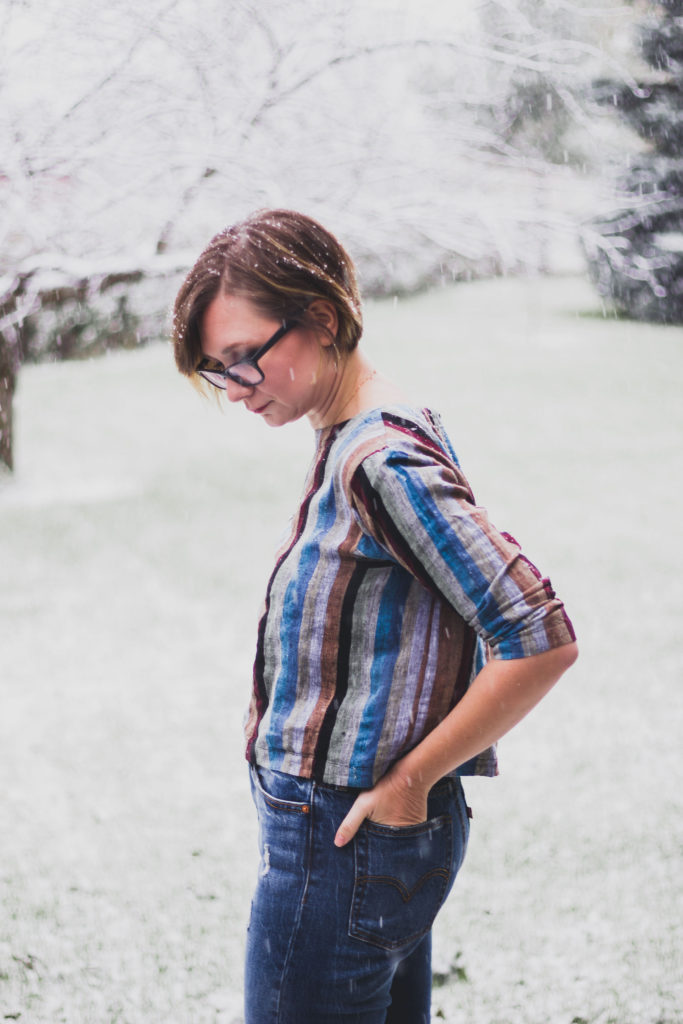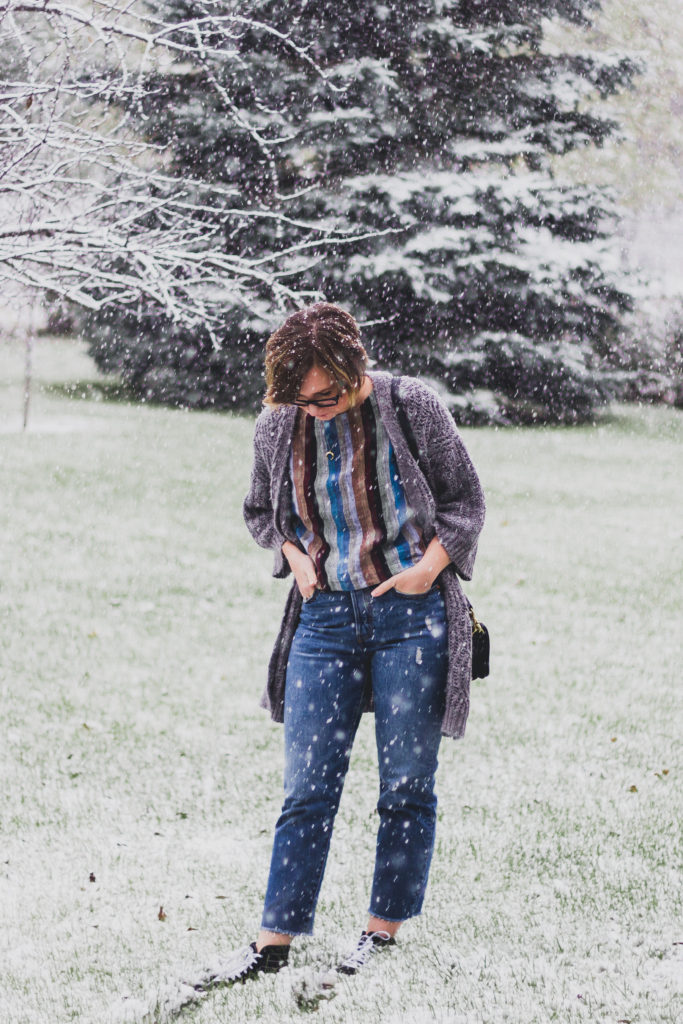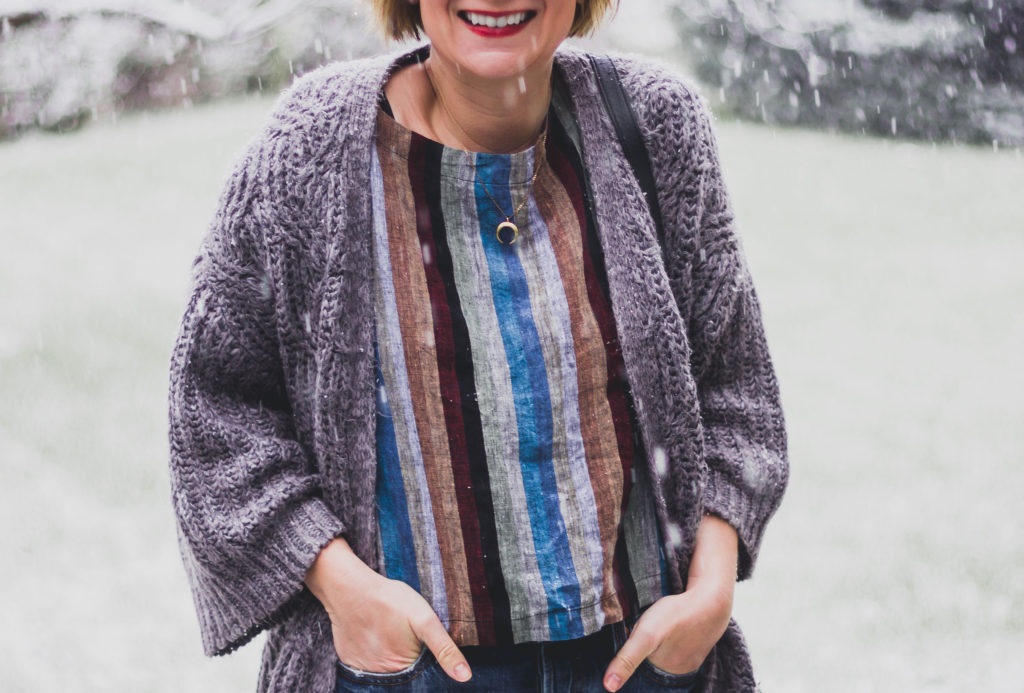 Top c/o (use code SCMTRUNCATION20 to receive 20% off through the month of Nov.) | Denim (I'm a size 6, and I got a 28) | Thrifted Cardigan. Similar | Shoes | Vintage Purse. Similar
Hey friends!
Remember a few weeks ago when I stumbled across Sugar Candy Mountain on Instagram and then ran to my (then) weekly three series to post about them?
Well they stumbled across my post and got in contact with me shortly after and asked if I would be willing to do a collaboration with them.
Can I tell you guys a little secret?
They are seriously the best.
I fell in love with their unique shapes, colors, and materials right off the bat, and I fell in love with the brand the more I've chatted with them.
It was one of those situations where the more I got to know about the brand, the more I wanted to share them with you guys because…
they are the kind of brand that deserves to be supported. 
You guys know that I hate to push shopping on you, and I am not trying to do that right now, but if you are in the market, please do check out their line because:
a. they are the kindest people
b. they have such passion for making ethical clothing
c. their clothing is super unique, colorful, (something I've been getting into more lately) and… well… just really kickass.
I was able to interview Bianca, the founder of Sugar Candy Mountain, but before we dig into the brand a little more let me quickly tell you about the top I'm wearing:
---
I'm wearing the Mia top in stripe.
It is made from 100% USA finished linen. The material is super soft right out of the gate. I've had other linen pieces that took a few weeks/months to break in, but this one doesn't scratch at all. It feels like really high quality material (I would say even higher quality than my Elizabeth Suzann linen).
It is more fitted than other linen tops I own, but it does have a slight boxy shape (you can really see it in the side profile shot above) to it thanks to the cropped length. Enough room to hide any food babies… or let's be real, post baby pooch.
It is cropped, but I've worn it with both my high rise denim that I'm wearing in the above photos, and my mid-rise skinny jeans so it's not so cropped that you can't wear normal jeans with it.
The sleeves are the perfect amount of fabric in my opinion. Enough give that you can bunch them at the elbow for a more relaxed vibe, but slim enough that they layer under a cardigan.
SERIOUSLY could not love this top more. I've been wanting to add more color/pattern into my wardrobe and this top does both things beautifully.
They kindly offered to give my readers a discount code, so if you are interested you can use the code: SCMTRUNCATION20 to receive 20% off their FW17 line (which the Mia Top is a part of) through the end of November.
Sweet! Let's move onto the interview:
---
Tell us a little bit about yourself:
I was born in San Francisco to a debutant mother and an artist Beatnik father. I was raised in Big Sur, California before moving to New York City. I've lived in L.A. for the last 17 years and am married to a very kind and talented painter named Ivan Morley.
Why did you start Sugar Candy Mountain?
Well, to be honest I had been working in an entirely different field as a counselor for individuals suffering from mental health disorders and trauma. After awhile, I found I was needing a creative outlet to process my compassion fatigue.
So in the beginning, it was an outlet that helped me let go of all that I was taking on as a counselor. Creativity and art have always been part of who I am – I come from an arts oriented background and it's just such a part of my DNA.
Over the last three years it's grown into a real business… the response has been incredible and I'm so grateful. The reward and challenge is to remember why I started it in the first place: to enjoy the creative process with a sense of play and curiosity (Karin note here: those things definitely show up in her designs).
Where does the name come from?
It's a reference to Heaven that George Orwell made in his book Animal Farm, but in our sense, a Heaven of nature and community. It is generated from the ideals of creativity, revolutionary beauty, and a future that is self-sustaining.
Where did your interest in ethical fashion come from?
I knew that when I started the line, I needed to produce the collection in alignment with my ethics and values: I was raised to believe that human beings and nature are one, and that they are more important to respect than money or fame, which is fleeting (Karin again: Amen!). Having the opportunity to combine my love of design, art, nature and community into a way of life is something I can't imagine living without.
What inspires your creative process?
I draw inspiration from both aspects of my childhood growing up in Big Sur and Manhatten, where artists and makers formed collaborative communities to support each other's creative endeavors.
I also find a lot of inspiration through vintage, the way things were made and cut. I'll find a vintage piece that I like and modernize it through the process of sketching. I make changes as I go, it's a lot like a puzzle that involves a lot of experimentation… you're putting these geometric shapes together until they look balanced. There is so much that I put into it that goes beyond "fast fashion": french seams and natural fibers for example.
My goal is to always create things that are designed, but still casual.
What are some of your favorite pieces in your shop right now?
The pieces that have become an integral part of my wardrobe are the Gwen top, the Monique dress, the Sabine dress, and the Nico dress (Karin note: these pieces are all part of the FW17 line so you would be able to use the discount code to get 20% off)
What is your missions statement?
Sugar Candy Mountain is an environmental and socially conscious company. We make every effort we can to leave as small a footprint as possible on the environment. This includes using techniques such as french seams and all natural materials that guarantee the long life of a garment so that it never needs to be discarded. When shipping, we wrap our garments in recycled paper rather than the unlimited number of non-reusable plastic bags that are the industry standard.
---
I hope you guys pop over and check them out. I really can't describe well enough how beautiful their pieces are… you kind of have to experience it for yourself.
Let me know what you think of them in the comments below! And don't forget to use discount code: SCMTRUNCATION20 to receive 20% off their FW17 line through the end of November.
Until next time,
This post is not sponsored, nor do I make a commission off of the discount code. However, they did send me the Mia Shirt as part of the collaboration.