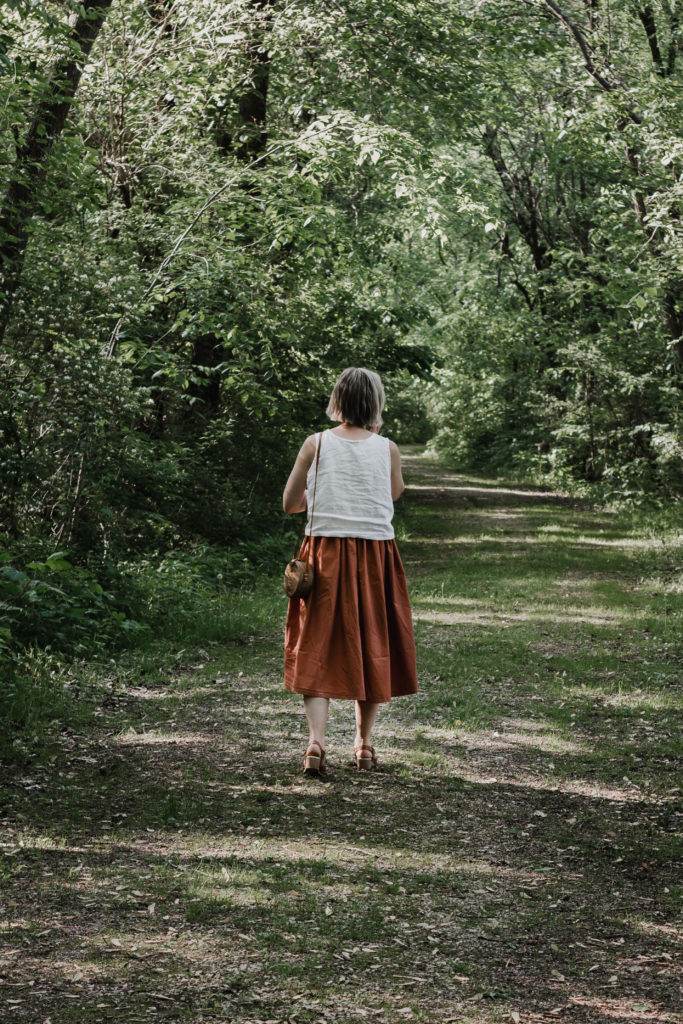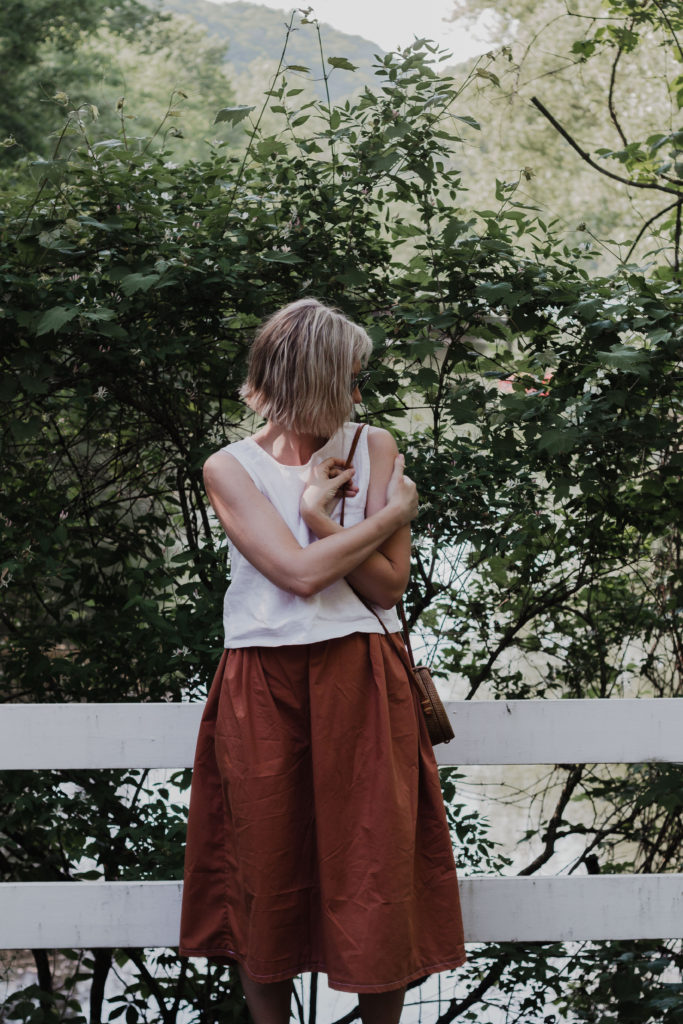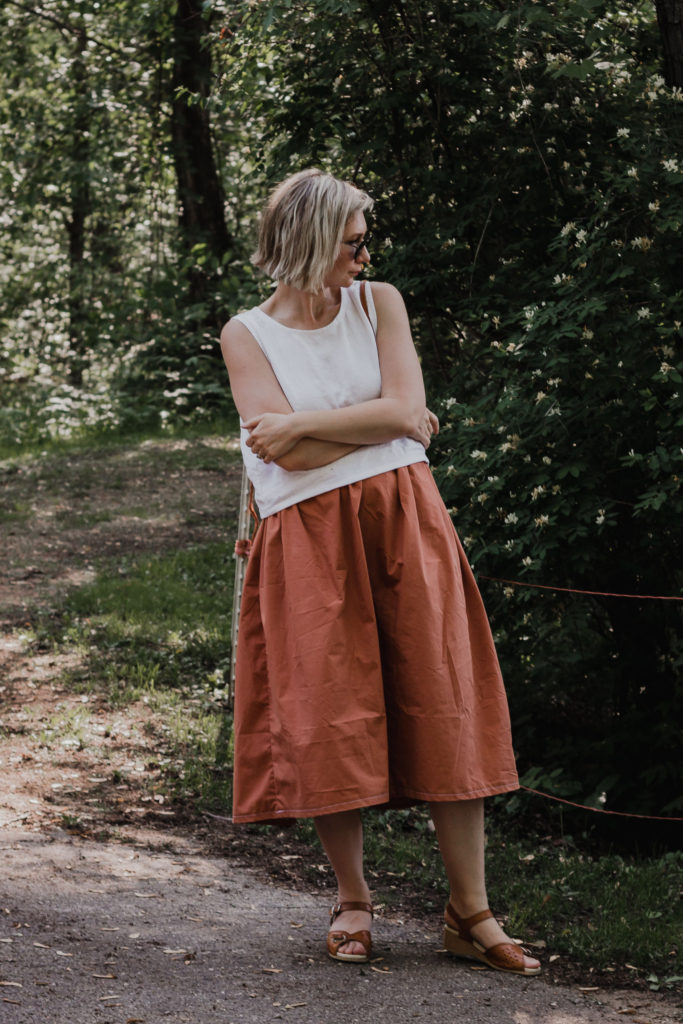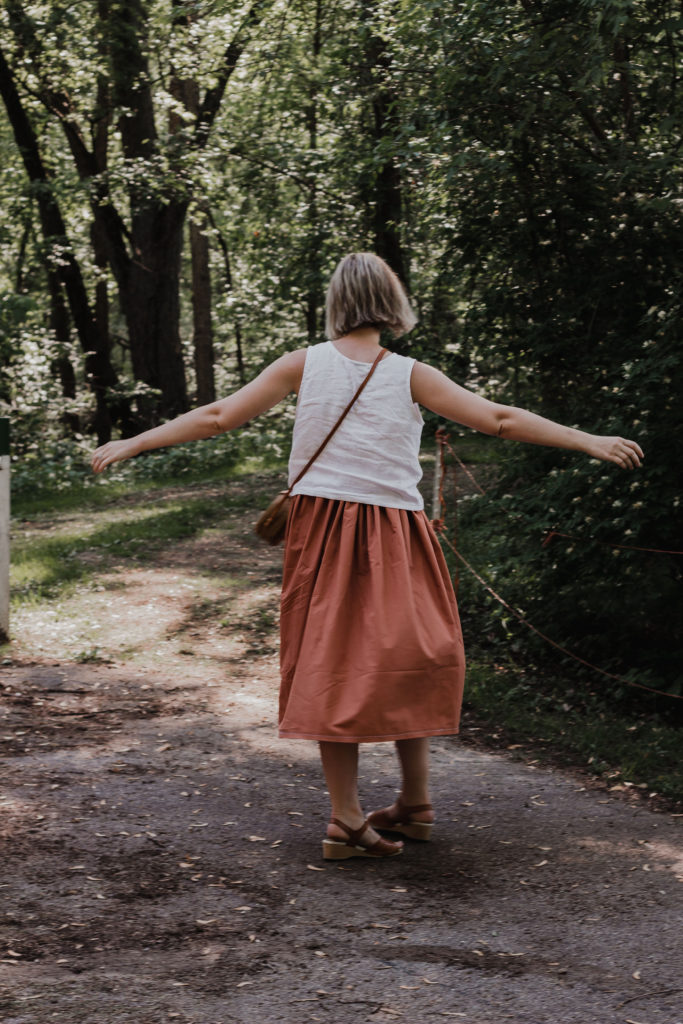 Just looking at these photos makes me miserable.
Ha!
We took these photos on the longest weekend of our life (okay that's a bit dramatic, but…). My Grandpa passed away a few months ago, and as his estate was settled we were fortunate enough to get my aunt's old bedroom set that they still had set up in their guest bedroom.
I have so many fond memories of that set… it was super girly with a fluffy pink comforter and delicate little ceramic figurines that my grandmother had placed around the room. It was a little girl's dream.
The only catch was that my grandparents lived in St. Louis so it was going to be tricky to get the set up to Minnesota. So over a weekend we left the girls with David's parents, and David and I drove to my parent's place (they had brought the set from St. Louis to their place in Iowa) to pick up the set. We then drove it back to Minneapolis (about a 6 hour drive), spent the night setting it up so that Kit would have a magical new room reveal when she got home, and then drove back super early Sunday morning to be back with the girls.
As my fellow Minnesotan's would say: Uff Da!
So anyway. Miserable.
But it wasn't just because of the weekend itinerary, the location that we took these photos was infested with the worst batch of biting gnats. We tried to take photos as quickly as possible, but by the time we got back to the car we were chewed to pieces.
So yeah.
But that's not the point of today's post!
#stayontrackkarin
One of the questions I get asked most frequently is how I find clothing online that fits.
Honestly? It's not rocket science, but I do have some helpful tips for buying clothes online that have served me well in the past.
The first thing I do is look at the return policy that the company offers. If the return shipping is not prepaid, then it's up to you to decide if the possible cost of return shipping is worth the purchase. If you don't find yourself willing to pay the $7 then the purchase is not worth it.
This obviously doesn't apply to secondhand purchases from eBay or Poshmark (though some eBay sellers do offer returns), so here's where my tips come in:
1| Get yourself a cloth ruler, and use it! When you are looking at an item, take your measurements and compare with the sizing guide provided by the retailer. Secondhand sellers will often list the measurements in the description, and if they don't, ask! Pay attention to whether the measurements listed are referring to the circumference or the garment laying flat… i.e. Waist: 30″ is the circumference, Waist: 15″ is the garment laying flat.
Measurements that are useful:
Bust
Torso length (i.e. top of shoulder to hips)
Waist
Hips
Inseam (i.e. bottom of crotch to ankle)
2| Consider the style of clothing you are looking at, and think about other styles that are similar in your closet or that you've tried on in the past. Have you loved that style on you? Or did it make you feel meh. Stick to styles that you know look good on you or that are similar to styles you like. If you really do want to take a risk, head to a department store and try on a similar style just to see how it looks on your body type.
Bonus tip: buying designer jeans secondhand? Go to a department store and try them on to figure out your size. Easy peasy!
3| Pay attention to the material. It's hard to tell the quality of a clothing item if you haven't seen it in person, so pay attention to the fabric it's made out of, i.e. natural fibers feel nicer (and hold up better) than synthetic fabrics. As a rule of thumb, polyester is never a good idea. 😉 Also, look to the review for what other people have said about the item… and if you're really wanting to dig deeper, and it's a small maker you are considering purchasing from, e-mail them and ask! In my experience, they're happy to answer questions.
4| And finally! Color. Stick to colors that you know look good on you. If you're not sure what looks good on you, google the color…
Literally. Google "yellow" on your phone, click on images, find the shade of the clothing item, click on the image so it fills your screen, and then hold it up to your face and look in a mirror. Does it make you look sallow? Does it make you look gray? Or does it brighten your skin, and make your eyes sparkle?
Stay away from any color that's not for you… no matter how trendy it is. For example: yellow has been a really big color this spring/summer, but I look terrible in bright yellows (I can do mustard yellow). It makes me look yellow, which is not a good look FYI. No trend is worth walking around looking like you're dead.
Phew!
I think that's it. I hope you found that useful! Do you have anything to add to the list? Let me know in the comments below!
And let's all just collectively celebrate the fact that gnat season is over!
Shop this Post:
Skirt: me made. Similar
here
Shoes: Vintage. Similar
Here
Until next time,
Karin