Happy Friday!
I'm writing this to you from the past because on Friday (today), I'll be attending a women's faith conference… by myself… alone… with no kids.
Just let that sink in for a moment.
This will be my first time leaving Gabe for awhile so I'm obviously a wreck over that, but it. is. so. needed.
The topic is Rest for my Soul, and oh boy! do I need that topic right now.
Goodness it's been a rough few months with the kids, and while I finally feel like we're seeing some progress it will be SO nice to step away for a couple of days and recharge.
I'm a big advocate for taking breaks from your kids (if you are able to of course, I recognize that for some people it's a lot harder). Having regular time scheduled away from them gives you so much perspective, and a chance to recharge… so important!
So anyway, enough with the chit chat because I've got a solid roundup for you guys today! Just make sure to keep scrolling to the bottom or you'll miss the chubbiest cheeks ever (and no I'm not talking about my own).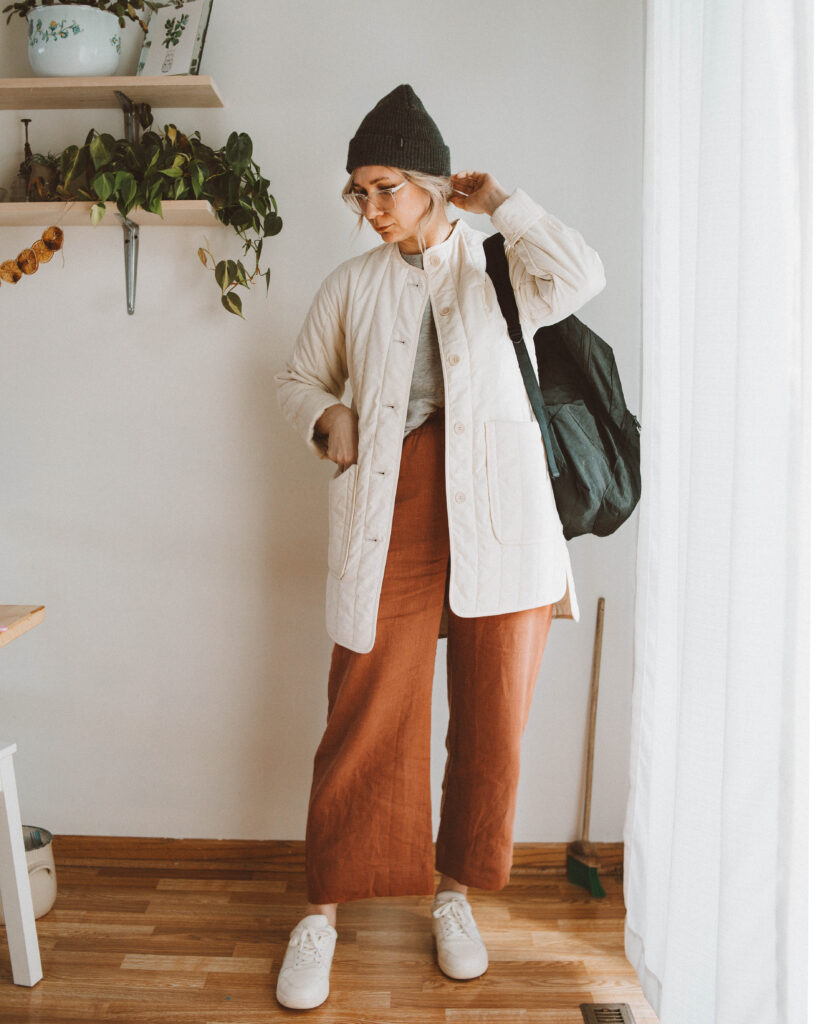 Outfit Details (Affiliate Links):
Sweatshirt (Gifted) | Jacket (Gifted. Review Here) | Last Season Pants (Linked same in different color) | Sneakers (Gifted. Review Here) | Hat | Backpack
I really love the way this outfit came together. I've kind of been playing with different silhouettes lately, and it's 100% due to wanting to be comfy ha! I love that trends are moving in that direction… not that I won't do something because it's not considered trendy, but rather comfier clothing is more readily available. With the sweatshirt, elasticated pants, quilted jacket, and sneakers I literally feel like I'm wearing loungewear all day. It's excellent. I also finally broke down and got a roomy backpack to use as a diaper bag (I chose this Baggu style because it's classic, slouchy, and durable), and it's been so life changing! That sounds dramatic, but having your hands available while wrangling 3 year old twins is priceless.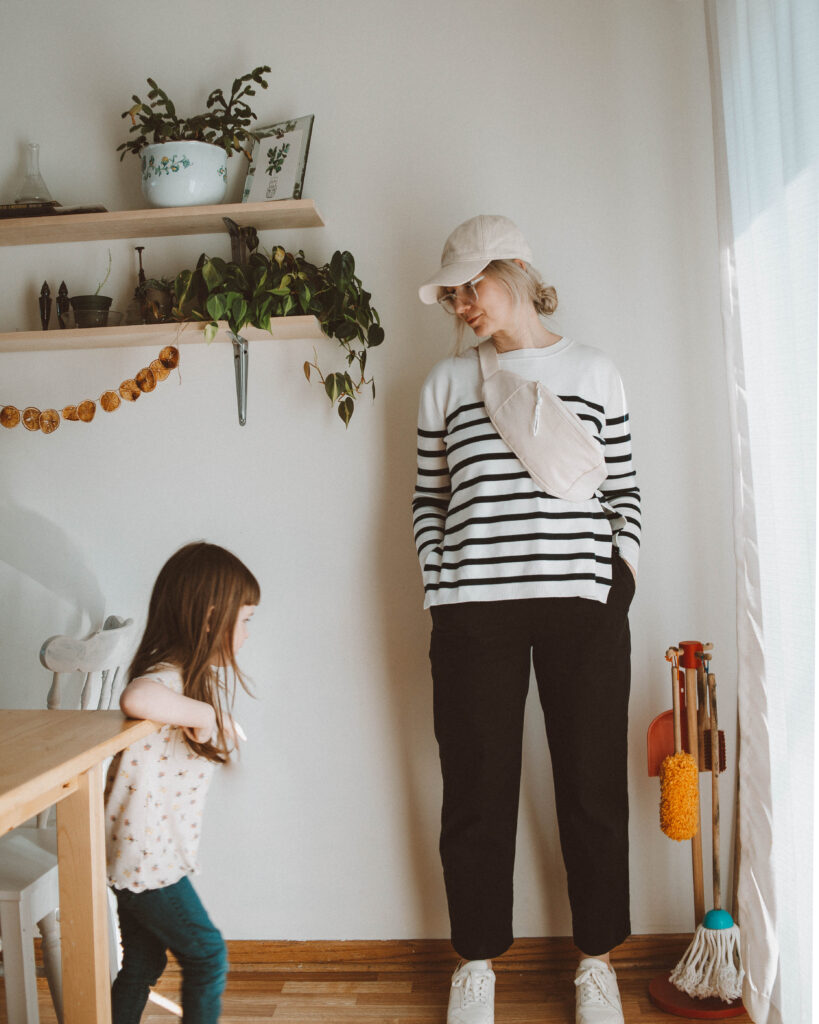 Outfit Details (Affiliate Links):
Hat | Secondhand Sweater (Linked Similar) | Secondhand Pants (Linked Similar) | Sneakers (Gifted. Review Here) | Hip Pack
We should call this the week of hats and sneakers. 🙂 Sneakers because they're comfy, and hats because showers were hard to come by this week (why is it that right before you are about to get in the shower, that's the moment the baby cries?). So hats it is! I got this sweater secondhand last fall and it's been one of my favorite secondhand purchases ever. I didn't realize how much I would love having a Breton stripe like this in my closet, but I love how it makes any outfit look a bit more classic and a bit more intentional. And speaking of things that are classic, hip packs (can we say that fanny packs are classic? Hmmm) have been a go to for me lately because when I have the stroller with me I can stash my essentials in them for easy access while keeping my heavy bag below. This one actually fits a ton so baby things excluded, I could fit all of my stuff in it.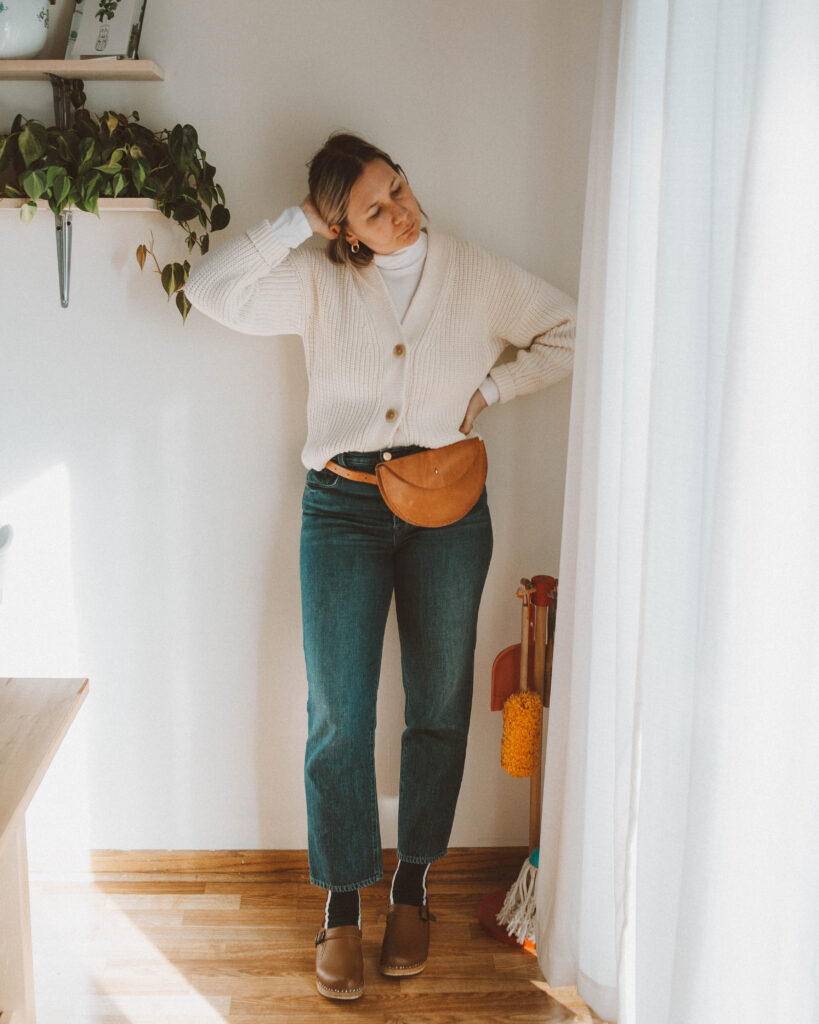 Outfit Details (Affiliate Links):
Turtleneck (Gifted) | Cardigan (Gifted. Review Here) | Secondhand Denim (Linked Similar) | Socks (Gifted) | Last Season Clogs (Linked Similar)
The socks I'm wearing were kindly gifted to me from Hippy Feet, and I just wanted to give them a special shout out because I think they are a really cool company: they are a Minnesota (yay!) based company who provides transitional employment to young people who are experiencing homelessness with the long term goal of positioning them into stable housing and full time employment elsewhere. So cool. You can read more about what they do here, and make sure to keep them in mind when you are in the market for socks!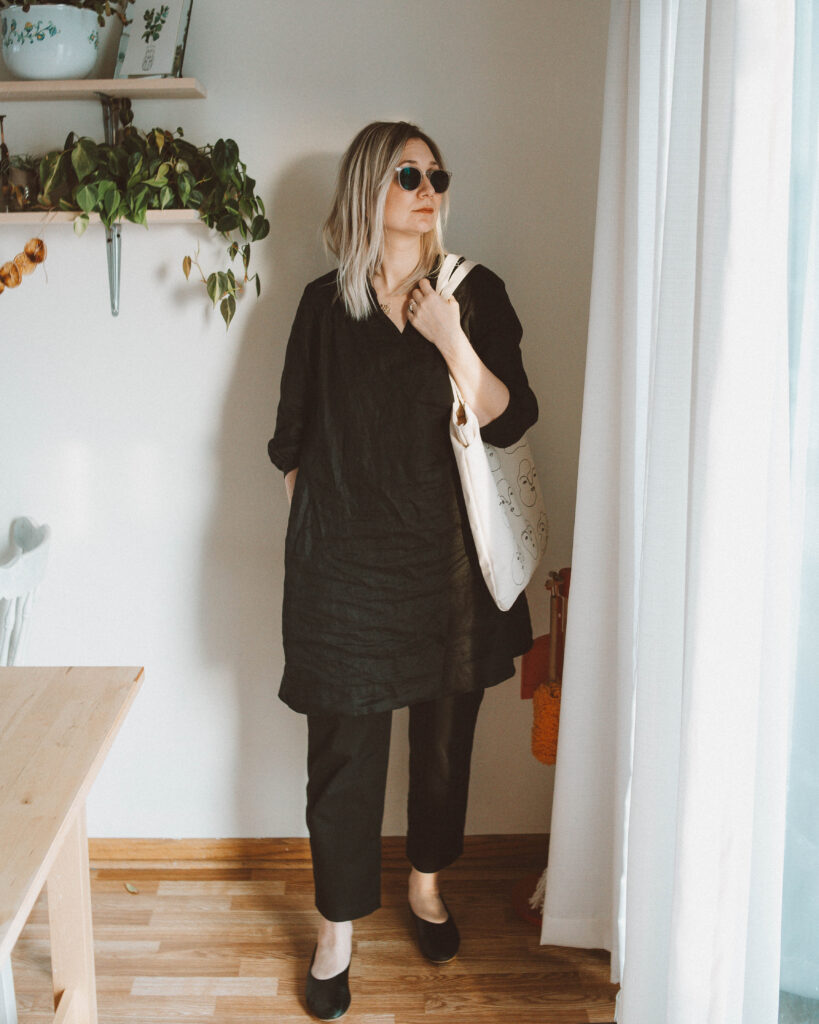 Outfit Details (Affiliate Links):
Dress (Gifted) | Secondhand Pants (Linked Similar) | Shoes (Review Here) | Sunglasses | Tote
Finally washed me hair! Ha! This is such a classic combination of pieces that I've owned for a long time. It's funny though because I don't think I've put this exact combo together before. This Sabine dress from Sugar Candy Mountain has been one of my most worn pieces… it's the definition of an investment piece. It is on the pricier side, but it is so well made and the style is timeless. Sometimes I feel like I have to stop myself from wearing it so often so I can give my other clothes some love! I love an all black outfit too, but the addition of the canvas tote breaks everything up and gives the right amount of visual interest.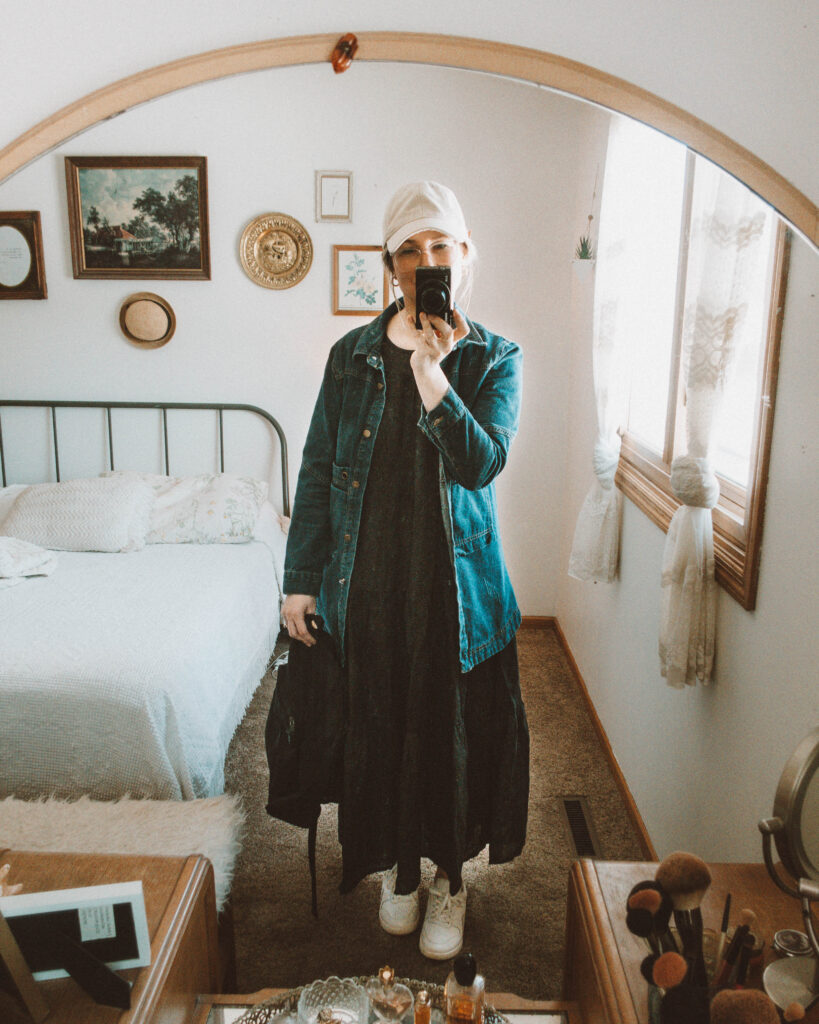 Outfit Details (Affiliate Links):
Hat | Vintage Jacket (Linked Similar) | Dress | Sneakers (Gifted. Review Here) | Backpack | Earrings
This dress is on sale for a steal right now you guys! I had been eyeing it for a really long time, and when it went on sale for less than $100 I went for it. I'm so glad I did! It's my first piece from Tribe Alive, and the craftmanship and styling details are really nice. It's lined so you can wear it with whatever you want underneath, and it has a button closure at the back which makes it easy to get on and off. The neckline is also at the perfect height… it's not so high that it's a classic crew neck, but it's also not so low that you have to worry about anything. Unfortunately, it's not very breastfeeding friendly so I'll have limited use of it this summer, but I wore it on a day we were going to the library between Gabe's feedings and then at home I just hiked the whole thing up and fed him that way. It worked!
Speaking of…
his cheeks just keep getting squishier and squishier.
Whelp! That's it for now! I hope you guys have a great weekend. I'm looking forward to my break over the next few days, but I'm also dreading leaving the little guy already (It's a lot easier to leave the older three ha!).
Until next time,
Karin