I have to admit something to you…
I've really been enjoying sharing my thoughts on postpartum fashion with you guys.
Why?
Well mostly because I feel like we're figuring it out together as we go.
I'm definitely no expert in this area. Postpartum fashion can be difficult and overwhelming.
But sharing some thoughts about it here forces me to really think about it and come up with, what I think are, some workable solutions.
And just for the record, these posts will be more about items that are a step up from the ol' nursing tank and leggings look.
I mean I've been there, but I don't think you need me to tell you how to pull that look off.
you know what I'm sayin'?
Basically, I'm wanting to talk to you about pieces that will make you feel like you still have style.  In other words, just because you might still look 20 weeks pregnant (like me… we're in this together ladies), doesn't mean you can't look stylish.
As I mentioned in my first postpartum post , the key is to find pieces that will work even if you go up or down a size. That's why the first piece we talked about was the jumpsuit.
And its why I'll be talking to you today about the crop top.
Now if you're like me, then you might automatically think of the crop top of the late 90's/early 00's (think Julia Stiles in 10 Things I Hate About You). And if you ran away in horror when you read the word crop top… well I don't blame you.
Ain't no typical postpartum mama gonna feel confident in one of those.
And if you do… well I salute you, you brave woman you.
No, I'm talking about a more of a modern silhouette.
The modern crop top is a bit longer in length (so you don't have to dust off your belly button ring collection) and it's less form fitting (although I have seen some throwback crop tops on the market lately so feel free to go that direction if you must).
This Georgia Tee by Elizabeth Suzann that I'm wearing is the perfect example.
It hits right below my hips (although I am short torsoed so it might be a bit shorter on someone with a long torso), has enough fabric so that it doesn't cling to my midsection and it's made of the most beautiful, soft linen so that it drapes incredibly well.
To me, it's the perfect grown up version of an item that could be a bit more on the trendy side. I don't imagine that this kind of top will ever go out of style.
And like we talked about before, it fits my priorities of being:
versatile (I can play with my kids and go out to dinner with my husband in it)
practical (it's made of linen so the fabric isn't fussy)
cut well (so it'll work on me in a variety of sizes)
So I thought the best way to convince you that a crop top will work for a casual mom's lifestyle would be to do a photo diary of three different ways that I style this top (make sure to scroll all the way to the bottom because I also have a video review of the shirt itself).
I hope you enjoy!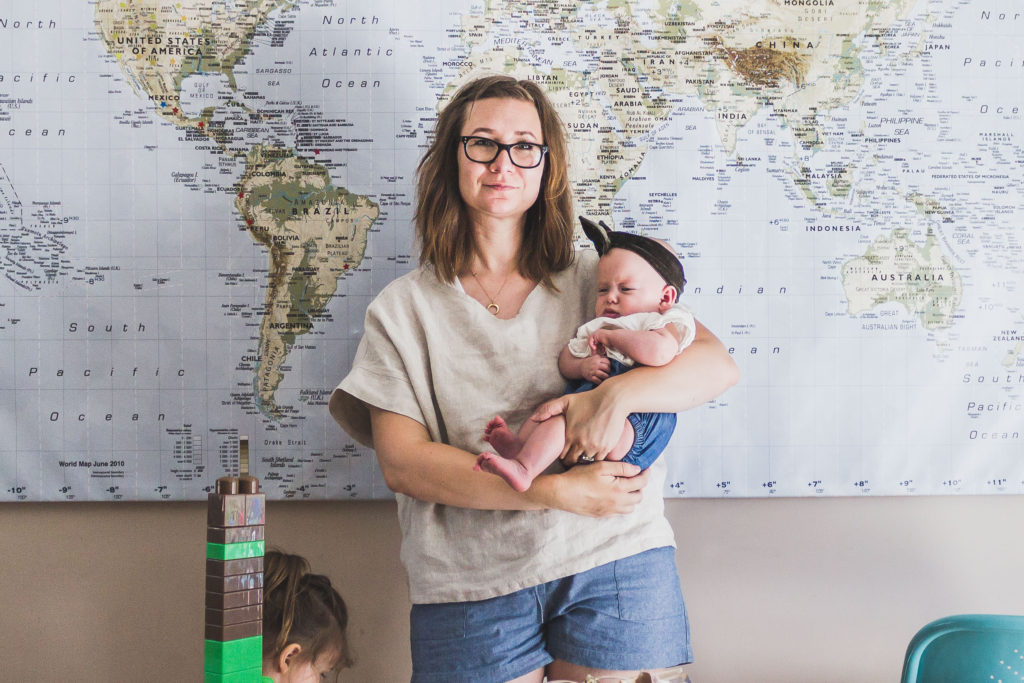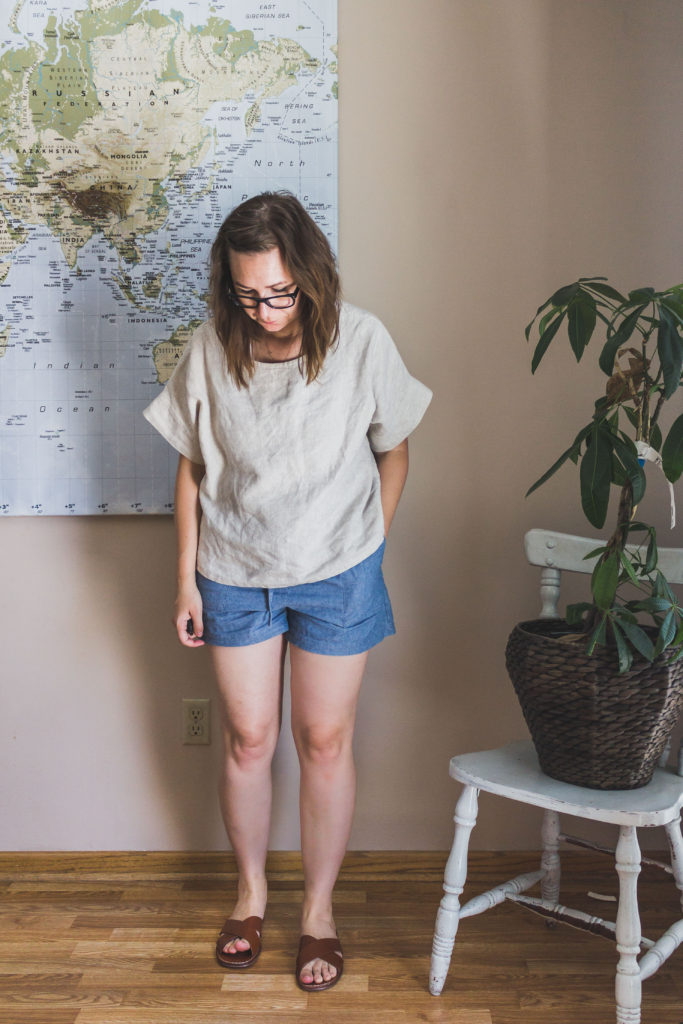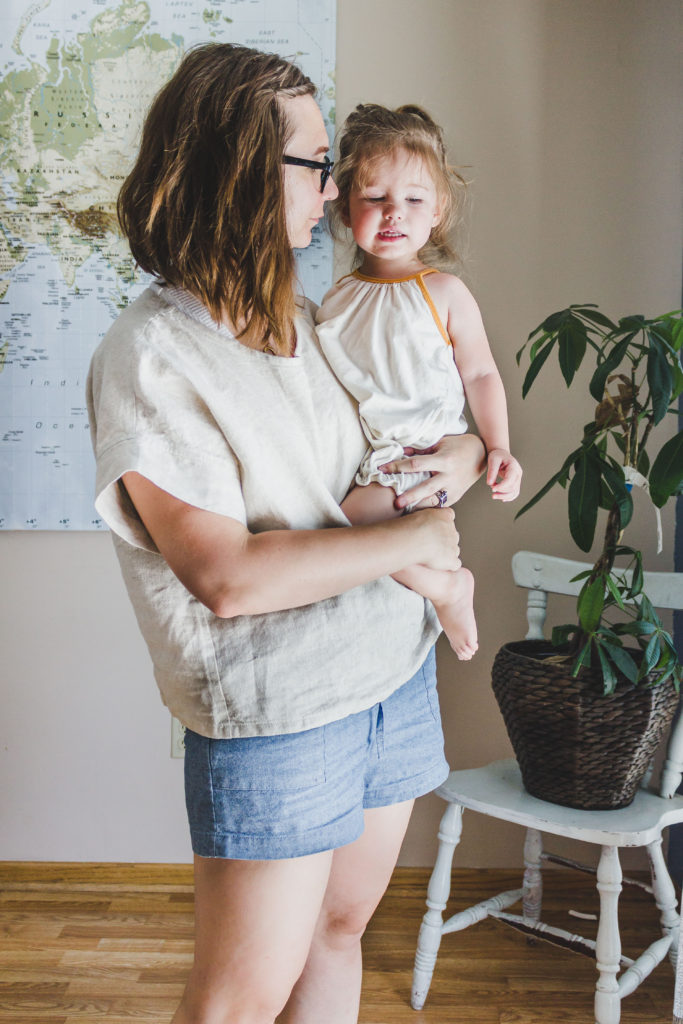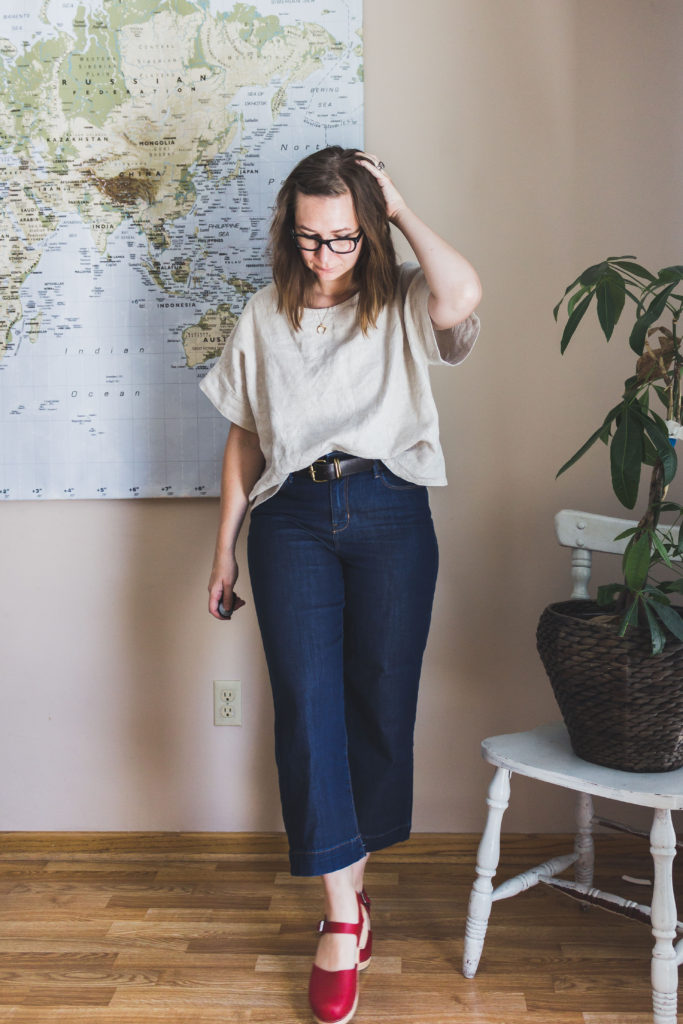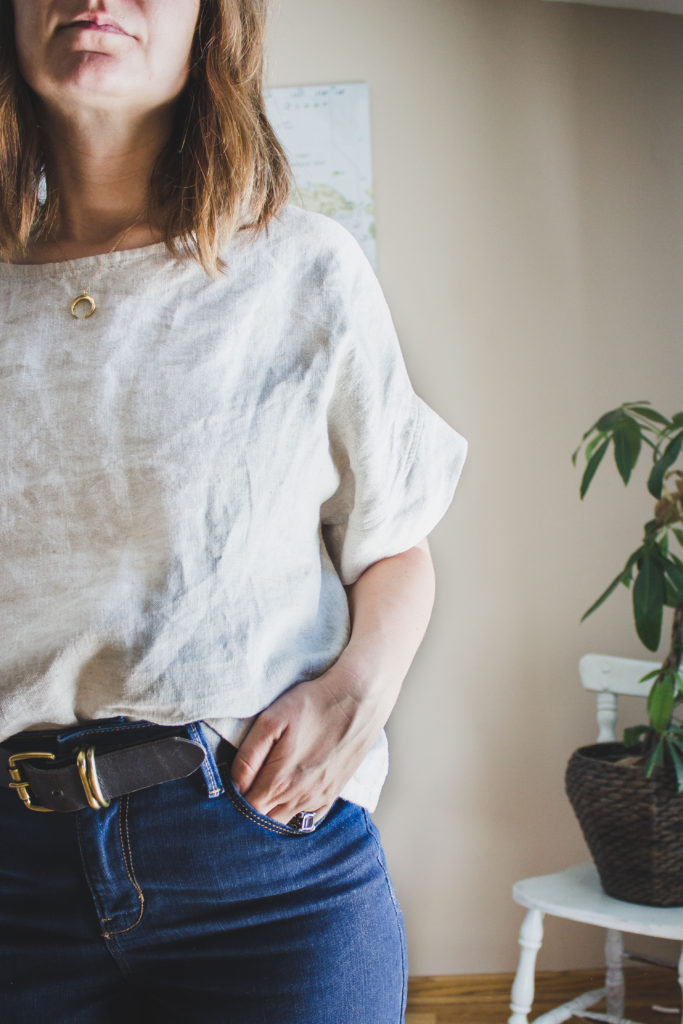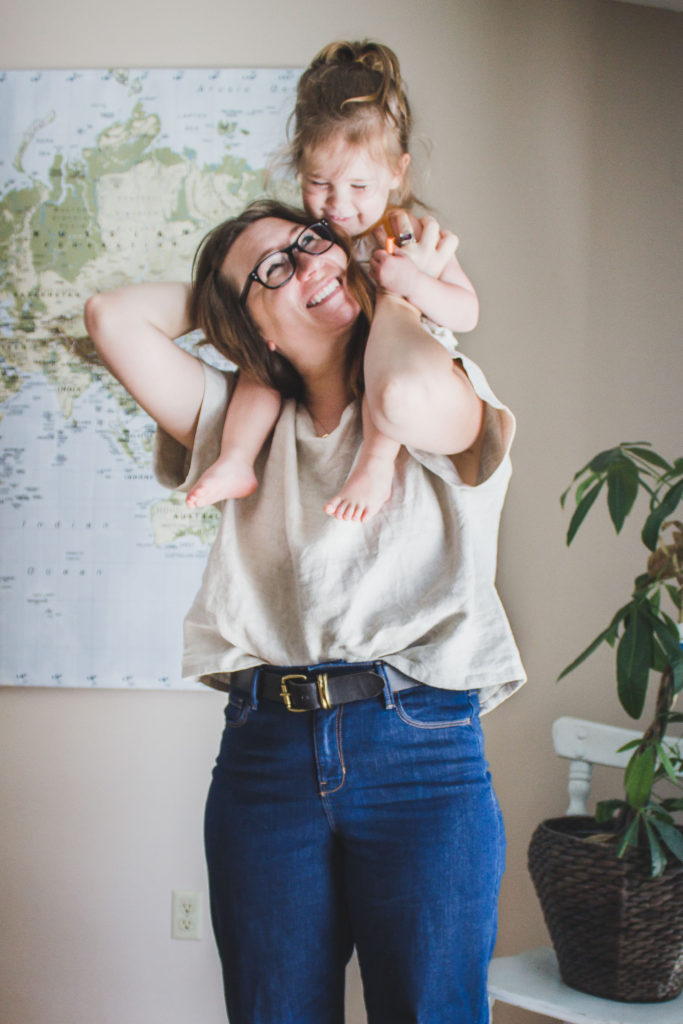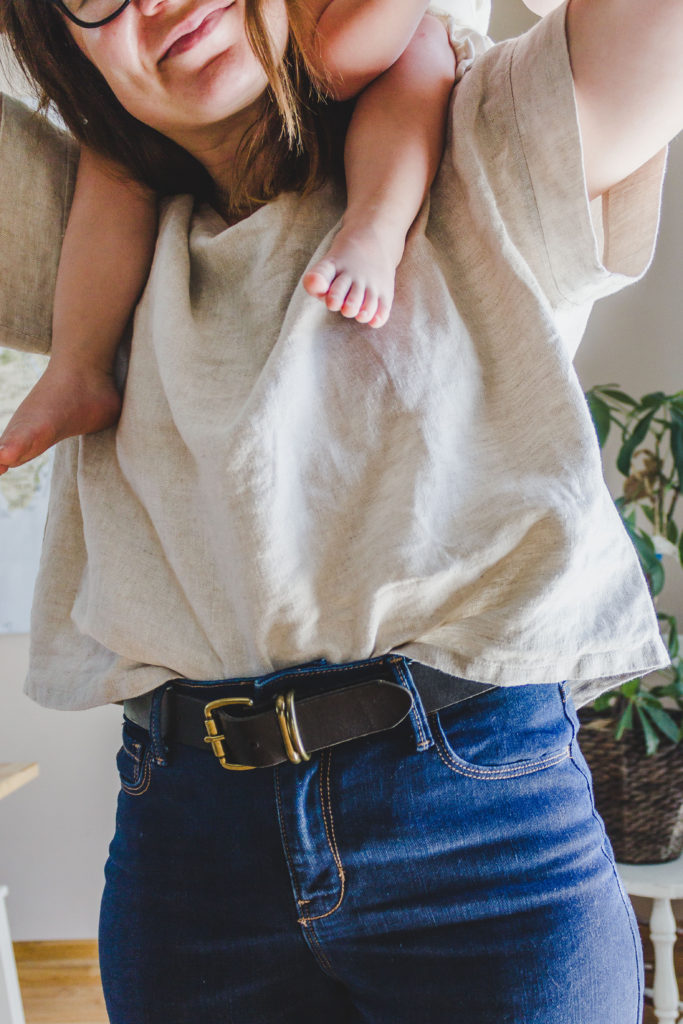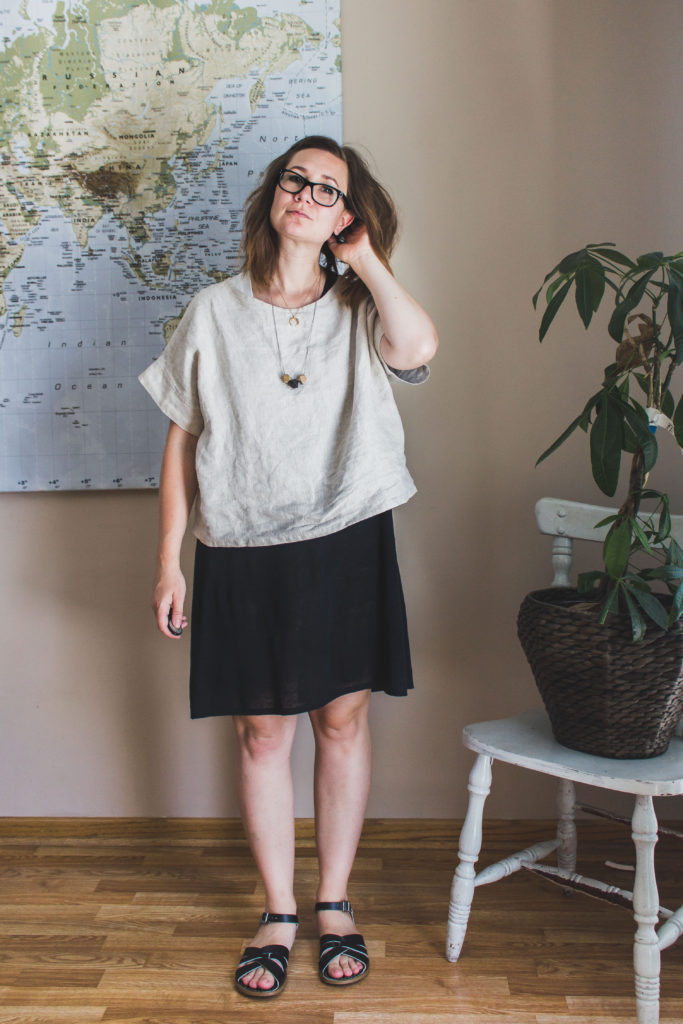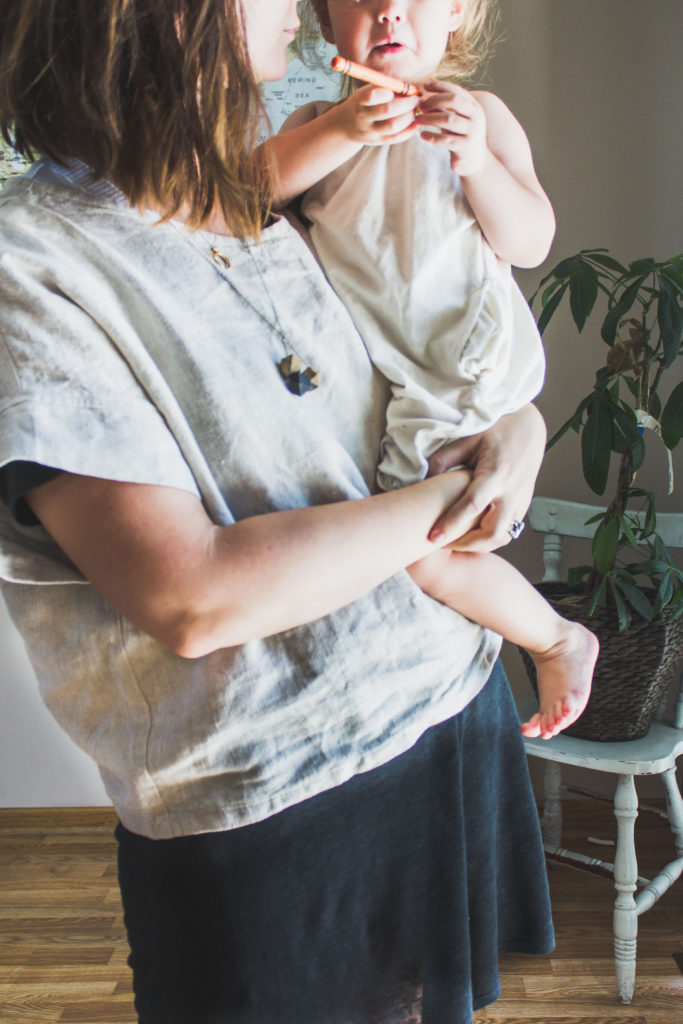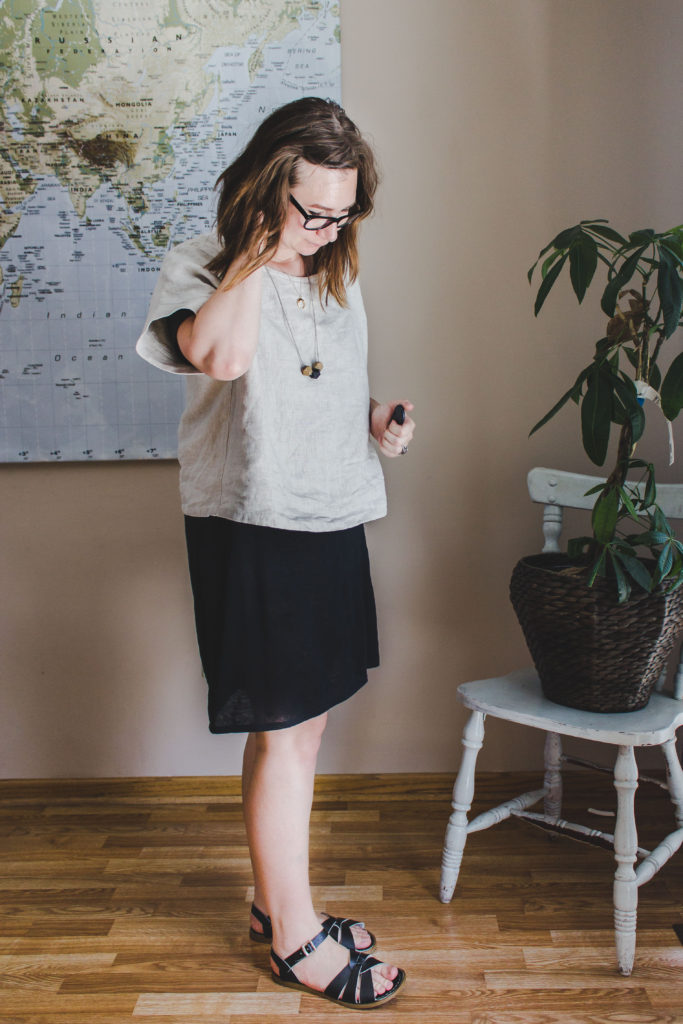 What do you think? Would you try a crop top? What about something like this Georgia Tee that's a bit less Julia Stiles approved? Let me know in the comments below!
And if you're looking for a more in depth review on the top itself, check out the video below:
Until next time,

Outfit Details:
Georgia Tee: c/o Elizabeth Suzann
Shorts: Thrifted. Similar.
Brown Sandals: Thrifted. Similar.
Denim: Thrifted. Similar. Non Denim Option.
Clogs: Lotta from Stockholm.
Black Dress: Everlane.
Black Sandals: Saltwater by Hoy.
Kit's Romper: c/o Little Moony.
Moon Necklace: Layered and Long.
Ella's Headband: Old by Rayna Jaye. Similar Style.