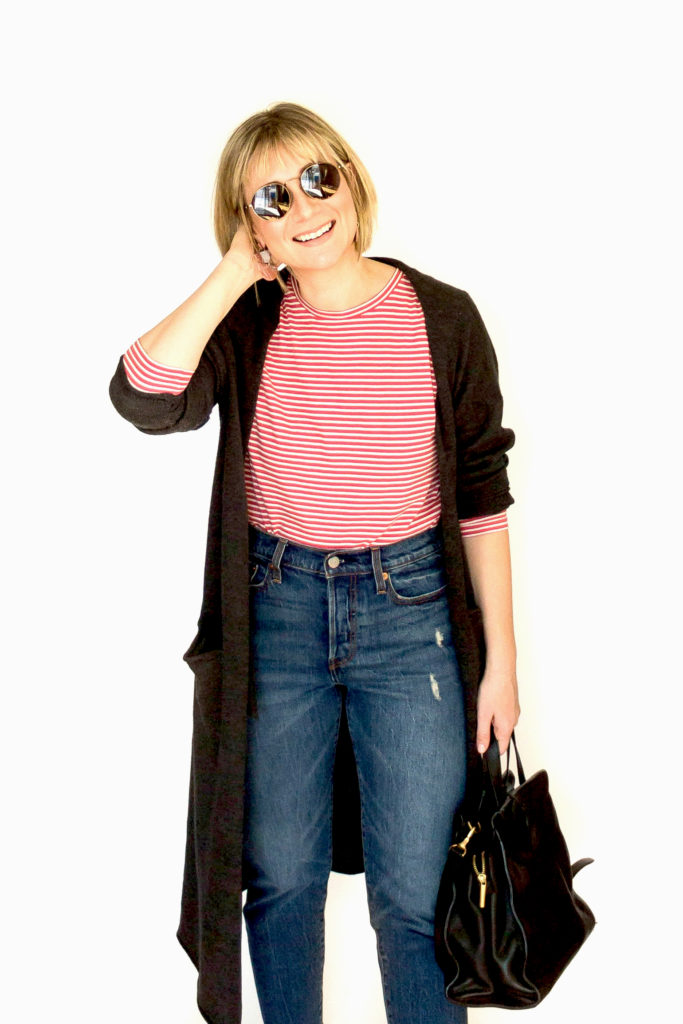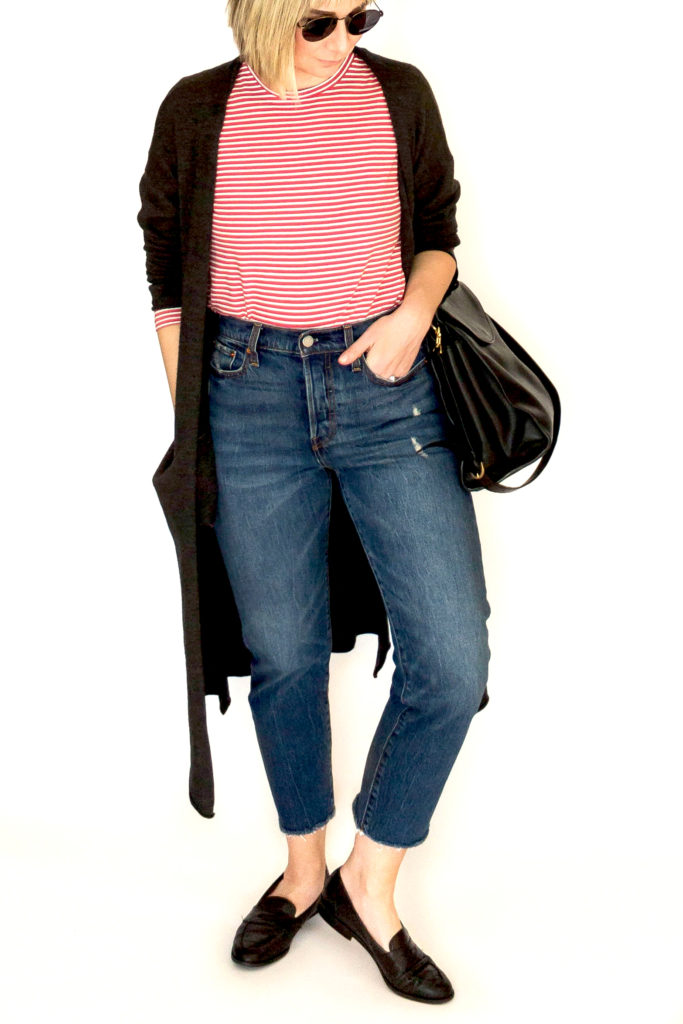 I just realized that two of these pieces were in my spring 10×10!
Looking at them in this photo, I realize how much I prefer layering them with this cardigan from It is Well, than the vintage cardigan I ended up including.
Through doing the 10×10 I actually had realizations about both of these pieces:
the jeans:
I've been wondering for awhile if these jeans are right for me. I've had them since last fall, and I've kind of struggled with them ever since. I'm just not sure if I love the tapered leg on me.
But one thing I realized about these jeans during the 10×10 was that I like them with shoes that show my ankle.
So going into the challenge I was pretty much convinced that I was going to sell them, but now I've just decided that they will mostly be a spring, summer, early fall jean for me. I'm cool with that. I'm learning that not every piece in your closet has to be versatile for every single weather condition known to mankind.
the shirt:
I love this shirt. The stripe size is perfect, it's super comfy, the cut is so flattering… but I've decided to sell it.
While I love it so much, I'm realizing that I don't reach for it very often because of the color of it. I actually really love the color, but there's something about it that stops me from putting it on.
However, I really love my short sleeve version of this shirt in the black and white stripe. I get a ton of wear out of that shirt. So I'm going to sell the red striped shirt, and replace it with the long sleeve black and white version.
I used to think that I would get to this point in my wardrobe where I would just have the perfect amount of clothing, and would never need to be transitioning pieces in an out.
But I'm learning that it's okay to not get it perfectly. That's just way too much pressure!
A wardrobe should definitely have a strong backbone that doesn't change, but it's okay if fringe pieces cycle in and out.
On a side note, the Rambo girls are finally recovering! We made it out of the house today so things are looking up. 😉
---
Outfit Details:
Sunglasses: thrifted | Similar
---
P.S. If you like the outfit I shared today, would you consider sharing it on Pinterest? Just over over any of the images and click the "pin it" buttons. Thanks so much!
Until next time,