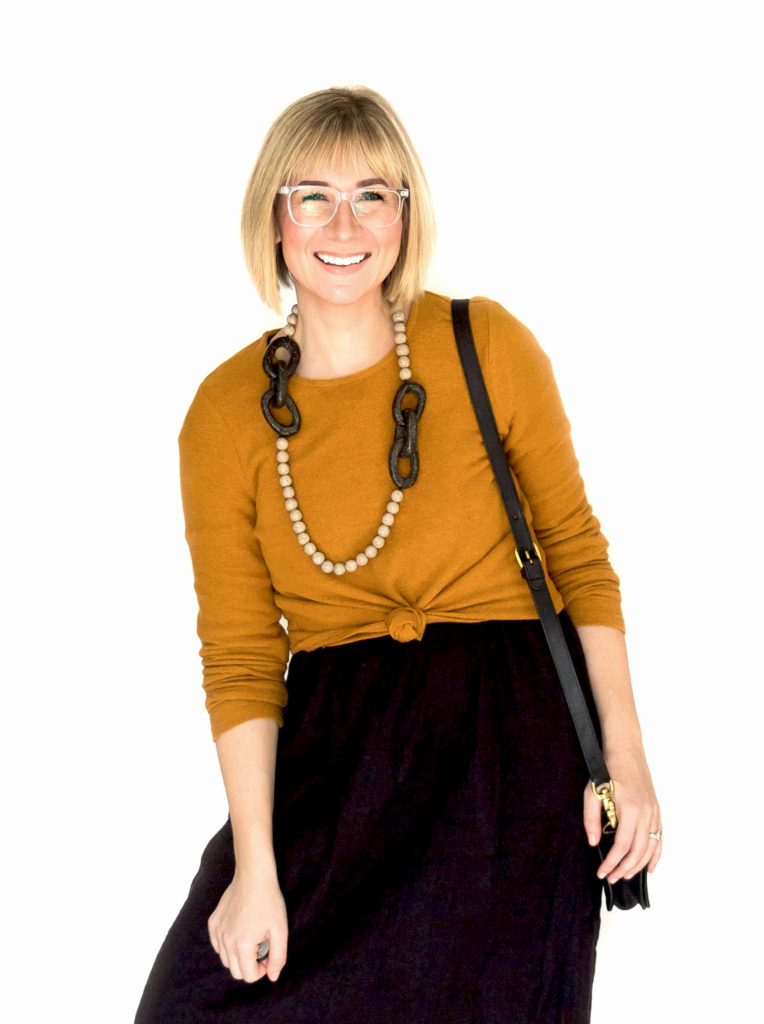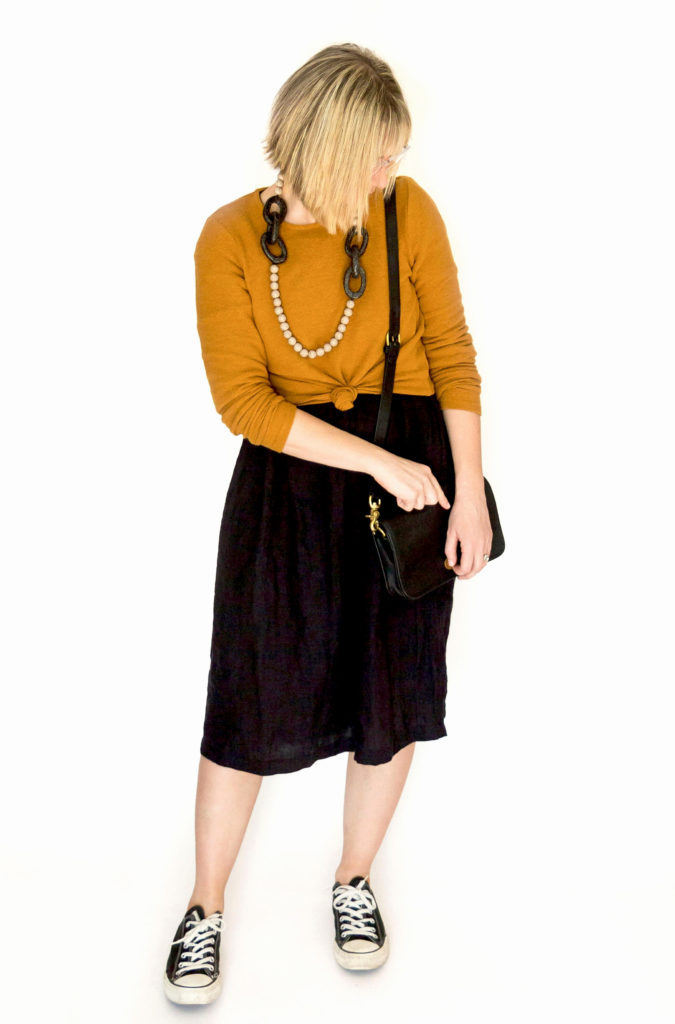 On one of my posts last week, the ever inspirational Leah from Style Wise made a comment about bravery in fashion and how she felt she had lost it.
I 100% empathize with that comment and know exactly how she feels.
When I was in college I didn't give a you know what about how people perceived me. My entire wardrobe was thrifted and I wore whatever I wanted.
To be honest, I wore some pretty quirky things, but I felt confident because I was wearing what made me feel good.
And this was before social media (I joined Facebook my senior year when it was finally made available to my college… I'm super old you guys) so I had zero style inspiration because I didn't dress like anyone I knew.
In other words, I was entirely dependent on my own style instincts.
Then social media became more of a thing (fun fact: I joined Instagram in 2012 only so I could stalk my favorite Bachelor contestants. Yes, I know how ridiculous that is), and I was faced more readily with what was "on trend."
That paired with "growing up"… getting serious jobs and needing more work appropriate clothing, I kind of retreated from my natural instincts into a more widely accepted closet.
I was still interested in style, and felt good in what I was wearing, but there was always this drive to add more to my wardrobe because I was never satisfying my style "itch."
There were other things contributing to my "need" to shop, but that was a huge part of it.
When I started doing capsule wardrobes, my shopping habits drastically improved. Over the last three years I have learned so much about patience, contentment, misplaced desires… it's honestly changed my life. I've learned how to ask questions about my clothing, and desire for it, that I never would have otherwise.
And over those three years I have slowly, slowly found my voice in style.
But then the twins were born and *poof!* I lost all of that confidence overnight. Depression, anxiety, and just overall weariness made me retreat. I think I temporarily lost myself in all of it.
And I think my fall and winter capsules reflected that retreat.
I don't regret those capsules or that season of my life as it has led me to where I am today.
At some point in January, I just started to feel more like myself again… and as those parts of me returned, I grew in my confidence.
I felt better about myself than I had in a long time (part of that feeling came from prioritizing self care like I talked about yesterday), and it honestly felt like a weight was taken off of my shoulders.
And I wanted my outward to reflect my inward.
I needed a new pair of glasses (my old ones were almost eight years old), and I almost went with a pair exactly like my old ones because they were familiar… but at the last minute I had a stroke of boldness and I went for this more modern pair.
I was also fed up with my hair. It made me feel blah and I missed my blonde (I am a natural brunette, but I have basically had blonde hair since my bff's older sister highlighted it for me when I was 15… remember that Kels?!). I chatted with my hair stylists about what I wanted and together we decided to go for something a little bit sassy.
And you know what? With those two simple changes it felt like something just clicked into place. It seems silly, really, but choosing something a little bit out of the box gave me the bravery I needed to "go for it" with my styling.
I have felt 1,000% more like myself since making those changes. And I've felt 1,000% more confident in the outfits that I've been putting together. And in turn, 1,000% more confident in myself.
Sometimes I feel like there are bigger fish to fry than writing out a post like this. There are so many problems in our world and country, and do we really need another blogger talking about personal style?
But, I think that there are so many women out there who are struggling to find confidence… struggling to feel good about themselves.
And I know from experience that when we lack confidence, it's hard to:
a. make decisions that are good for us, and
b. be outward focused.
The more insecure I feel, the more inward I turn. The more confident I become, the more outward I turn.
When we don't feel good about ourselves, we enter self preservation mode. We try to either numb those feelings or do whatever we can to make ourselves feel temporarily good.
But when we feel good about ourselves, we spend less energy thinking about ourselves and, in turn, have more energy to think about the people around us.
So yeah, there probably are bigger fish to fry, but imagine a world full of confident, mobilized women.
It might start with clothing, but it goes much, much deeper than that.
---
Outfit Details:
Colorful Tee: J. Crew (no longer available in this color) | Affordable option | Everlane Option
Linen Dress: Pyne and Smith | Same Material, Different Style | Similar, More Affordable Option
Black Sneaker: Converse | Ethical Option | Everlane Option | Affordable Option
Black Purse: Vintage | Similar Vintage Option
---
P.S. If you like the outfit I shared today, would you consider sharing it on Pinterest? Just over over any of the images and click the "pin it" buttons. Thanks so much!
Until next time,