Happy Hump Day!
I had mentioned awhile ago that I wanted to start posting some "passion projects" on here, and, well… there's nothing like a wardrobe recap to get that started! 🙂
If you remember, last fall I mentioned how much I've been enjoying the Stylebook app. It has been such a useful tool for planning outfits, but its also been so great at helping me track what I'm wearing/what's currently in my closet.
As it stands right now I have roughly 200 pieces in my wardrobe (including coats, shoes, all accessories like sunglasses; scarves; hats; etc., jewelry, bags, etc.), and while it DOES include everything, it still feels like too much.
So my plan is to intensely track my wardrobe for the next year so I can figure out what I'm actually wearing.
If that feels like overkill, you're probably right, but I'm a nerd who loves data so… oh well.
Hopefully after a year of tracking I'll have a better sense of what I'm actually wearing and I can make purges based on data and not momentary feelings.
Even though I couldn't pull a wardrobe recap like this together last month, my hope is to share with you some sort of wardrobe recap at the end of each month so that any other data nerds out there can follow along with my wardrobe "journey" (any Bachelor fans out there? Ha!)
I have each outfit that I wore below (I just downloaded the collages I keep in the Stylebook app to keep things simple). You can tell towards the end of the month that I was lacking motivation to get dressed, but that's real life right? I still have those outfits listed because I do think it's helpful to see how often I reach for lounge wear.
According to the Stylebook app my top five most worn items so far this year are (the links are affiliate links):
I did add a few things to my closet:
This blouse from Tradlands (I picked it up during their sale recently)
A secondhand Baggu backpack
I actually added quite a bit of PR to my closet this month:
the pieces from Boob Design mentioned in this post
2 jackets from Everlane and a pair of their new trainers
A few pieces from Michael Stars that I'll be sharing in a bit
All of the things added were really basic, versatile pieces so I do feel good about them. I'm realizing that those are the pieces I reach for the most and yet I have way more "statement pieces" than basics. Something I'd like to do over the next year is pair down those statement pieces and build a really strong foundation of versatile basics.
And I also want to be more mindful of the PR I'm accepting. I've kind of chosen things based off of what I like, but I want to be better at only accepting things I KNOW I'll get use out of and wear on repeat. In other words, I want to be way more intentional about everything that's being added to my closet.
With that said, the things I decided to purge this month are:
My knee high Everlane boots. I love the style, they are a beautiful boot, but I just don't think they suit me unfortunately.
My Day Loafers from Everlane for the same reasons above.
An older denim jacket from Tradlands because it no longer fits.
My navy Madewell sweater. This was a classic case of settling… it was a beautiful looking sweater, but the weave on it was really chunky and the material was not soft so it was actually painful to wear after a few hours. I should have sent it back right away but I was really eager to have a navy sweater in my wardrobe so I kept it. Lesson learned.
Here are the 29 outfits I wore in the month of Feburary: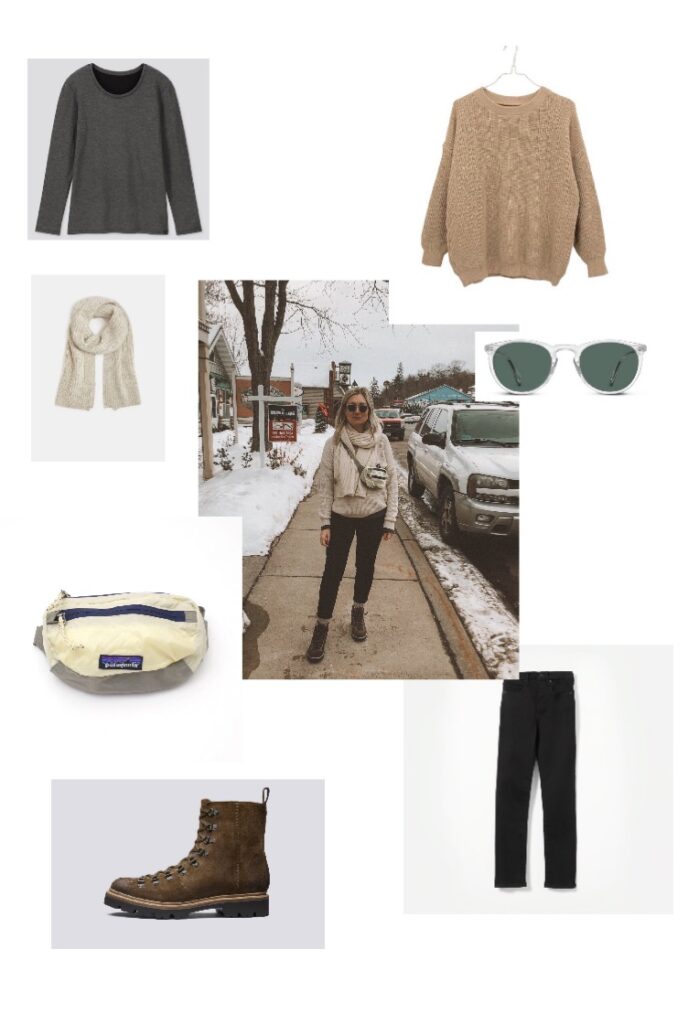 My three favorites were:
2.
3.
I think that's everything I wanted to cover in this little wardrobe recap! This was kind of a crazy long post, but I think they're going to be really helpful to look back on and also point me in the right direction with my wardrobe.
Do you guys do wardrobe tracking? If you do, how do you manage it?
Until next time,
Karin