Rosie putting out the vibes 😉
Before we start on the "meat" of this post (pun intended ha!), I just had to share these recent photos of the girls at the beach. This was Ella and Rosie's first time around sand and they had no idea what to do! Rosie got a little brave, but Ella refused to leave the towel. I can't wait to get in lots of beach time this summer!
Anywho…
I'm so excited about sharing some of my easy toddler meal ideas today because, well, I'm a closet foodie and I adore food.
I love to cook, I love to eat, and I absolutely love cooking for my girls.
So I knew when I revamped Truncation that I wanted to add in more food posts so that I could share this love with you guys.
And what better way to start than by sharing some easy, go to meals that I cook up for my girls?
I wanted to do it in the most authentic way possible by sharing exactly what we eat in a one week time period…
and you'll see pretty quickly that we're a family of balance!
My philosophy on food is that there is no such thing as "bad" food. All food is okay to consume as long as the high nutrient foods outnumber the low nutrient foods.
So, yes… my girls get candy, they've had ice cream and cupcakes, but they also wolf down broccoli and peppers with relish… balance!
I don't want my girls growing up feeling as if their food interests are suppressed. I create a controlled environment in which they can explore their taste buds and learn how to enjoy all foods now so they don't get to college and eat donuts for every meal… in other words I want to take away the mystery of low nutrient foods now so they don't feel the need to go overboard when they have a bit more freedom.
With that said, I try to cook mostly from scratch… so if we do have donuts, they are homemade. We enjoy real food that has real flavor. We do eat meat, but not every day, and though I eat dairy free due to a sensitivity the girls do not.
We also have the philosophy that we, as the parents, choose what to feed our girls. They may not eat everything on their plates, but what we put in front of them is what is for that meal. I do require them to try at least bite of every food, but I don't make them clean their plates. This is something that took us awhile to arrive at. When Kit was little I was so afraid of her going hungry, but she ended up becoming a super picky eater. With the twins I knew I wanted to try to get them more accepting of foods so, at the suggestion of our Pediatrician and order now this book, I changed my habits and it has made such a huge difference. Ella and Rosie will eat anything I put on their plate (though they are starting to show preferences), and Kit has slowly become less picky over time.
And just a side note: I took these photos in April so some of the food choices reflect the season. Here in Minnesota, our season for fresh produce is quite short so we do a lot of canned fruit and vegetables during the off season.
Alrighty then! Disclaimer time is over. Here's the fun part: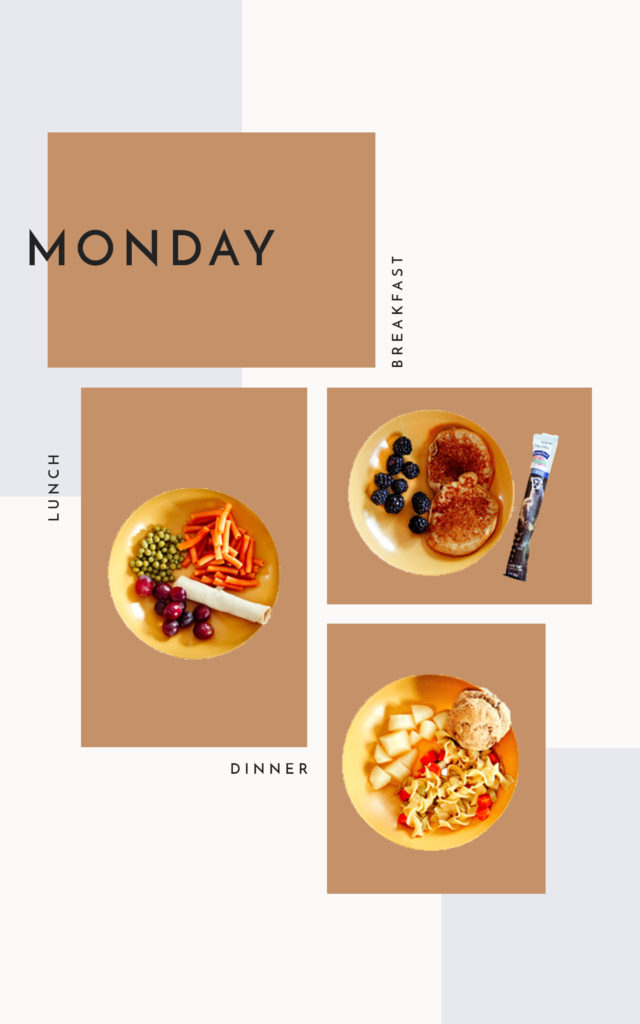 Monday's Meal plan:
Breakfast: Homemade Pancakes (I use viagra online canada this recipe), blackberries, and yogurt. At the time we were getting these yogurt pouches from Costco, but I've switched to filling cheap viagra these reusable pouches with plain yogurt mixed with jam.
Lunch: viagra without a doctor prescription usa Organic Canned Peas, lentil pasta with butter, grapes, and turkey lunch meat (we buy Applegate Farms)
Dinner: Homemade Chicken Noodle Soup (egg noodles, diced carrots, onion, and celery, shredded chicken, chicken stock with salt and pepper to taste… so easy!), homemade biscuits (I'll be sharing how I do these at some point), and canned organic pears.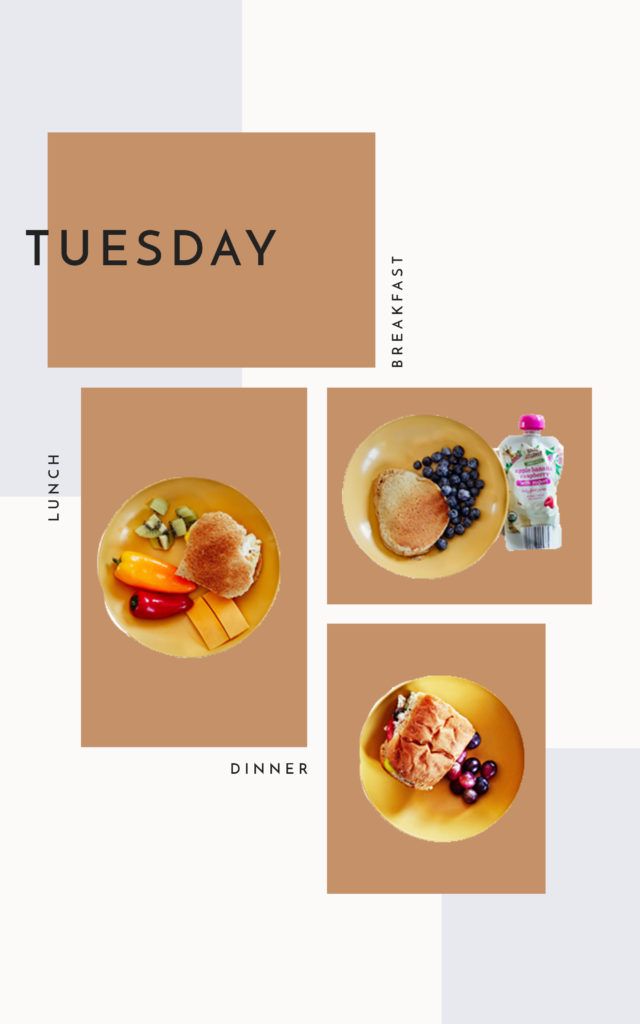 Tuesday's Meal Plan:
Breakfast: Pancakes, Blueberries, and Yogurt
Lunch: Egg Sandwich with whole grain bread, cheese, mini peppers, and kiwi
Dinner: Subway turkey sub and grapes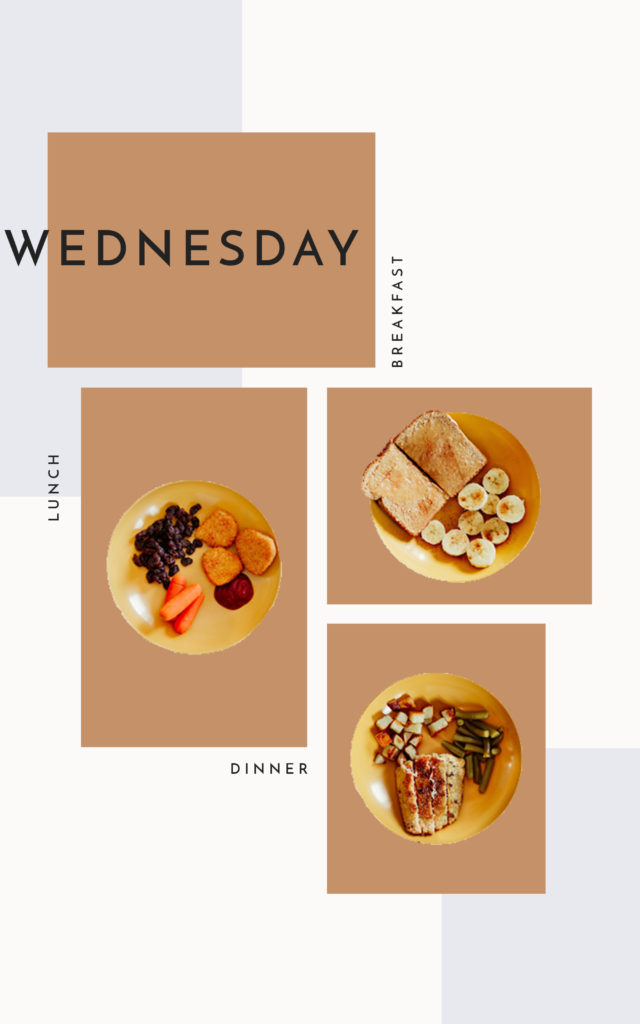 Wednesday's Meal Plan:
Breakfast: Aldi's version of sprouted grain bread with organic peanut butter, bananas, and cinnamon.
Lunch: Raisins, Organic Chicken Nuggets, and Organic Baby Carrots.
Dinner: Roasted potatoes (1 tablespoon olive oil with garlic powder, onion powder, rosemary and salt to taste), organic canned grean beans, and salmon lightly dusted with butter and homemade bread crumbs (toast bread with olive oil in a pan until it gets super crumbly and breaks apart easily).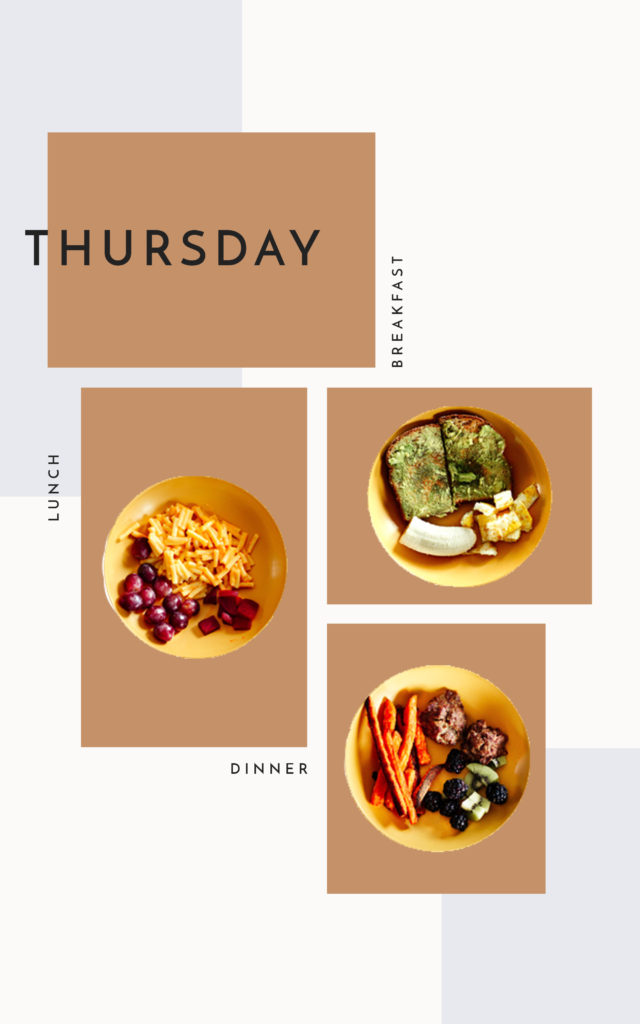 Thursday Meal Plan:
Breakfast: Avocado Toast, Egg, and 1/2 a Banana
Lunch: Organic Mac and Cheese, Canned Beets, and Grapes
Dinner: Homemade Meatballs (I use this dairy free recipe), Trader Joe's Sweet Potato Fries, Blackberries & Kiwi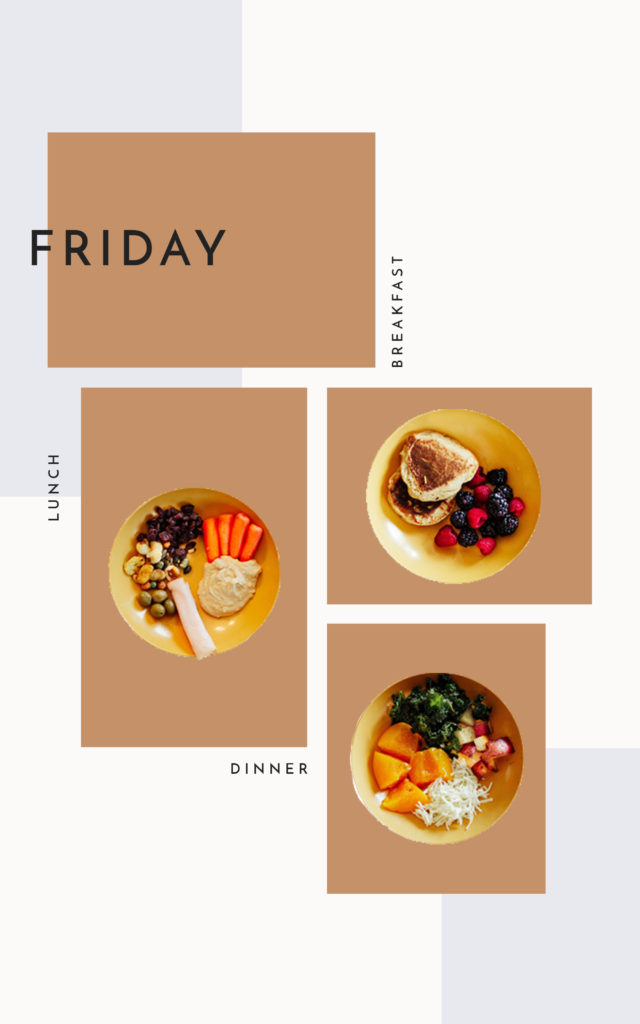 Friday Meal Plan:
Breakfast: Leftover pancakes (I made a double batch), blackberries, and raspberries
Lunch: Mediterranean "bento box" with raisins, Trader Joe's seed and bean medley, olives, turkey lunch meat. baby carrots and homemade hummus (I use this recipe)
Dinner: homemade kale chips (drizzle 1 tbps. of olive oil over a bunch of kale, season with salt and pepper, and roast at 375 until it's crispy), roasted potatoes, shredded cheese, and canned peaches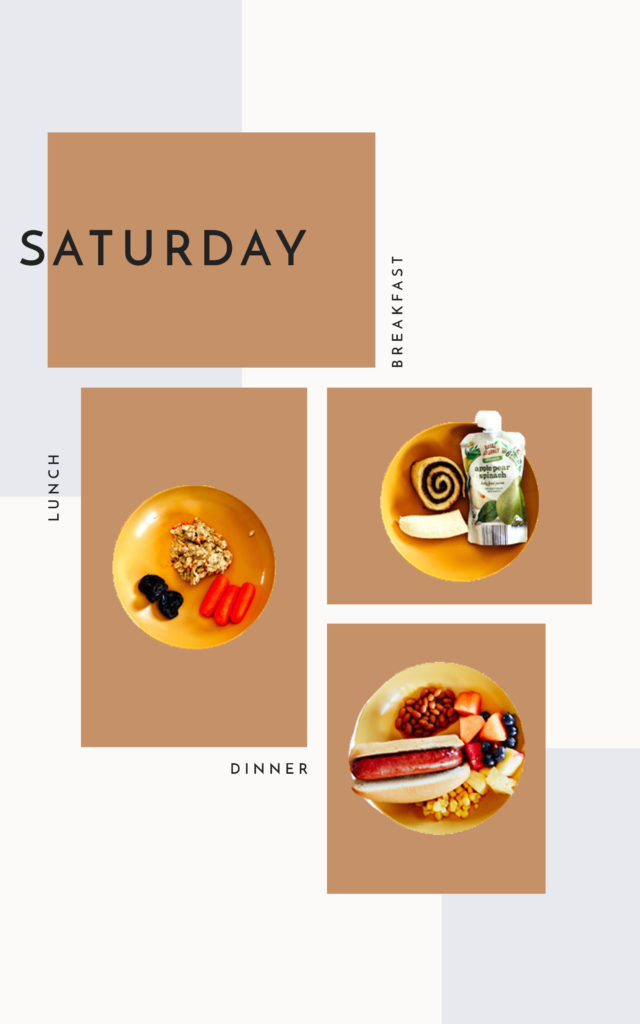 Saturday meal plan:
Breakfast: Homemade Dairy Free Cinnamon Rolls (I use this recipe), 1/2 a banana, and a fruit and vegetable pouch
Lunch: Organic Apple Cinnamon Oatmeal, prunes (we were suffering from constipation ha!), and baby carrots
Dinner: We grilled: hot dog (we use Applegate Farms), grilled corn, Homemade Baked Beans, Fruit salad with pineapple, melon, and blueberries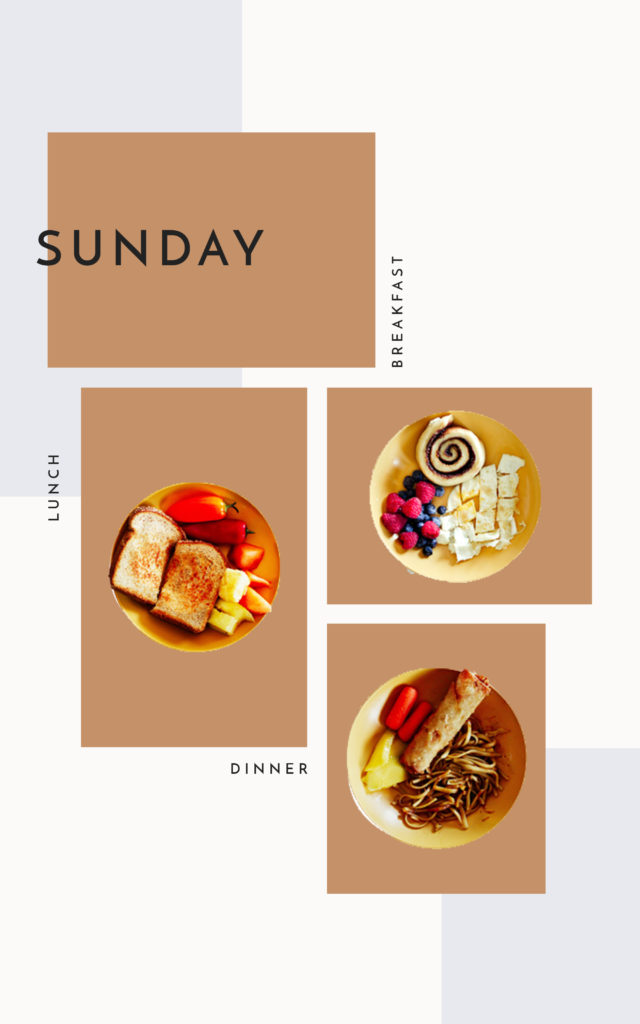 Meal Plan for Sunday:
Breakfast: Leftover cinnamon roll, egg, raspberries and blueberries
Lunch: Grilled Cheese, mini peppers, and leftover pineapple and melon
Dinner: Chinese takeout, mango, and baby carrots
So there you have it! An entire week's worth of meals. I hope you guys found this useful! Did you get any ideas? You'll have to let me know if you try any of my suggestions. And I'd also love to hear from you guys! What are your go to toddler meals? I'm always looking for new ideas!
Until next time,
Karin