Well hey there! I'm excited to share another week of outfits with you. It was an interesting week full of failed birthday celebrations, sick babies, and well… I don't even really remember ha!
After yesterday's madness of a post, I'll keep this intro brief.
So let's get into the outfits!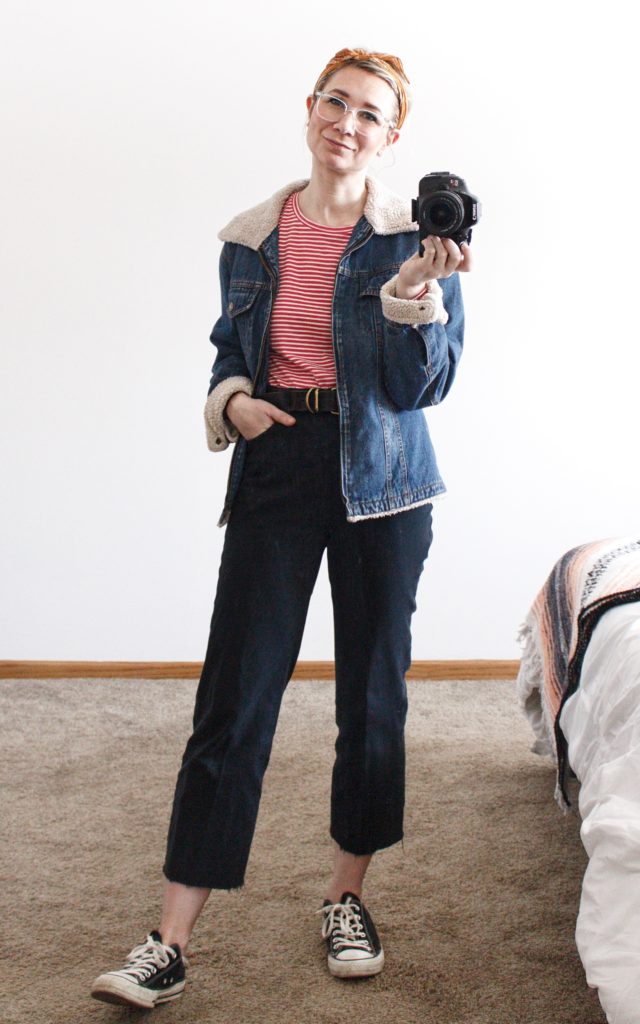 Tee | Jeans: Vintage! Similar | Sneaker | Jacket: thrifted. Super Similar|Scarf
You're being treated to third day hair in this photo. 😉 Thank goodness for bandanas! Also, you'll be seeing a lot of these jeans because I absolutely adore them. During the winter 10×10 I was so inspired by Lily of Eli & Barry wearing a pair of the most perfect vintage, black denim that I added it to my list. I found these in a Savers for $3.99! The joys of thrifting.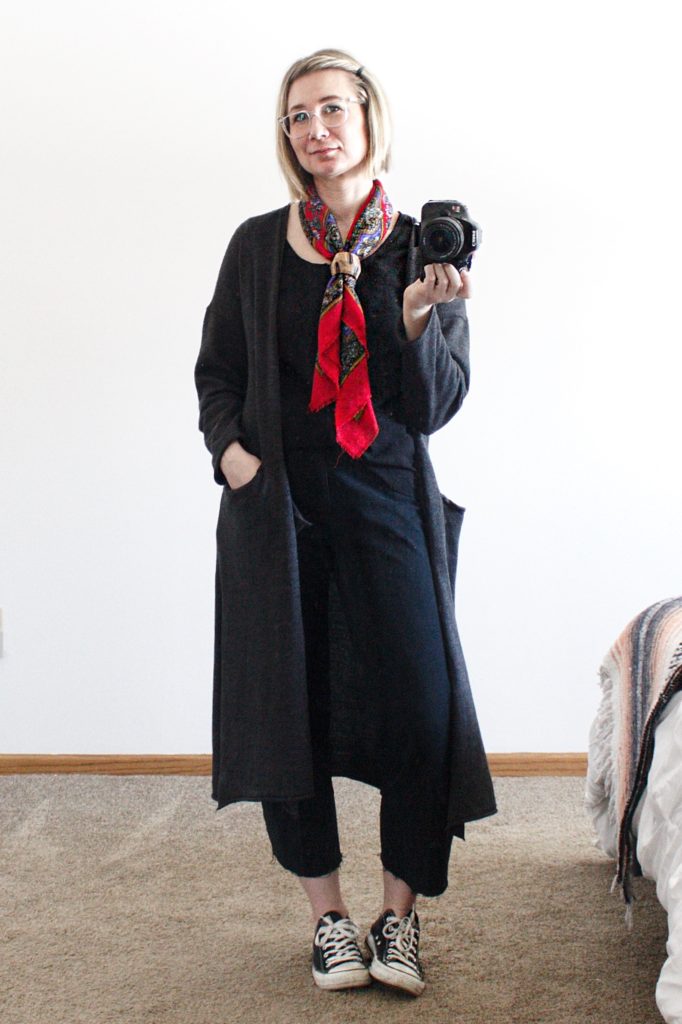 Top: Thrifted. Similar | Maxi Cardigan: c/o. Affordable Option | Jeans: Vintage! Similar  | Sneakers | Scarf: Vintage. Similar | Scarf Holder: No longer available. Similar
This isn't one of those outfits that you put on and wear because it's super flattering. But it's amazingly comfortable! It allows you to bite your tongue around annoying strangers as well… apparently. The girls and I went to the grocery store for a few quick things. This was a grocery store that doesn't have a suitable cart option for twins and a toddler (thank you Aldi and Costco! We love you!). So I was pushing the twins in their carrier, carrying Kit because she had given up on life, trying to push stuff under the stroller when Bam! Annoying stranger. I can't even say she meant well, because I honestly don't think she did. Basically, her daughter had twins and so she had become an expert about twins and proceeded to ask me a series of rapid questions (about 15 in a span of 5 minutes… I'm not kidding), and then correct all of my answers. Example A: Stranger: How was the first year? Me: It was fine. I've heard the first year is the hardest, and I think that's true! But we're over the hump now. S: No. The first 6 weeks are the hardest. Trust me.  Example B: S: Are you done having kids? My daughter had a toddler first, then twins, and then another baby. M: I don't think I could do that! Right now we feel like we're done. S: Well they saw it as a blessing, as all babies are. M: Palm to Face. You guys… it took everything in me to stay polite, but you better believe I got out of there at the first chance possible. So yeah! Comfy clothes to handle feisty strangers.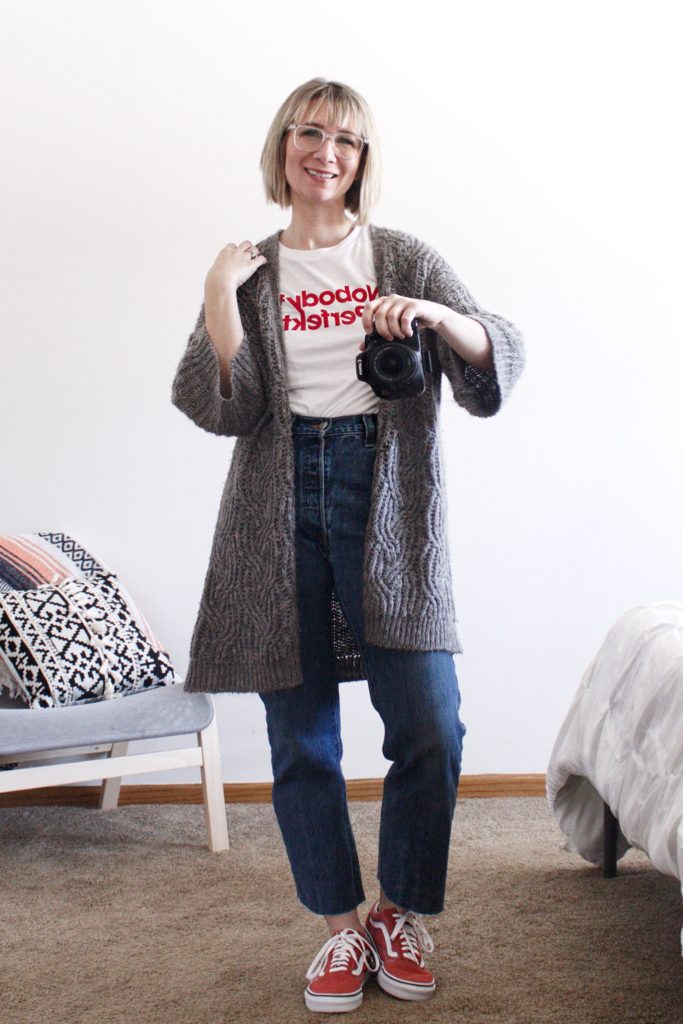 Graphic Tee | Jeans: Vintage Levi 501. Similar | Cardigan: Thrifted. Similar | Sneakers | Earrings
Funny story about these jeans. In all of the photos you'll see for my capsule I'm wearing a pair of vintage Lee's. I loved them, but they weren't 100% cotton, which is the look I wanted. But I had tried and returned several pair of Levi's before finally giving up on them. Then a couple of weeks ago, I was looking for home goods at my local Savers and I came across this perfect pair of 501's! Now here's what made them perfect: I've realized that my body type doesn't suit typical vintage 501's because the tapered leg makes me look like I'm a mom wearing them for real, and not because they're in style. Does that make sense?? It's the same thing with the Madewell Perfect Summer Jeans. I've tried two different sizes, but neither worked. I think it's because I have a short torso and I have hips… I don't have a straight build if that makes sense. So the tapered fit accentuates my short torso and makes me look like the moms in this video (I die every time), and not like some cool, hip mom with style. ANYWAY, back to why these jeans are perfect. They were 501 TALLS! So the tapering happened way further down than where I cut the hem… which means that the leg is much straighter on me than it would have been otherwise. Perfection! I guess the moral of the story is to look for sizes you might not have think will work for you.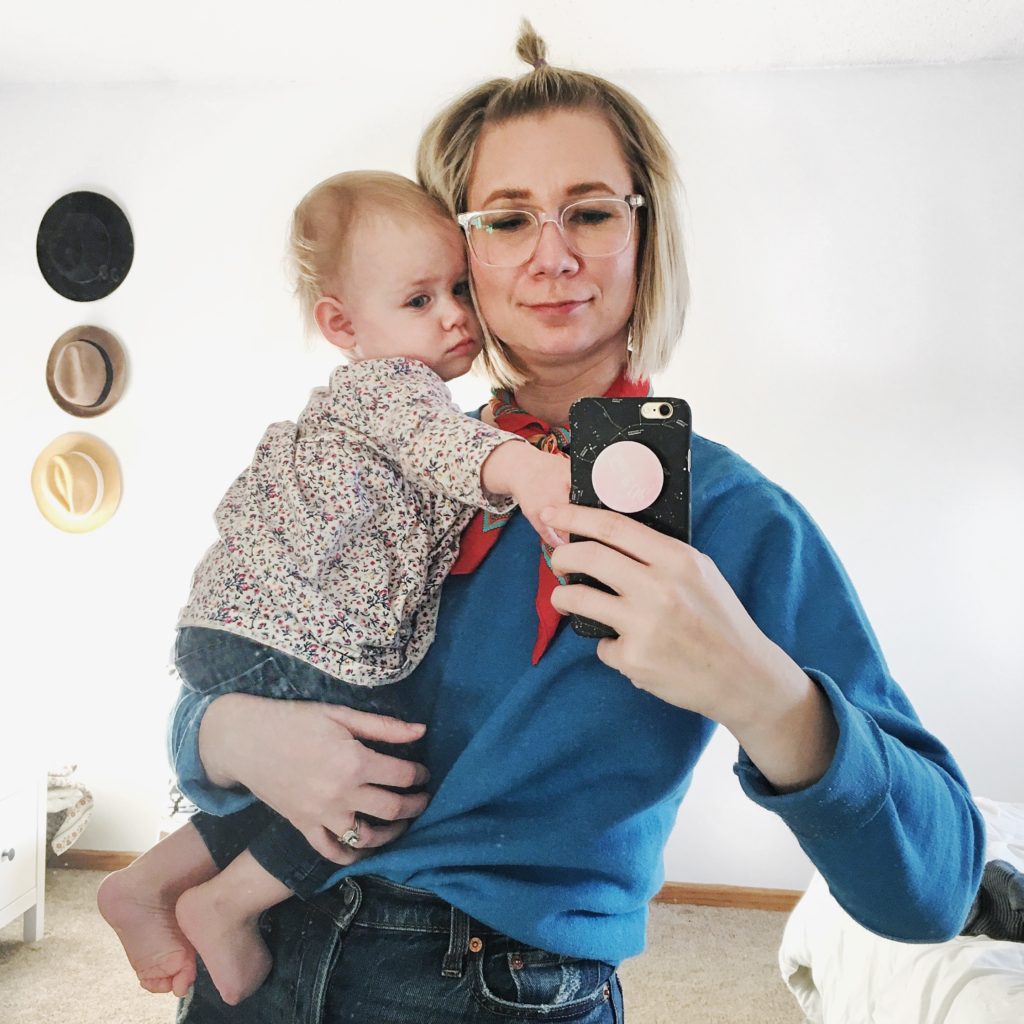 Sweatshirt: vintage. Similar. Child size option (if you want the same fit)  | Jeans (if you're having zero luck with vintage Levi's, try these) |  Sneakers 
Full disclosure: I forgot to take a photo on Wednesday so this was my Instagram photo from that day. I had on my Levi's and coral colored vans for the bottom part of the outfit. If you saw yesterday's post , you'll know my birthday didn't go exactly as planned so I just wanted to be comfy in a sweatshirt and jeans while I went out to a few thrift stores. I'll be taking Ella into the Dr. today because I'm pretty sure the poor thing has an ear infection. She seems prone to them unlike Rosie or Kit. She is SO my daughter! Out of all three of my girls she is most like me. And I was always the sister growing up that had ailments (and it led my mom to think I was a hypochondriac).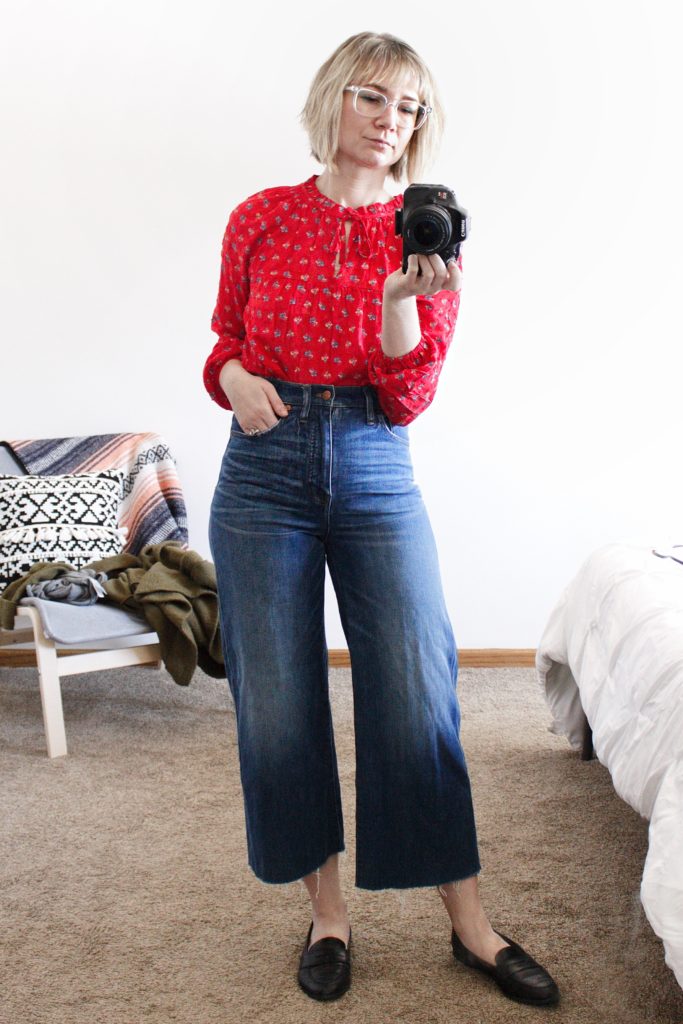 Blouse | Loafers: Thrifted. Similar Option | Denim: Thrifted. Similar
I had a dilemma with this outfit. I'm wearing it to the Michael W. Smith concert I mentioned in yesterday's post, but I had to think about what I wanted to wear. I'm imagining that the concert is going to be full of middle aged mom's, so I didn't want to look too out there. Okay, I'm kidding… sort of. I didn't get dressed until about 5 minutes before writing this post because the girls are still sick and Ella just didn't give me a chance to get dressed. I basically had her in my arms all morning. I was able to sneak a shower in real quick after the girls went down for their naps. It was needed!
Before I leave you, here are the whopping two photos I managed to snap of the girls this week. Poor Rosie is excluded!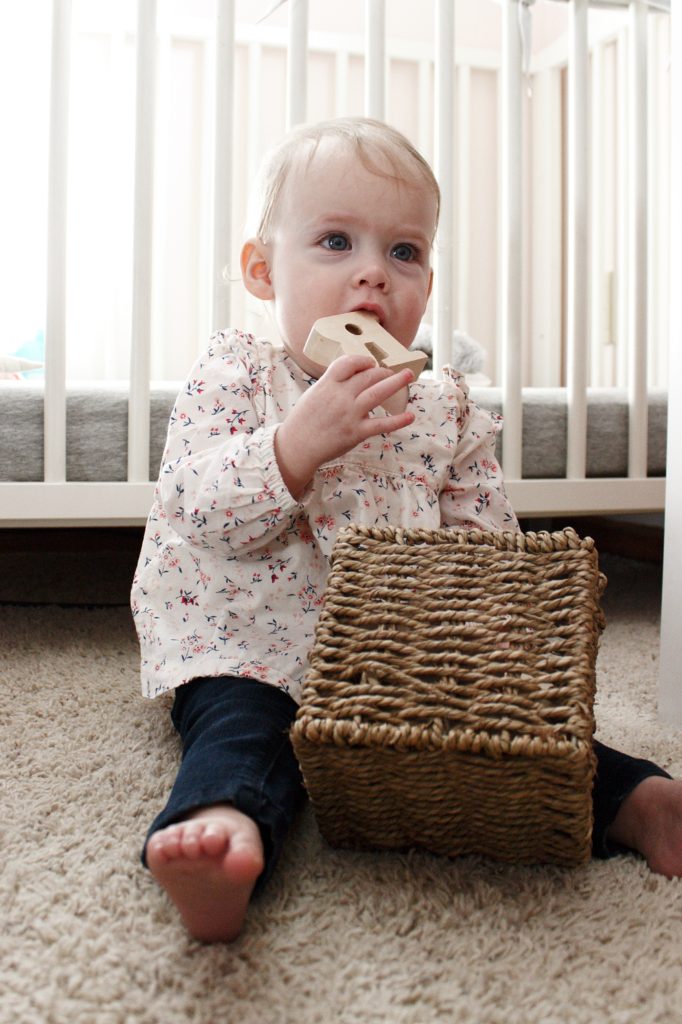 This photo ended in heartache… literally seconds later she lost her balance and toppled into the changing table. And with Ella… even the tiniest bump leads to screeching wails that never end. She's our drama queen. 😉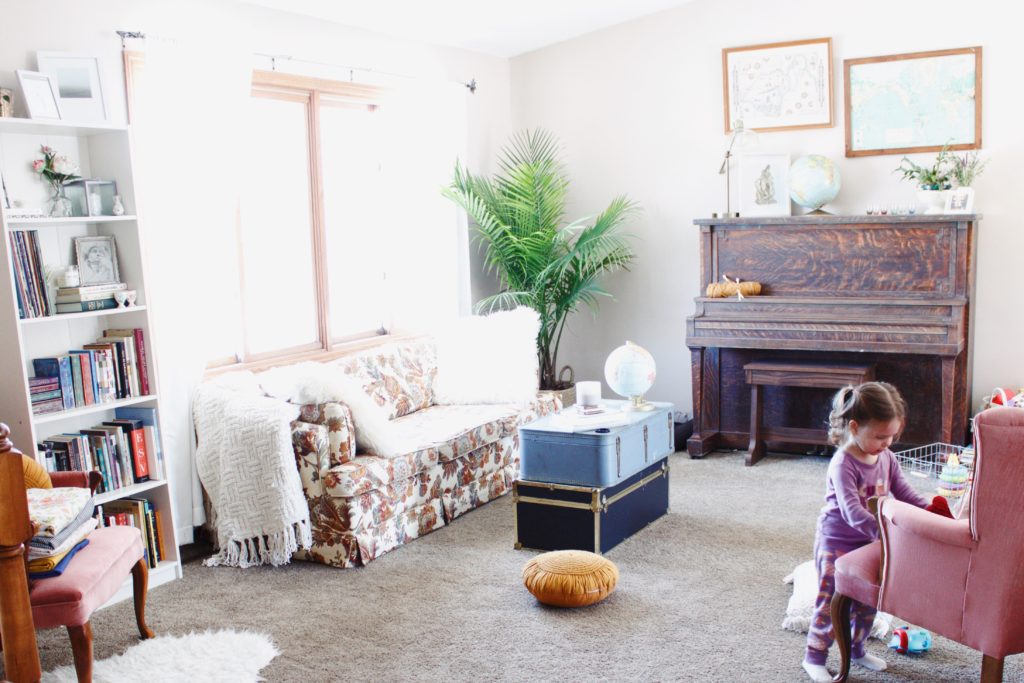 We've been doing a little bit of spontaneous decorating in the living room! I found these chairs on Facebook Marketplace for a steal! And they just hit a stroke of inspiration! We're going to be doing some painting soon and I can't wait. I have some fun ideas! I'll keep you posted.
And that's all she wrote!
I hope you enjoyed another round of weekly outfits. We're going to be doing a redo celebration for my birthday this weekend… yay! I hope you guys all have a great weekend!
Until next time,