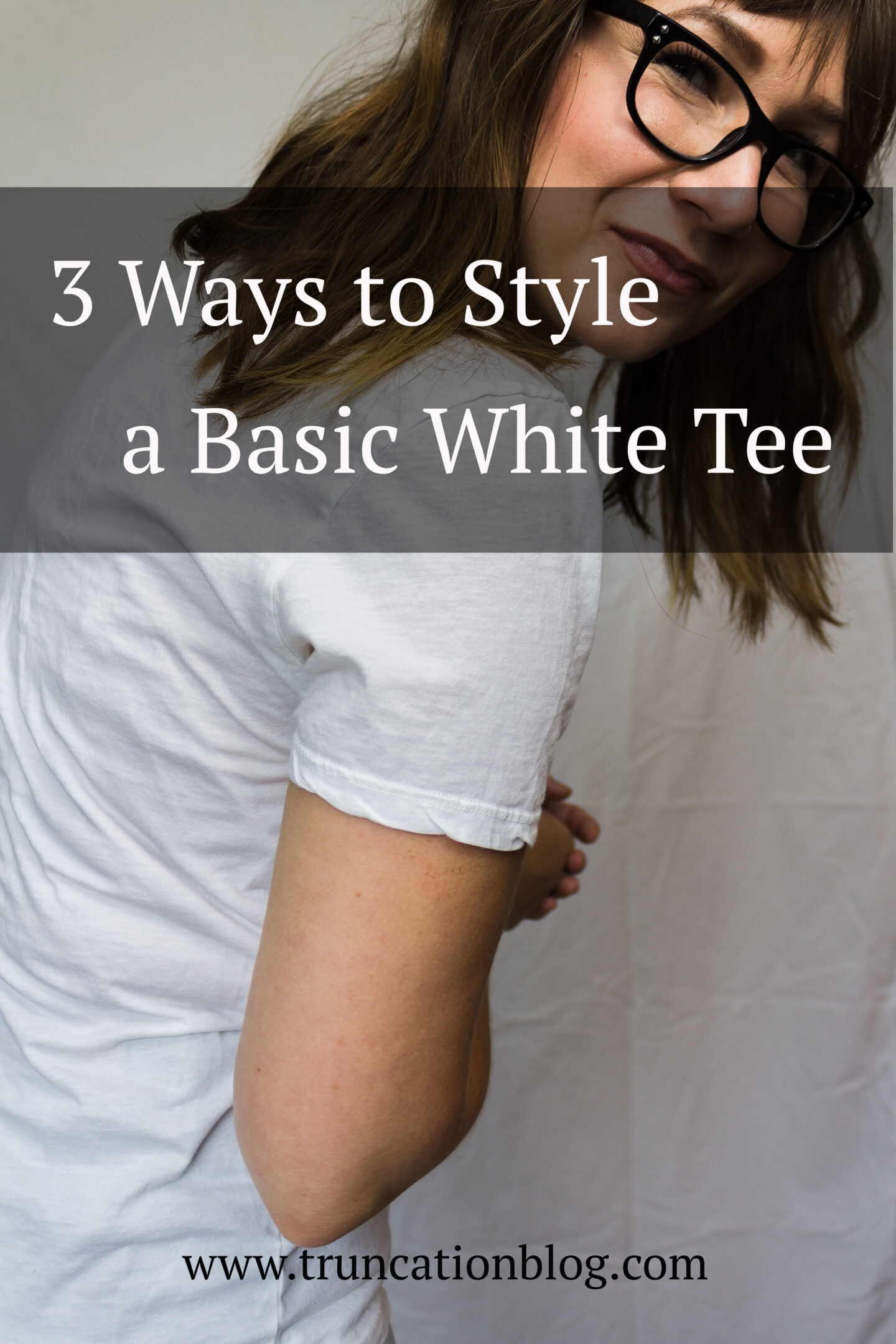 So I'll be honest, posting every day last week was a bit too much work. I told myself (and you) that I would see how it goes and decide if it was doable and, well, I'm not sure that it is. So my plan is to go back to three for sure posts and then if it works out to do an extra post or two, I will.
Sorry about all of the waffling and indecision. I guess I could pretend to have it all together and hold myself to standards that will stress me out, or I could just be open about the fact that two years in to blogging and I'm still fine tuning things.
But back to today's post: since I revealed to you last week that we're going to be talking a bit more about ethical fashion, I thought it would be a good idea to start with the basics.
Especially because I may have some newer readers who haven't talked much about ethical fashion before.
So I thought we'd do a week of focusing on a brand who has consistently made themselves accessible to people who are just getting their feet wet in this world.
I'm talking about Everlane.
I have a whole week of content planned so make sure to come back on Wednesday and Friday for new posts/videos.
Today I thought we'd be super basic with a styling tip post.
Now. Before I begin, let me just say that I'm not the best at styling my wardrobe. I'm learning too and these are just some things I've picked up over the last couple of years.
K. With that said,
the top we're going to be styling is the Cotton V from Everlane.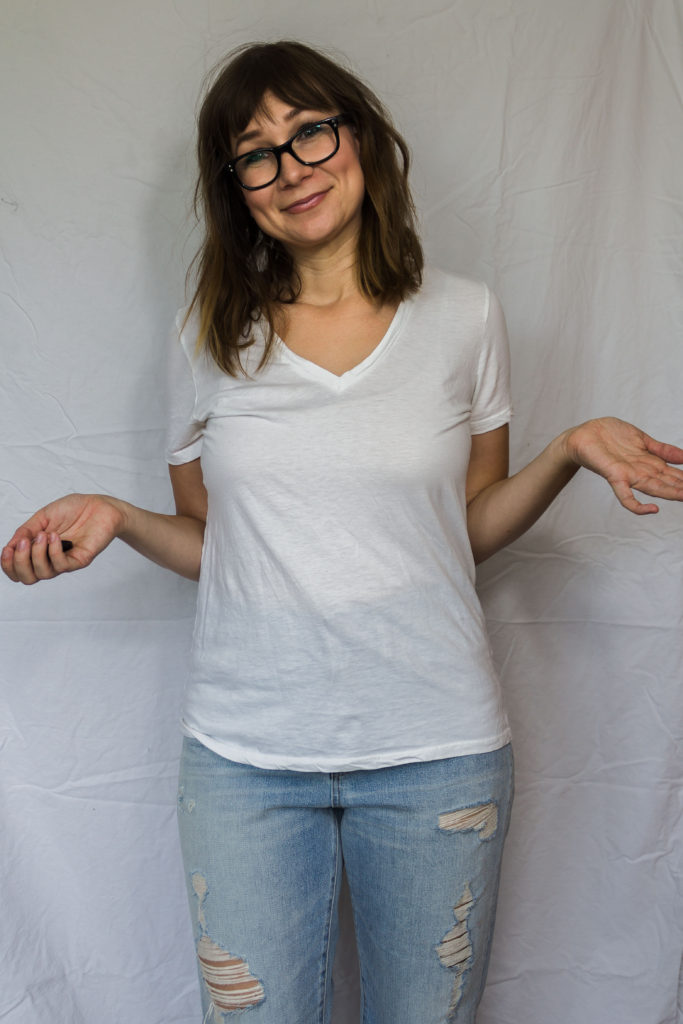 Basic white tees can be wardrobe workhorses when you mix up the way you style them.
And I'm in to show you how to do that without accessories. It's obviously a lot easier to just change up your accessories, but I want to show you how much a white tee can stand on it's own.
So let's get into it:
Look One: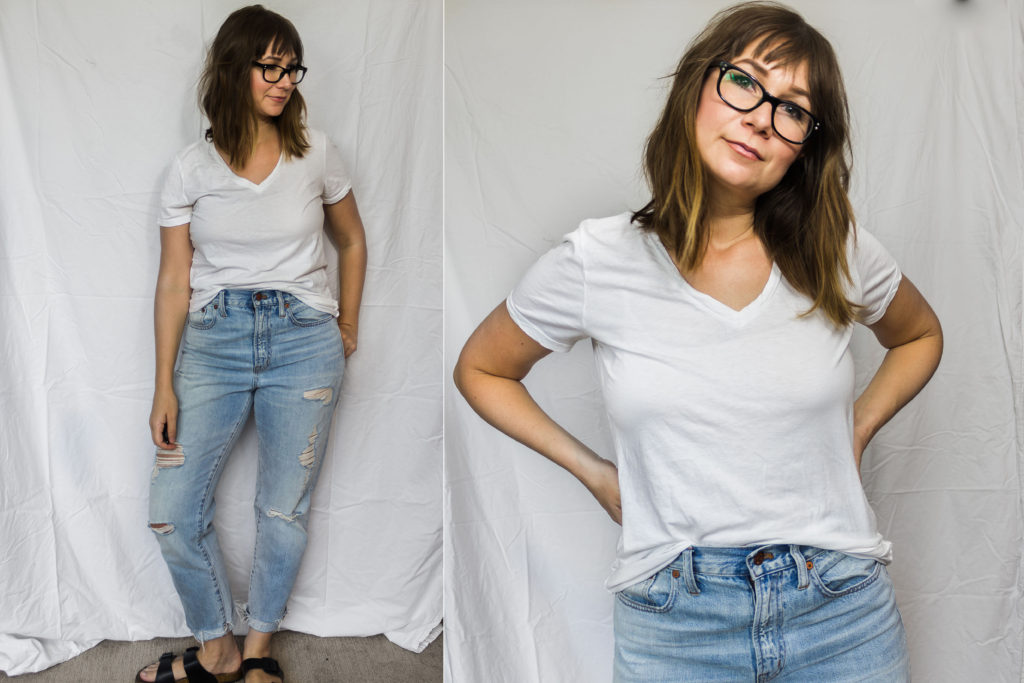 Styling Notes:
Obviously this is not that life changing. It's a pretty basic half tuck, but notice how it gives the outfit a more "finished" look. It creates the illusion of being tucked in, but it's a bit more casual. I do this quite a bit with my t-shirts and this "trick" works well with a lot of different rises so you don't have to buy high wasted denim for it to work.
Look Two: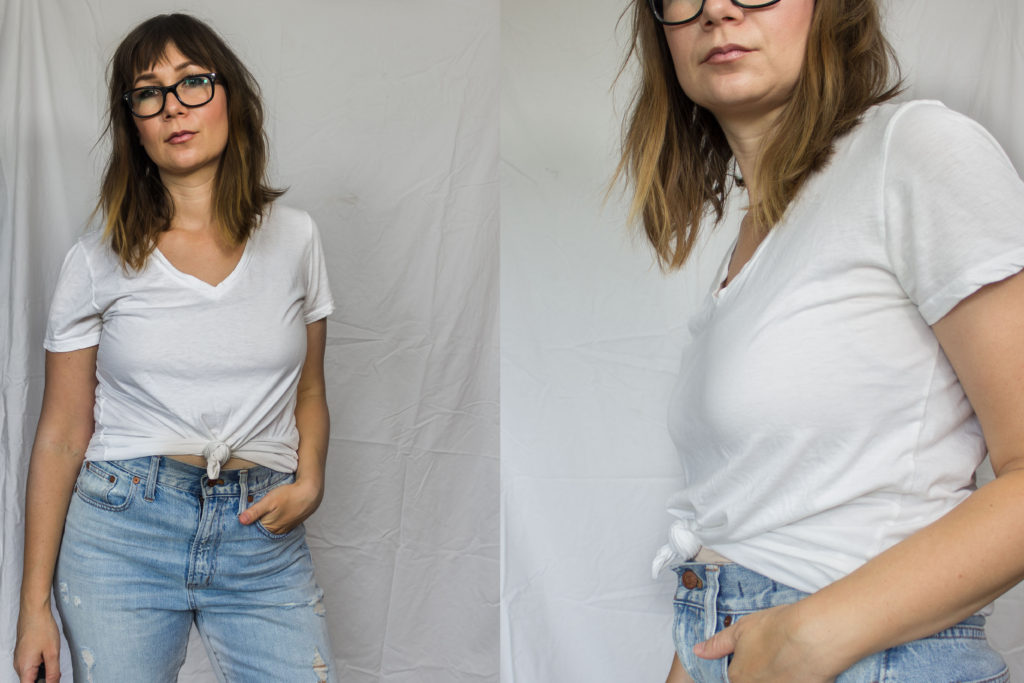 Styling Notes:
This is a newer trick that I've been doing. I love it because it turns an ordinary t-shirt into a trendier cropped top. Proof that you don't have to run out and buy a new clothing item to look on trend. The key here is to just make sure to tuck in the extra fabric in the back so that it doesn't bunch awkwardly. This look does best with a high waste (in my opinion), but you can also do this over a dress as well to turn your dress into a skirt. Versatility is important in a capsule wardrobe right?
Look Three: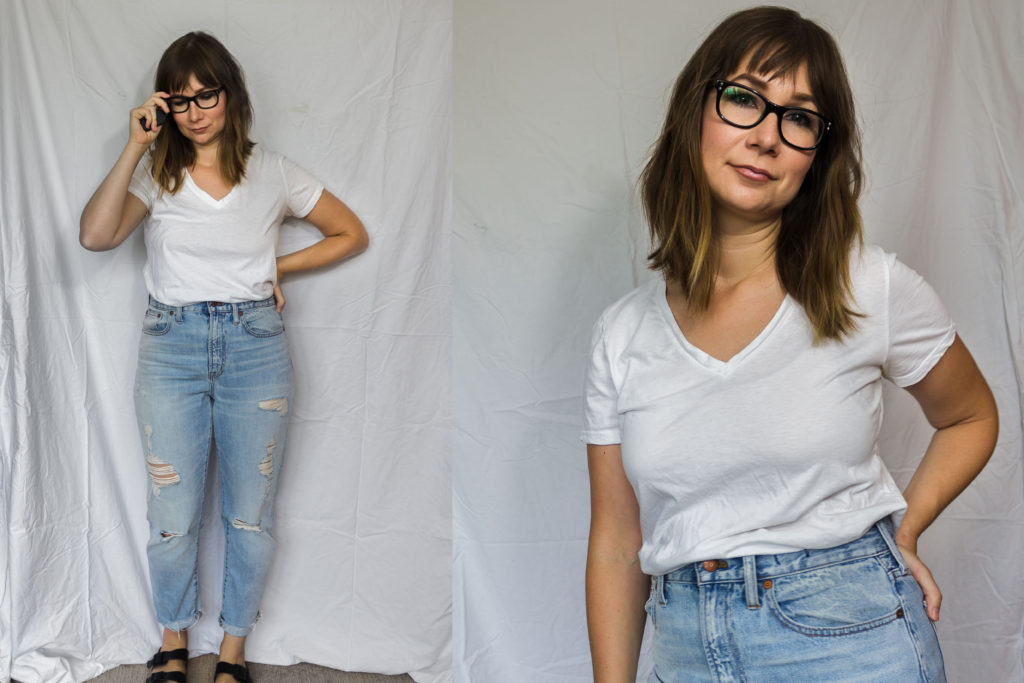 Styling Notes:
I'm seeing a resurgence of the bloused over tuck like this one. I'm warming up to it, though I'm not 100% on board yet. What I do like about it is that it hides "trouble spots". It allows you to get away with the tuck in trend without needing to wear something fitted. Plus, with a pair of heels and this tuck your ready to go for a girls night on the town. It somehow just makes the outfit look way more pulled together.
So there you have it! What do you think? Are these styling tricks that you've tried? Anything I missed? Also, I know we're not talking about accessories, but what are your favorite accessories to pair with a white t-shirt? Let me know in the comments below!
Until next time,
Outfit Details: