It's been a while since I've done one of these… or at least it feels like it!
And honestly, I kind of can't believe it's already the end of September.
But it's been a good month… other than a few days in the 90's, we've had the most delicious cool weather. I'm always torn between what I like less: putting sunscreen on the girls or putting coats and hats on. But after this summer, I'm more keen on the idea of jackets. 🙂
These are real life problems people.
But in all seriousness, we've had a great month. David and I were reminiscing last night about how we feel like we're finally entering a phase of life where survival is not our main objective.
Which means that we can get out with the girls more, and really enjoy family time.
We went to a couple of Apple Orchards, we went on a lot of walks, we played at parks… basically we enjoyed a ton of outdoor time.
And you know what? Everyone enjoyed themselves.
When Ella and Rosie were younger, it was really hard to get out of the house… yes because they're twins, but also because they were preemies. Preemies are really easily over stimulated, and so often times when we were out of the house they would just scream the entire time. It was really hard.
Even though I knew that it would get better, in those moments I felt so hopeless.
But as time has gone on, and the girls have grown up things have gotten so, so much better.
Family time is now about enjoying each other instead of feeling constantly on edge, wondering who's going to melt down next.
So anyway… all that to say, September has been a really fun month. It makes me excited for all of the Holidays to come. I can't wait to start new traditions!
That was kind of the longest intro ever right?
Well let's get to the outfits then. 😉
Monday: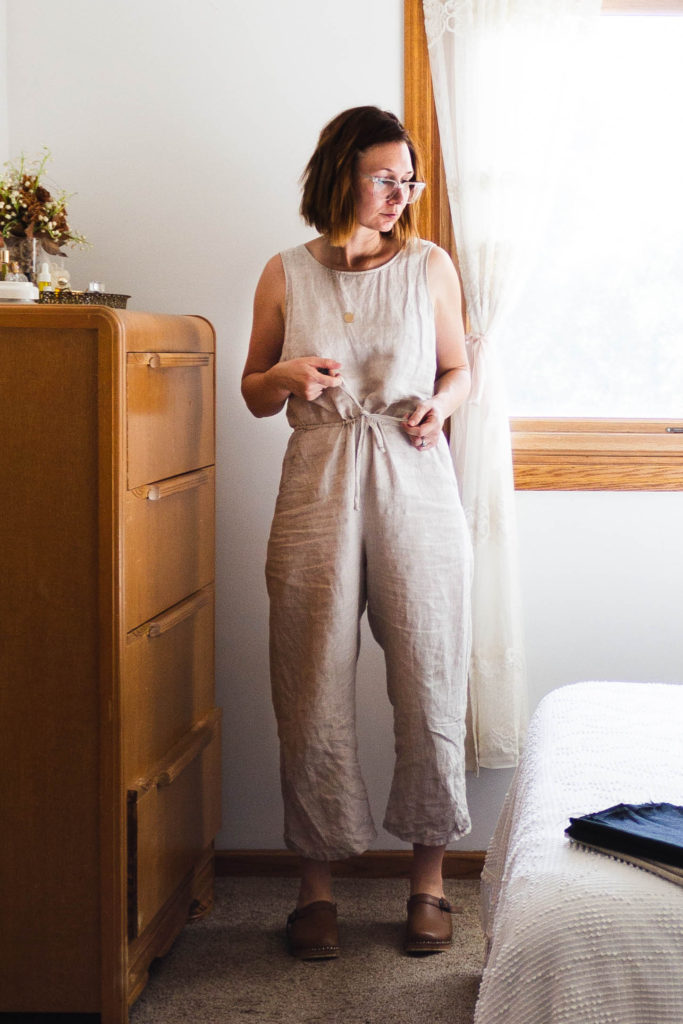 :: Outfit formula: jumpsuit and heels
:: Where I wore it: for running errands and dr. appointments with my girls
:: Why I put it together: we had a few days of super hot weather, so my one objective was to be cool and comfortable. I love this jumpsuit because it works for warm weather, but it transitions well to fall with layers. I've been loving more neutral colors lately, and there's nothing more neutral than natural linen. Also, you're going to see a lot of these clogs going forward. I was telling my friend the other day that I think clogs have replaced my converse habit. They're just as comfortable, but I think they're a bit more elevated (literally and figuratively!). I also appreciate the extra height with all of the wide leg silhouettes I now have in my closet… it balances everything out.
:: To recreate this look:
jumpsuit c/o (on sale!) :: clogs :: necklace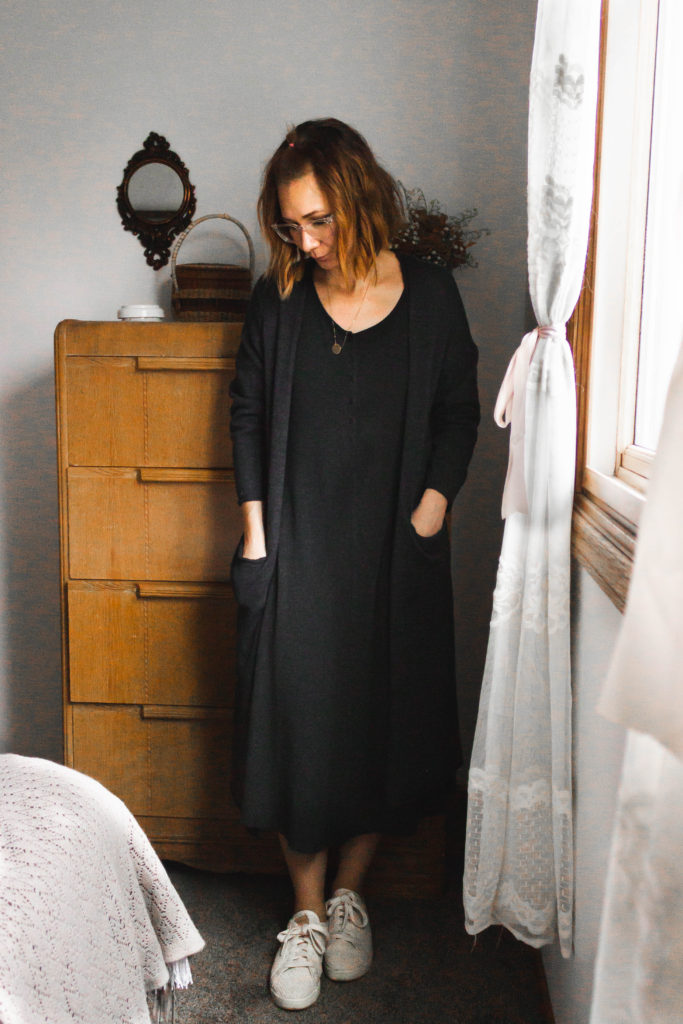 :: Outfit formula: dress and sneakers
:: Where I wore it: library story time
:: Why I put it together: I just absolutely love this dress and want to wear it all of the time. It's Eileen Fisher, but I thrifted it for $9! I love wearing long dresses with long sweaters… it makes the whole look seem cohesive. I'm also all about a longer dress with three young babies. Sometimes I just don't have it in me to wear jeans, but shorter dresses just don't work with my lifestyle of running after kiddos. For the same reason, I'm all about sneakers with dresses (and everything really). I love simple styles that work in real life, and this outfit is the perfect example of that.
:: To recreate this look:
Dress: thrifted. Similar found here :: cardigan c/o :: shoes c/o. Sold out, but you can sign up for updates.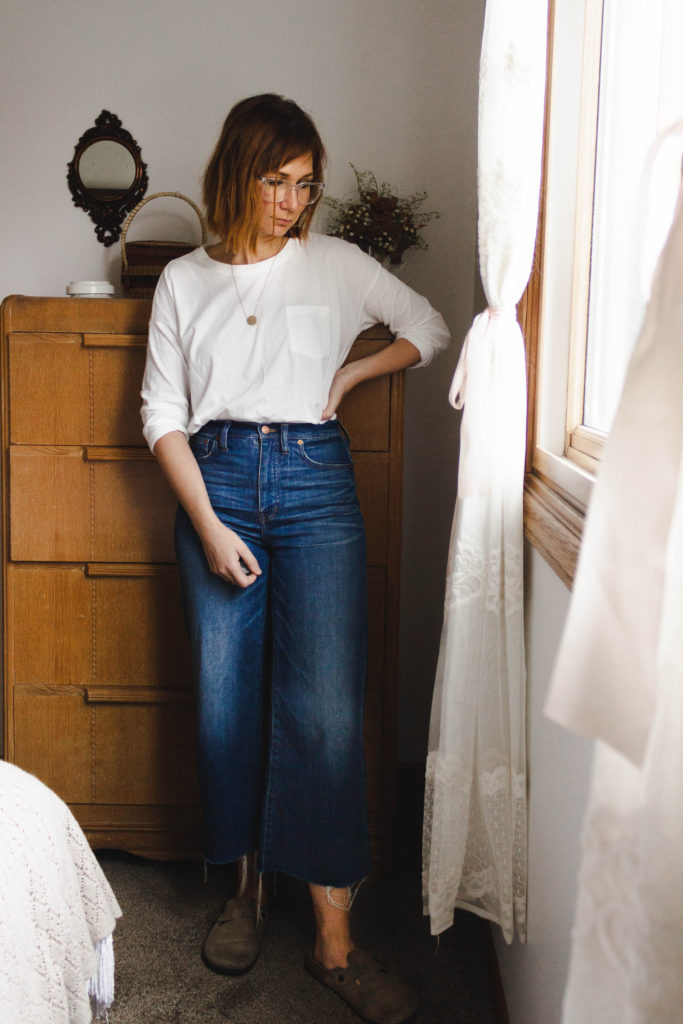 :: Outfit formula: basic tee and jeans.
:: Where I wore it: the zoo
:: Why I put it together: because simple is sometimes best! I love that this outfit is as simple as you can get, but the cut of the jeans make it seem a lot more interesting. It's all about the details! Also, I recently thrifted these Birkenstock slip ons. I've been wanting a pair for a really long time, but I wasn't sure if I was "brave enough" to wear them so I decided to pick up a secondhand pair. I don't know why I feel intimidated to wear them, but I kind of do. BUT after wearing them a couple of times, I'm totally hooked! They are so comfortable, and I just kind of love how they transform an outfit. I know they're not everyone's cup of tea, but I'm learning to wear what I like and… I like these shoes ha!
:: To recreate this look: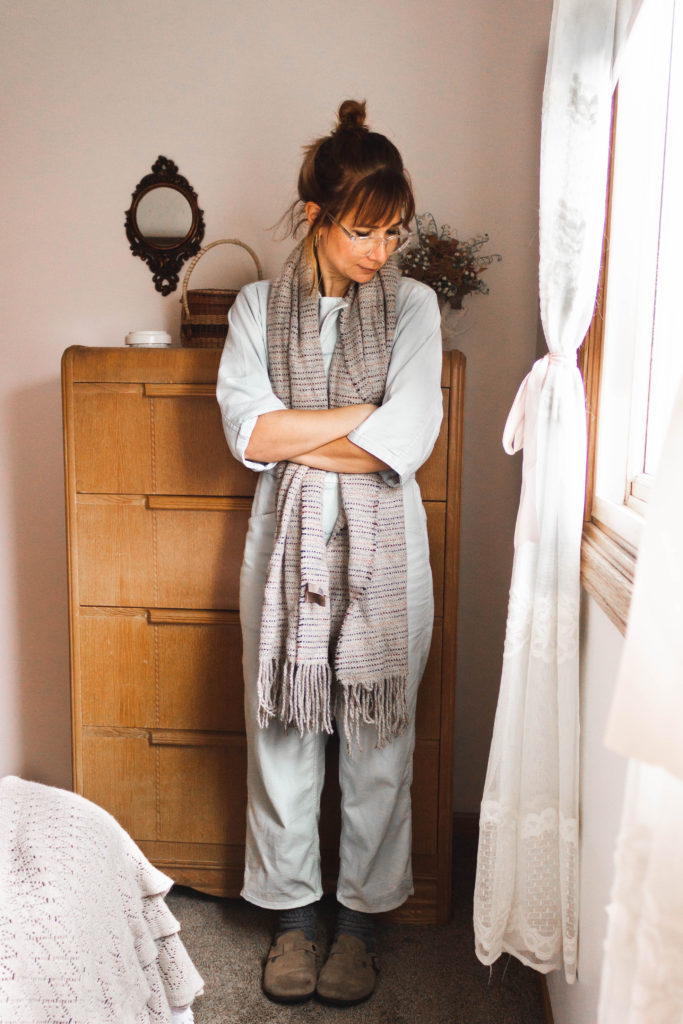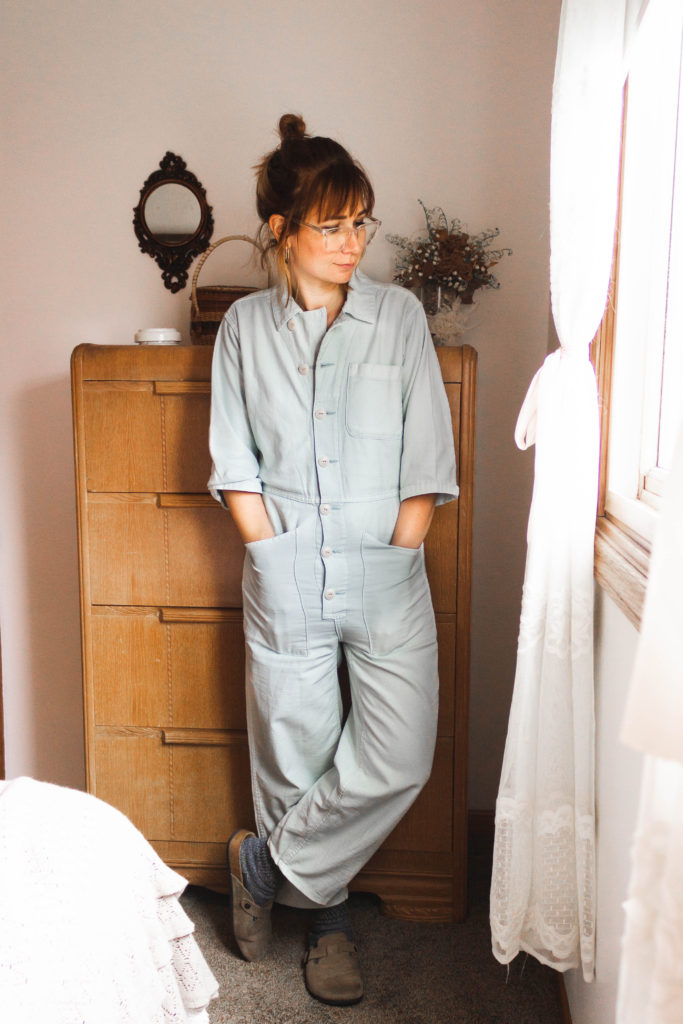 :: Outfit formula: bold statement piece and understated shoes
:: Where I wore it: Therapy sessions with Rosie and Ella
:: Why I put it together: Okay. I'll be honest with you… David definitely gave me the side eye when he saw me wearing this. I've been wanting a boiler suit jumpsuit for a really long time. I've been eyeing and debating a few linen options on Etsy for awhile, but I kind of wanted something in a heavier weight fabric so I could wear it all year long. But I also wanted to purchase something in my budget, in a sustainable way. Enter minty blue boiler suit. As I mentioned above, the slip on Birkenstock was a little out of my comfort zone. This jumpsuit? A LOT out of my comfort zone. But weirdly enough? This outfit made me feel really confident. I love this jumpsuit because it makes such a statement, but it's SOO easy. Pieces like this make dressing so easy, and while I do love style, easy dressing is a necessary goal with my stay at home mom status. The Birkenstock's are also super easy, but pairing them with socks make it look more styled and intentional.
:: To recreate this look:
jumpsuit: thrifted. same jumpsuit in different colors :: socks :: shoes :: scarf: super old :: earrings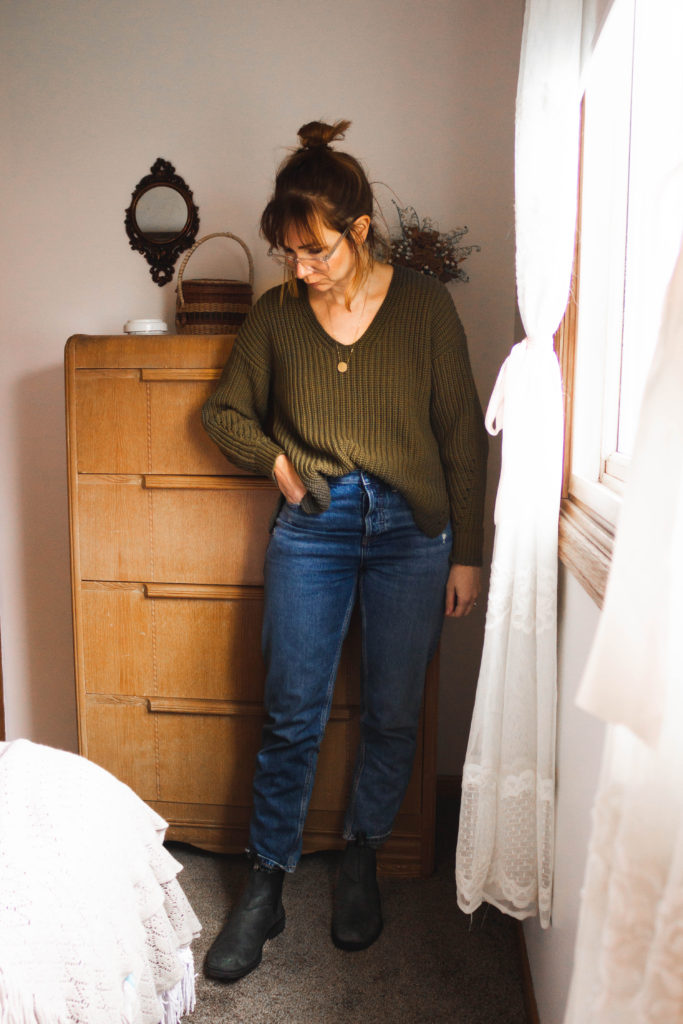 :: Outfit formula: sweater, jeans, and boots
:: Where I wore it: day at home with the girls, solo errands at night
:: Why I put it together: I was going for easy and comfortable since most of the day was spent at home. Even though I spend a lot of time at home, I do try to get dressed every day. When the girls were really little, I wore leggings all day every day, but I've learned that I feel more motivated for life when I put on clothes for the day. This kind of outfit is still super comfortable due to the slouchiness of the sweater, and loose fit of the jeans. I don't feel restricted, and I'm honestly just as comfortable as if I were wearing a sweatshirt and leggings. BUT If I were to do this outfit over again, I would cuff the jeans a bit more to create some space between the bottom of the jeans and the top of the boots. The way I have it styled in this photo looks a little too sloppy for my taste.
:: To recreate this look:
So there you go! This week's outfits were a bit out of my comfort one, but I kind of loved them! I feel like I'm really settling into my style, and it feels good… it's been a long time coming! Caring less about other's opinions and caring more about my own has been really transforming for me.
What was your favorite outfit that you wore this week?
Until next time,
Karin