---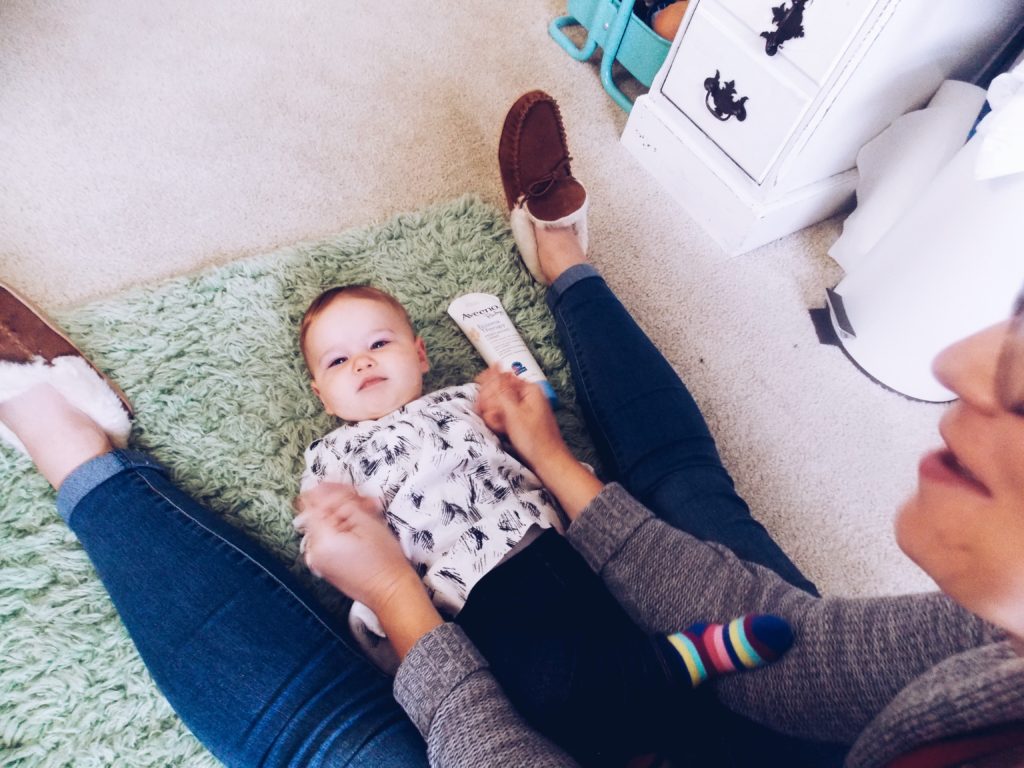 She was NOT into taking pictures ha! I was messing with her rolling around fun time. 🙂
I'm just going to apologize for what you're probably already thinking… these photos are WAY over filtered, but the lighting was terrible and… well you know how it goes. We're finally getting a DSLR camera in early November and I CAN'T WAIT!!!!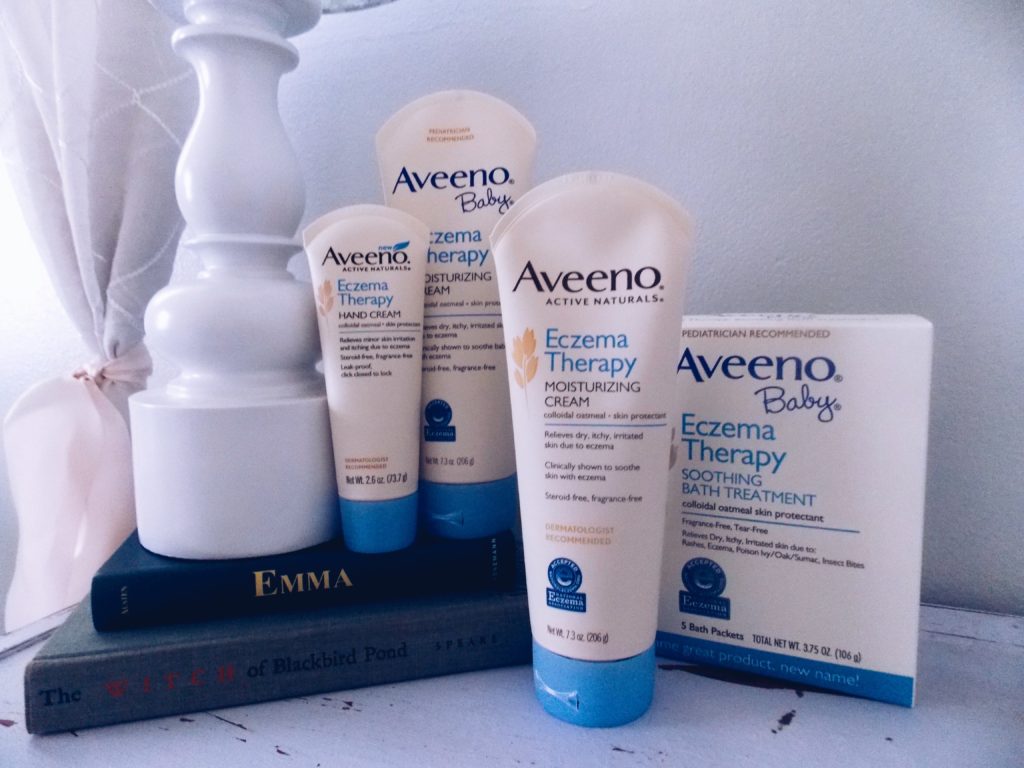 I participated in an Influencer Activation on behalf of Influence Central for AVEENO® Eczema Therapy. I received product samples as well as a promotional item to thank me for my participation.
Some of you might know that Kit was diagnosed with eczema when she was around four months old. I felt so bad for the poor thing because she was covered in a painful rash from head to toe and no matter what we tried it wouldn't clear up.
Finally, our pediatrician told us that she had eczema and she gave us a list of products that would work well with her sensitive skin, she suggested using AVEENO® for Babies and I knew I wanted to try it out to see if it would work because I've been using regular AVEENO® products for years on my own eczema prone skin.
One of the things that drew me to their products in the first place is the fact that the AVEENO® Brand is known for harnessing the power of active natural ingredients. I'm all about using as few chemicals as possible!
When I was pregnant my eczema was at it's worst and I LIVED for their oatmeal baths and lotions.
Their products are fragrance-free, hypoallergenic and formulated with soothing ACTIVE NATURALS® Colloidal Oatmeal, which soothed all of my super fun symptoms of eczema: itchiness, roughness, dryness, and irritation.
It's a real party to have eczema!
When I found out they were launching an AVEENO® Eczema Therapy Collection for both Adults and Babies I was super excited to try it!
I have to be really careful what I put on Kit's skin especially and I love that the AVEENO® Eczema Therapy Collection was developed with leading Dermatologists and awarded the National Eczema Association Seal of Acceptance for providing gentle, superior ingredients to soothe skin with eczema.
While the original lotions did a great job I have found that when I use the baby products on Kit and the Adult products on myself as a regular regimen, AVEENO® Eczema Therapy products help break the super fun cycle of irritated skin.
We have been as smooth as a babies bottom since the moment we started using them.
Who doesn't want that right?
Do any of you or your children have eczema? Have you tried AVEENO®? Let me know in the comments below!
Until next time,

If you're curious about why I do sponsored posts, please see this post.
Shop this post: