Hi there! I thought I would continue Friday's blog post theme today with a guest post from the lovely Ashley of "Have Ashley, will Travel." I met her through a Solidarity Sisters project sponsored by Susannah at Simple Moments Stick. It was so fun getting to know her! Ashley has such great travel tips on her blog that I'm excited to have her share how she packs in one carry on for European Travel. Keep reading to hear how she does it!
---
I get a lot of questions about packing light on my blog, so I put together a little guide for how to pack only a carry on for a few weeks of European Travel.
This can be adjusted to your tastes, travel style, favorite colors, and needs as applicable. Luckily you can be fashionable and still travel light! The key is a little planning and smart packing.
Why pack light?
I don't always pack this light!
Sometimes I over pack, especially on short trips, but if you really want to travel to many countries in Europe in a short period, traveling light is a must!
Nobody wants to be switching trains or dragging huge suitcases down miles of Italian alleys. Seriously, this WILL happen to you. When you are in Europe you will do A LOT more walking than you think with your luggage.
You will consistently travel in crowded public transportation and will be grateful to be able to move around easier. Most train stations or subways require carrying your luggage up stairs. Many small hotels in Europe don't have an elevator, and if they do they are quite small. (Sometimes only small enough for one person and maybe a piece of luggage.) We've stayed places we have to send luggage up and meet it. Budget European airlines often charge for every pound of your luggage, and…. need I go on? Hopefully you see the value!
Washing Clothing:
Packing light hinges on your ability to do laundry at some point in the trip.
This can be done in your bath tub at night, by spending an afternoon at a local laundromat, sending it out from your hotel, or my favorite option, the fluff 'n fold.
I like finding a place ahead of time that will wash and fold your laundry for you. Often for cheap.
In Spain it cost us 6 euro to do a large bag of laundry, which is a complete steal and meant we didn't have to spend any time doing laundry.
Quick Tips:
Mix and match colors and styles to your taste (everything should go with everything else you bring)
Pick darker clothing (it stays cleaner longer!) Don't pack anything you haven't worn before
Bring only your most comfortable shoes that have been worn in
Leave room for things you buy while traveling
Wear your heaviest shoes onto the plane and carry on your jacket
Pack clothing that doesn't wrinkle easily
Only bring things you are willing to wear 2-4 times (another reason plain pieces that can be dressed up or down are great)
Accessorize with jewelry, scarves, and other items that take up little space (remember you can also buy these things as souvenirs along the way)
Scarves and cardigans can (and often are) used as pillows/blankets while traveling so keep them close
Packing Cubes:
The key to this whole operation = packing cubes.
They compress and compartmentalize. Can I praise these enough? Complete game changer when used correctly.
No more searching for one shirt and having to refold everything! This will make you queen of efficiency and allow you to pack more.
I usually roll up my shirts in a bigger one, all of undergarments in a smaller one, and lay my bottoms on the bottom of the suitcase. Electronics, sweaters, makeup, and jewelry all go in a backpack (links to my clothing suggestions are below this photo).
Here's a helpful graphic for how I pack in one carry on for European Travel:
Pants: Blue Denim, Gray Denim, Black Pants | Shoes: Flats, Sneakers | Dress | Basic Tops: Colorful Tees, Black Tee, Graphic Tee | Striped Tee | Socks | Purse | Cardigan | Floral Tee | Gray Tank | Blouse | Graphic Tee | Denim Shorts: Light Wash, Dark Wash | Walking Sandals: Strappy Sandals, Flip Flops | Sun Dress | Skirt | Hat | Cream Cardigan | Sweaters: Charcoal, Light Gray | Button Down | Gloves | Vest | Fedora | Knit Hat | Boots: Black, Brown | Scarf | Coat | Trench, Rain Coat Version
Other Important things to Pack (I've linked to all of my favorites):
So here is the thing.
Fashion is so personal to you.
I can give my opinion on how to travel fashionably and light, but that is so subjective.
My feelings on the matter?
You'll never regret a photo where you are wearing a great quality black top with dark jeans. You'll look chic and timeless.
The simpler the better.
Remember, you'll be making wonderful and priceless memories and although looking fabulous in photos is wonderful, being in the moment (and comfortable) is the most important thing you can do while traveling.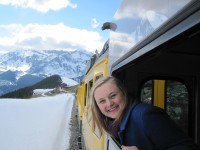 Ashley is a travel blogger who enjoys exploring the world through food and drink, random humor, and general nerd-ery. She lives in Southern California with her husband Charles and exuberant mutt Zora. Ashley works full time in public affairs, but loves to getaway into the world as often as possible.
Her blog Have Ashley follows her adventures (big and small) and favorite travel finds along the way!