It's the Friday before Christmas friends. How are we all feeling?
I feel mostly ready, but I learned the hard way to not put wrapped presents under the tree super early. Ha! It's just too much of a temptation for the 5 and under members of our family.
We've only checked off 2.5 things from our Holiday Bucket List so far (the .5 refers to the fact that I dehydrated oranges a week ago, but haven't been able to string them up yet), and there's a chance we might not get to everything but you know what? That's okay. There's always next year. And if we don't get through them next year… well that's okay too.
And on that note:
This will be my last blog post of 2019. I'll be taking a couple of weeks off to focus on my family, and I'm looking forward to doing laundry instead of blogging during nap times…
Kidding!
Okay, not kidding about doing laundry, but kidding about enjoying it (world's worst chore!).
I'll still be sharing outfits on Instagram, so make sure to follow me there to see what we're up to.
For this week of outfits, I was feeling a little uninspired to be honest.
This happens to me from time to time. It's just plain old discontentment really, and it often happens when I've been neglecting taking care of myself (hello busy season!) or when I've neglected my spiritual life. It's always been super easy to turn to emotional shopping when I feel like this, but I'm trying to really lean into those feelings, and then correct the root cause (or at least as much as I'm able to).
So instead of buying new stuff, I decided to focus on a theme for this week and see what kind of outfits I could put together from my own closet with that theme in mind.
The theme? Casual chic outfits.
This is a style aesthetic I've been really drawn to lately, and I wanted to play around with it.
So with that in mind, here is my week of casual, chic outfits:
Outfit 1: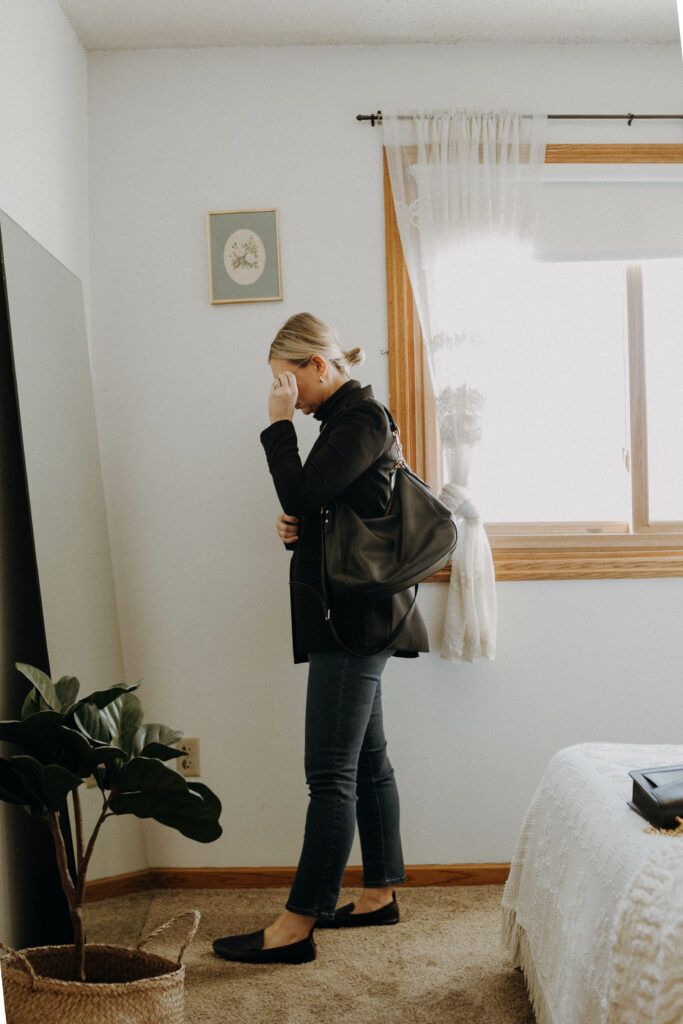 I've been wanting to get more use out of my blazers for everyday wear. They seem so fancy to me, but I know when styled correctly they can be a great casual option (I mean, they are just as comfy as a cardigan so why not?). And there's nothing more chic, in my opinion, than a turtleneck and blazer. I paired it with the mid blue color of the Everlane Cigarette jeans and I like the look of the blue denim book ended with black. But what really makes this outfit so chic is the bright gold accessories: the gold chain, the gold hardware on the purse, and the gold buckle on the belt make it look really timeless. I really love the way this looks, and will definitely wear it again!
The Details:
Everlane Turtleneck, Size Small
Brass Blazer, Size 2 (Gifted)
Everlane Cigarette Jeans, Size 27 (See Review Here)
Everlane Loafers, Size 9 (Gifted. See Review Here)
Necklace Chain was my Grandmother's. Similar Here
Eye Buy Direct Sunglasses
Thrifted Earrings. Similar Here
Secondhand Kate Spade Purse
J. Crew Belt
Outfit 2: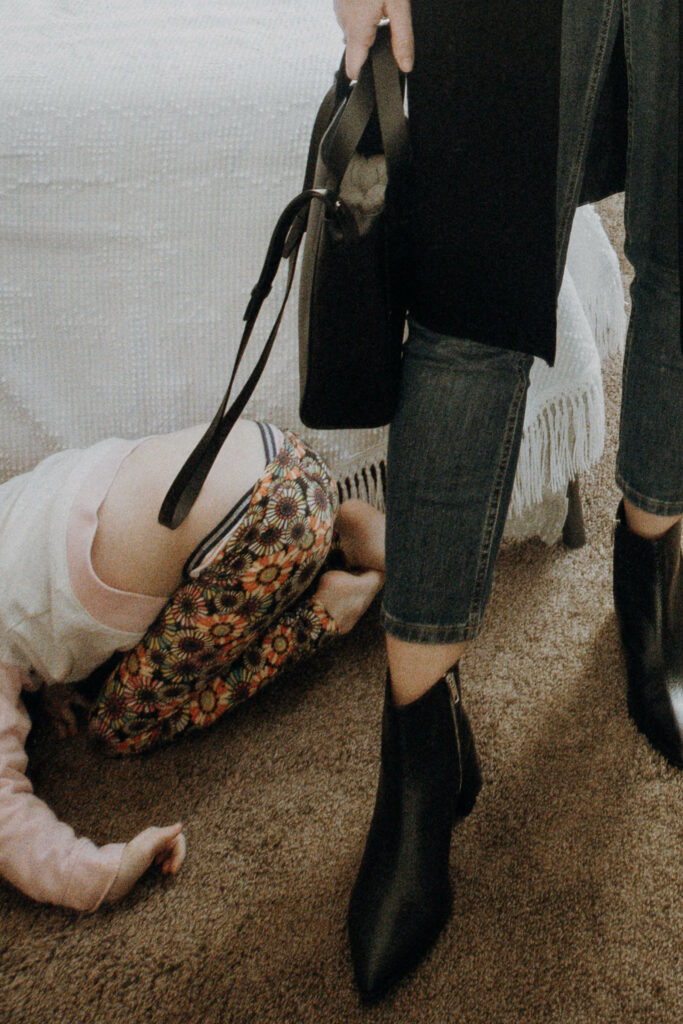 I'm learning that most of the time when you overthink things, it all falls apart. So as part of my attempt to style casual chic outfits, I decided to stick to a really basic outfit formula: top, denim, simple shoe, outerwear. So this outfit looks like more than it actually is. It's chic because the top has a classy print, the ankle boots have a pointed toe, and the oversized sunglasses and bag are structured. But its also casual because it's easy to get around in, and it's super comfortable. I really love that leopard print is having such a moment right now. It's a print I've always loved because, when done right, it gives your outfit a really classy look. I find smaller leopard prints to be a lot more subtle, and I personally like to keep it isolated to one part of my outfit.
The Details:
Older Whimsy & Row Blouse. Similar Here
Thrifted Coat. Similar Here
Everlane Cheeky Jeans, Size 27 (Review Here)
Everlane Boss Boots, Size 9 (Gifted. See Review Here)
J. Crew Belt
Eye Buy Direct Sunglasses
Thrifted Earrings. Similar Here
Chain Necklace was my Grandmother's. Similar Here
Everlane Mini Tote (Gifted. See Review Here)

Outfit 3: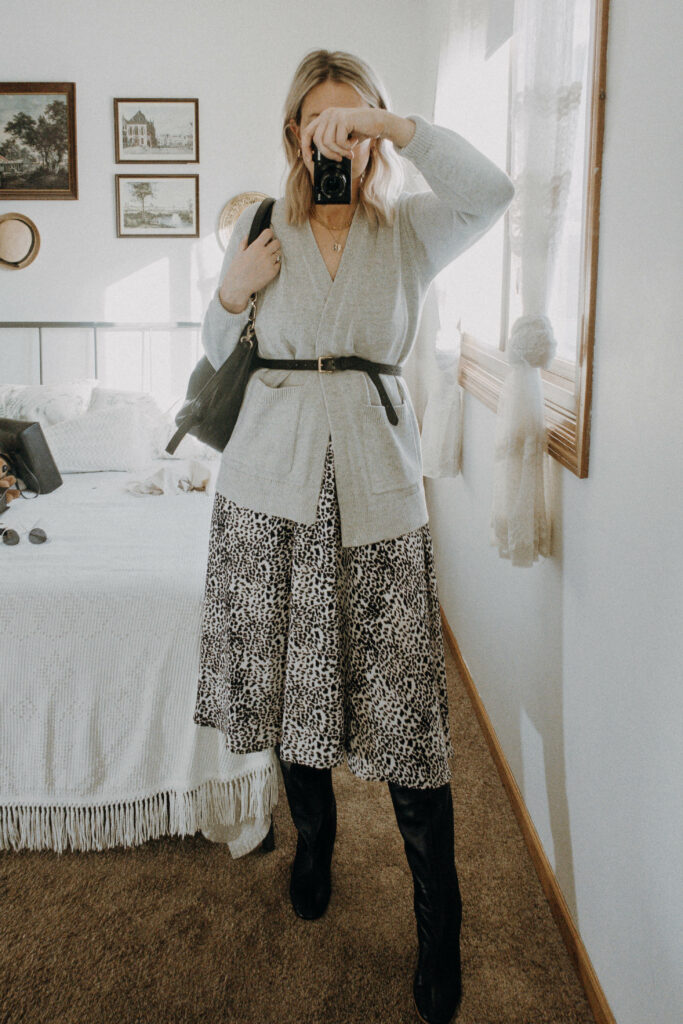 Speaking of overthinking things: this outfit ha! I really didn't love how it came together, but I was in a rush to leave for church so it had to do. I just didn't love the light gray paired with the black leopard print, and the length of the cardigan made me feel a bit… drowned in fabric. I think I would have liked this a lot better with a black cropped sweater tucked into the skirt. Styling notes for next time!
The Details:
Everlane Cardigan, Size Small
Thrifted Skirt. Similar Here
Everlane Boots (Gifted. Review Here)
Secondhand Kate Spade Purse
J. Crew Belt
Chain Necklace was my Grandmother's. Similar Here
& Other Story Bee Necklace
Madewell Earrings
Outfit Four: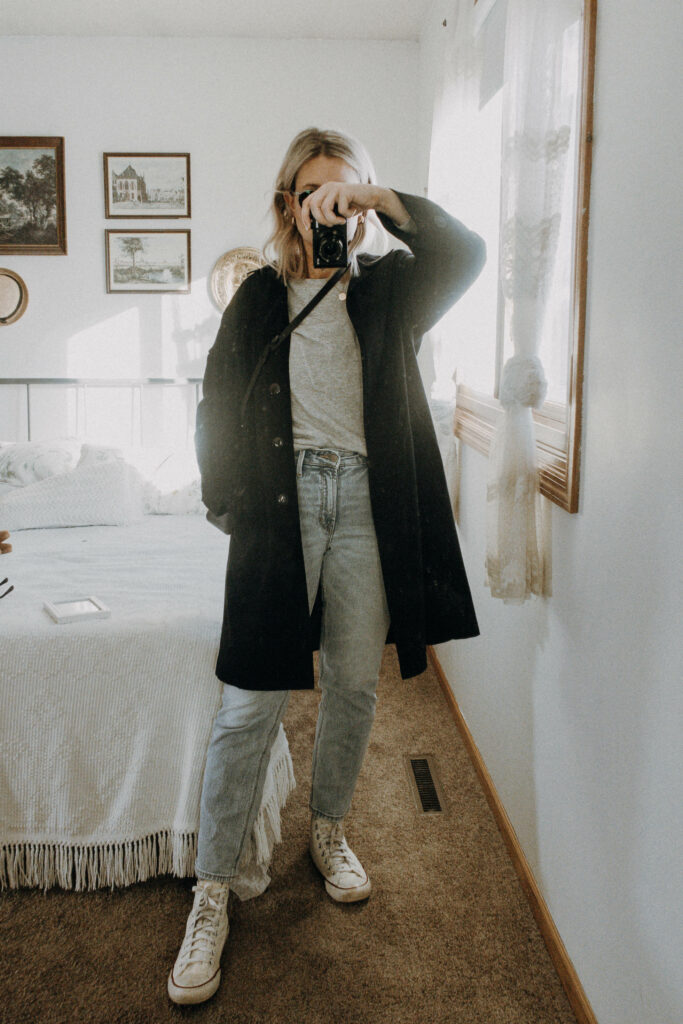 Confession: I really love the first two outfits in this post, but THIS is my kind of outfit. There's just nothing better than a cozy sweater/sweatshirt and a comfy pair of jeans. I sized up in these jeans so they'd be extra slouchy, and they are honestly the comfiest pair of jeans I have ever owned. This definitely runs more casual than chic, but it's still a very classic outfit formula. I've basically been wearing some form of this outfit for as long as I can remember.
The Details:
Tradland's Sweatshirt, Size S (Gifted)
Old Navy Denim, Size 8 (I sized up for a more relaxed fit)
Thrifted Coat. Similar Here
Converse High Tops, Size 9
Eye Buy Direct Sunglasses
& Other Stories Bee Necklace
Madewell Earrings
Everlane Mini Tote (Gifted. See Review Here)
Outfit Five: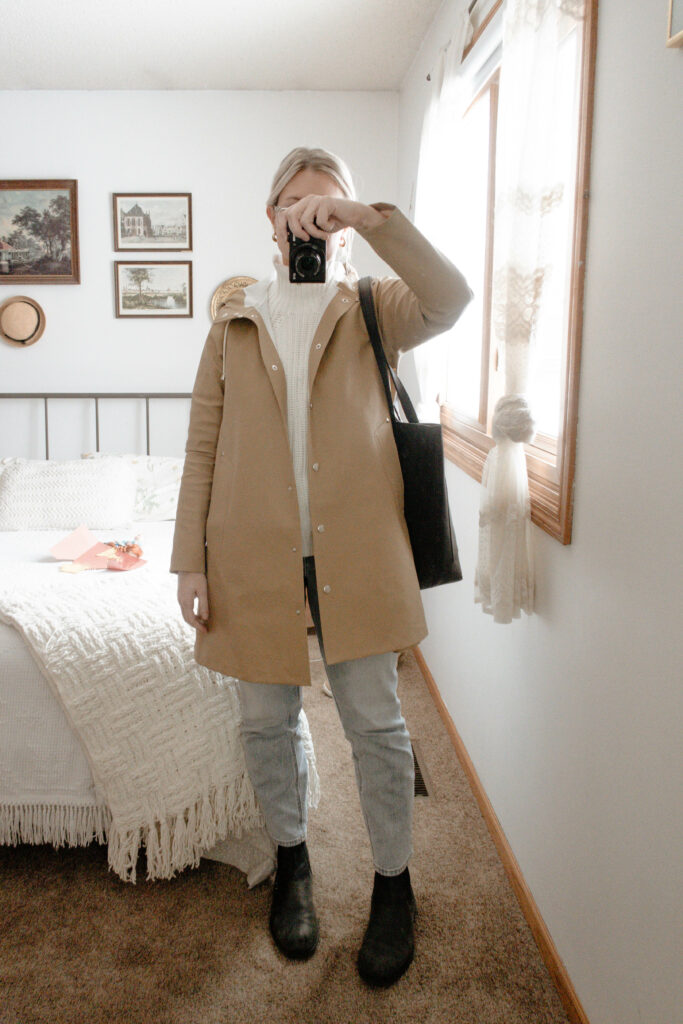 I was feeling especially uninspired this day so I basically just copied the outfit formula from the day before. Swap the sweatshirt for a sweater, converse for boots, and the black trench coat for this Stutterheim raincoat. It looks completely different, but it took zero thought since it was a previously used formula. I really love the way this raincoat makes any outfit look, but I especially love the way it looks with this particular color pallete. I plan to do a review of it soon.
The Details:
Gap Turtleneck Sweater, Size Medium (NLA in this color. Similar color/style here)
Old Navy Jeans, Size 8 (I sized up for a relaxed fit)
Blundstone Boots, Size 9
Stutterheim Rain Coat, Size XS (Gifted)
Have you ever tried a personal style challenge? Group challenges are really popular on Instagram, and sometimes I like to participate, but I also think informal challenges on an individual basis have their merit as well. If you were going to do a style challenge what would you do? Let me know in the comments!
Happy Holidays!
Karin