You guys.
Guess what?!
In almost exactly one month, I will have been blogging and doing the capsule wardrobe thing for one whole year.
That's crazy!
I feel like I just started yesterday.
I've been thinking about this milestone the last couple of days and I wanted to do something that would, in a sense, "sum up" the last year.
The thing is, I kind of jumped into the whole capsule wardrobe thing head first. I had no idea what I was doing or where it would take me, but I knew that it was the right path to head down.
So I've been growing along with you. I've been learning as I blog about my experiences.
Now I do have to clarify: even though I'm coming up on my year anniversary, I feel as if there is so much more for me to learn. I'm just starting to dive into ethical fashion and that is a multifaceted and complicated path to travel.
And I'm still learning what my personal style is. This is a journey that is years in the making. Doing my capsules has certainly sped up the process, but I'm not totally there yet (though I do feel like I'm close).
But as I've been reflecting back on the last year, I realized that there were four things that, above everything else, helped me get to where I am today.
So I want to share them with you in a four part series: my 4 Steps to Successfully Build your Perfect Capsule Wardrobe.
These things have really worked for me
because in order to be successful with a capsule wardrobe you have to first know yourself.
And I also think that sometimes I get so caught up in the process, that I forget that there are people coming to Truncation who have never even heard of a Capsule Wardrobe before.
So let's do this shall we? Let's get back to the basics and learn who we are so that we can create our perfect capsules.
Over the next four weeks, we'll be chatting about these four basic principles: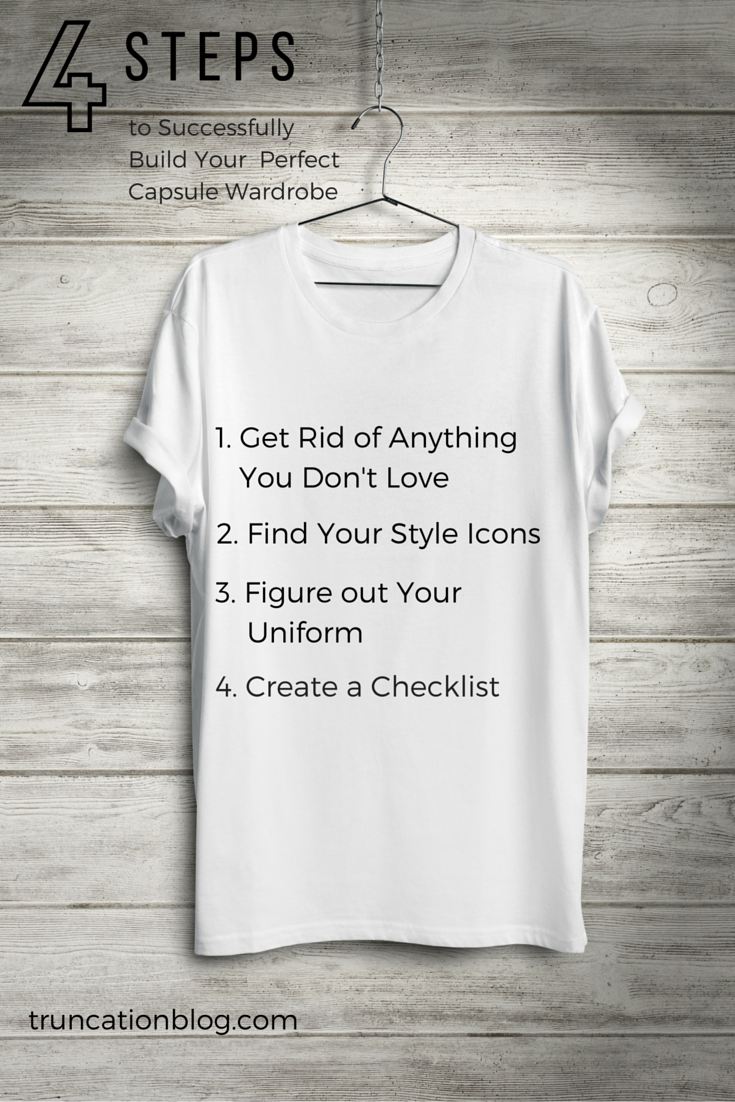 In the mean time, let me know what you think! Do you have any questions you want me to address? Now's your time to ask! Leave your questions/thoughts in the comments below.
Until next time,