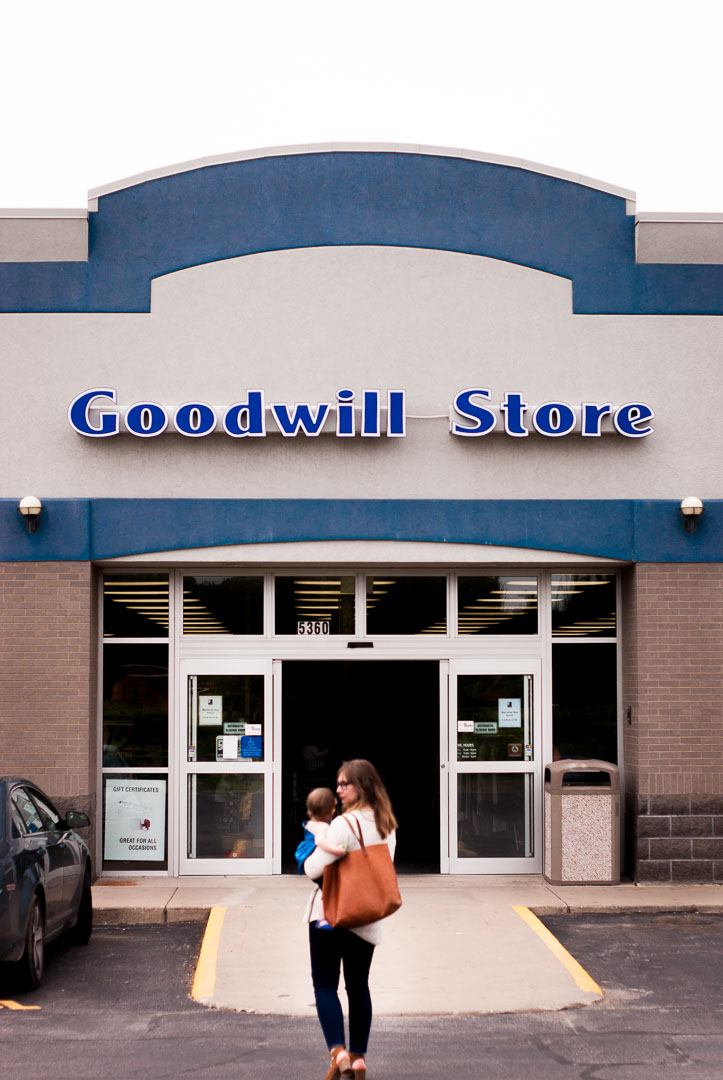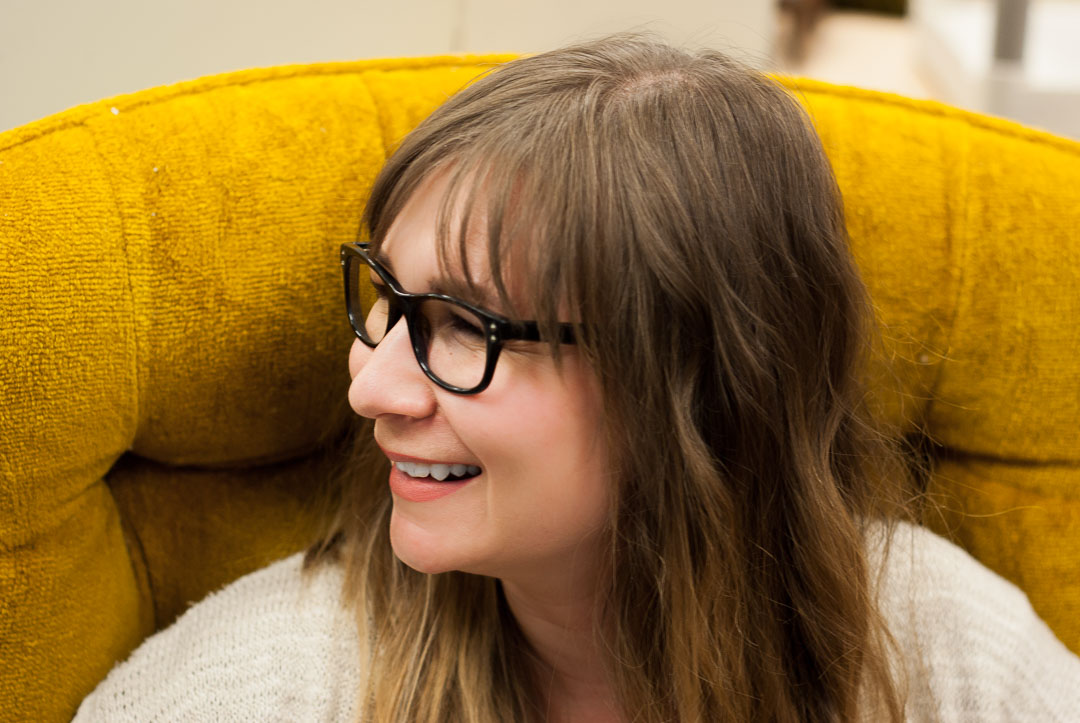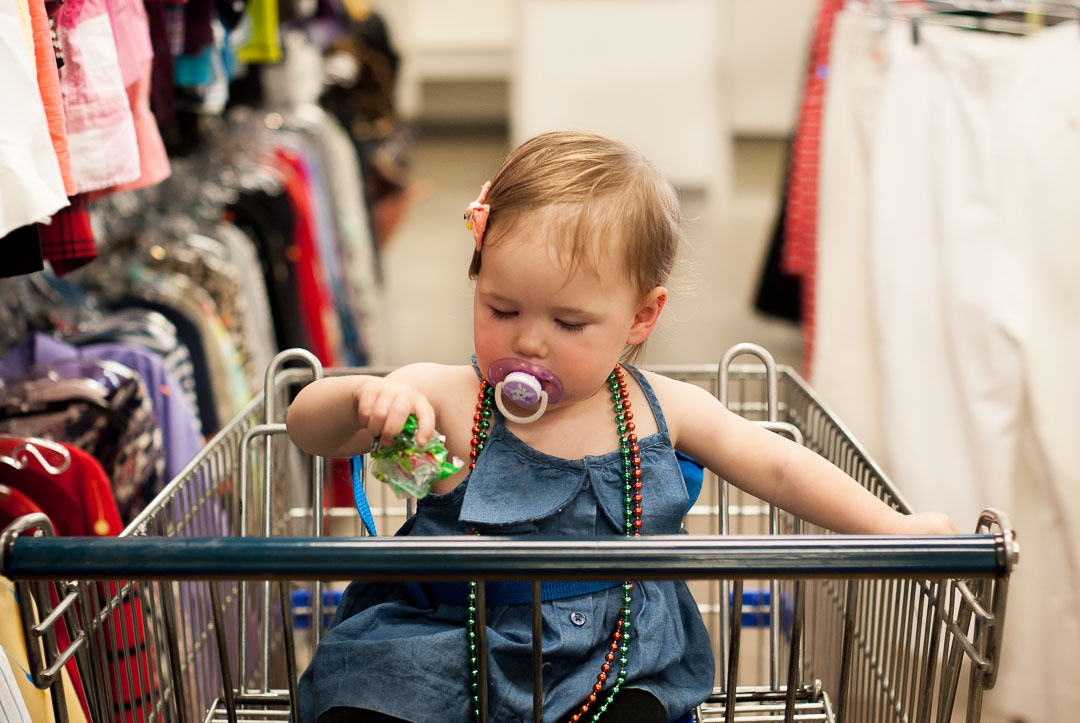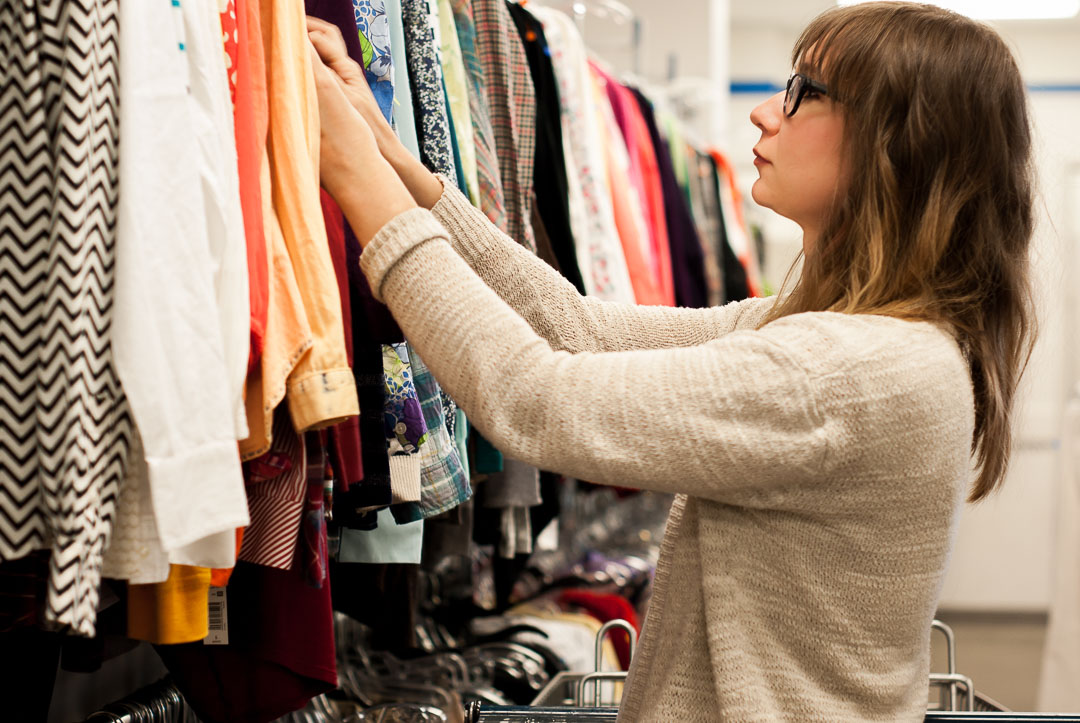 I have wanted to do a post like this for a long time, so I'm excited to finally be doing it!
When it comes to ethical fashion, the price tag is quite a bit heftier than fast fashion options. And as I've said before, that's a good thing! There is a cost to paying your workers fair wages and creating quality items.
But not everyone has the means to purchase new clothing exclusively from ethical fashion shops. As a one income family (I'm a stay at home mom), I certainly don't!
Enter thrift shopping.
I love it because it's sustainable and affordable…
plus it helps you to create a one of a kind wardrobe that no one else has.
But I do know that thrifting can be really overwhelming for some people. I have been doing it since college and it's something that I have really perfected over the years.
So to help you out, I want to share some of my thrifting tips,
1. Find a store that displays clothing in categories, preferably size and/or color categories:
My local Goodwill does both and it makes thrift shopping so much easier. It's easy to get overwhelmed and spend hours sifting through clothing at thrift stores, but finding a store that categorizes their clothing allows you to only attack the sections that are useful to you.
2. Have a plan.
With a capsule wardrobe, it's going to naturally be a lot easier to shop at a thrift store with a plan. Most likely you'll know exactly what holes need to be filled in your wardrobe and so you can approach thrift shopping with a goal in mind. For example, I knew I wanted to add a few more dresses to my summer capsule, but I had something very specific that I had in mind so that when I went shopping, I wasn't tempted to buy something I didn't need.
3. Give yourself time to find what you're looking for.
When I first started doing capsule wardrobes I tried to fit any new shopping into the few weeks before I started that capsule… and ended up stressing myself out big time. Simply put, you can't thrift like that if you're trying to find something specific. I realize now that I'm more of a "take your time" shopper because I'm not going to buy something unless it's exactly what I'm looking for. So, in the case of the dresses I was looking for, I did end up finding what I was looking for, but it took time and multiple trips to the thrift store. Luckily, I've known that I wanted a few more dresses since the end of last summer's capsule so I've had plenty of time to keep my eye out for what I was looking for.
4. Let loose a little.
Or in other words, don't be afraid to pick something up that wasn't on your list. If you're browsing for a replacement gray cardigan and you come across the most perfect vintage, cable knit grandpa sweater… go for it! That's how I found my floral blouse that I love so much. Don't feel so boxed in to the basics in your capsule that you lose the ability to add a few quirky pieces that make your capsule unique. And what better place to find quirky pieces than at a thrift store?
Above all though, don't be overwhelmed. Thrift shopping can be really fun! Enjoy the process, and the thrill of the hunt.
As a bonus, I asked my friends over at the Ethical Capsule Wardrobe for advice and here's what they had to say:
Dana: Explore the men's section and ignore sizes! (read the rest of her tips by clicking on her name)
Christine: My number one tip while thrifting is to trust your fingers – feel for quality fabrics that will stand the test if time. You will know the difference! Also, check seams by gently pulling at them. Fast fashion is generally stitched farther apart and will separate. Quality stitches are more even and closer together.
Cassandra: Be willing to alter and repair! (read the rest of her tips by clicking on her name)
Lauren: Know that it will take more time than the usual fast fashion shopping trip. You may come out completely empty-handed. Leave the kids at home. Have a written list of exactly what you're looking for and keep it in your hands to stay on track! If you find something you love, but it's a little big, consider if you can alter it to work. But it doesn't work the other way around, just say "no" to too-tight pieces.
Brenda: Check over thoroughly for stains or holes. I wear something fitted so that I can throw it over my clothes and try on, because sometimes I may not have time for fitting rooms, or I have a couple of young kids with me. Smell test!- some odors do not come out and you will be able to tell right away.
So how about you? Do you like thrift shopping? Any tips to share with the rest of us? Let me know in the comments below!
Outfit Details:
Tee: Thrifted. Similar Ethical Option.
Cardigan: Similar Ethical Option. Wool Free Option.
Denim: Thrifted. Similar Ethical Option. On Sale Ethical Option.
Heels: Thrifted. Closest American Made Option I could find. Vegan Option.
Tote: Old Madewell. Similar Ethical Option. Vegan Option.
Kit's Top: Old Baby Gap. Similar Organic Cotton Option.
Until next time,